This Homemade Monkey Bread is a delicious and healthy recipe that is perfect for making with kids. NO bundt pan needed, and it's lower in sugar!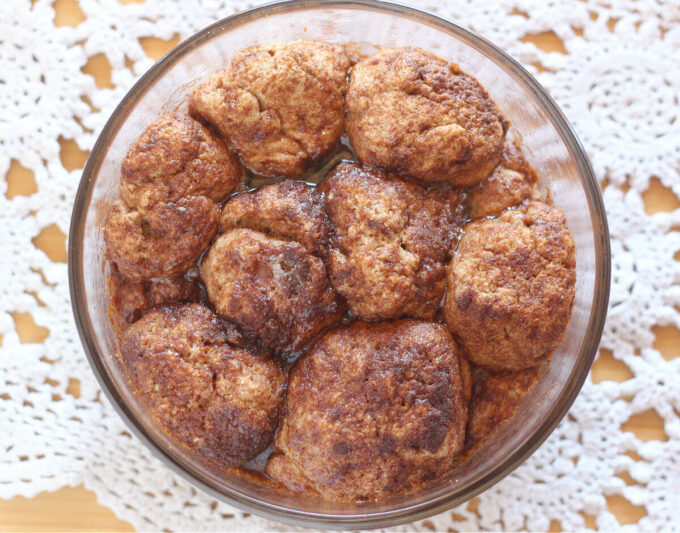 What is monkey bread?
I only learned about monkey bread a few years ago, but thought, 'what a delicious concept!'.
It's basically little balls of dough wrapped with melted butter and cinnamon sugar.
That's exactly the kind of thing I'd request as a last meal, ha!
This yummy treat gets its name from how it is eaten, which is by picking off chunks of dough. This method is similar to how monkeys groom each other. Quite gross when you think of it that way, so let's move on!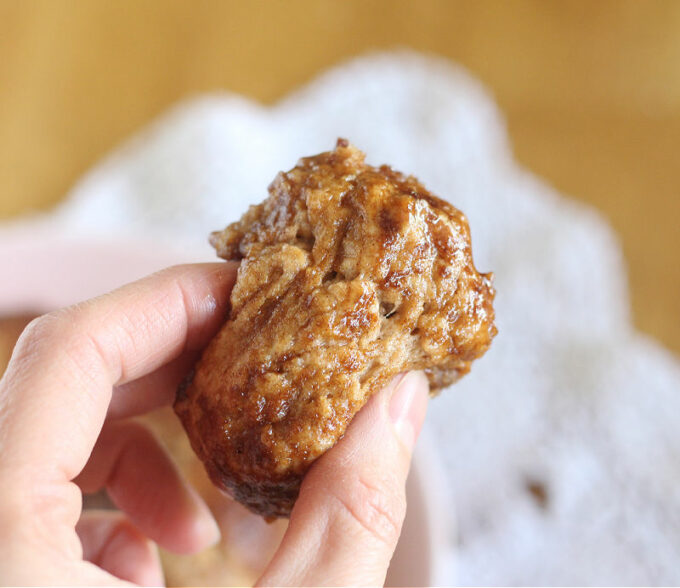 Why you'll love my (healthier) recipe
As you can guess, I've taken the traditional monkey bread recipe and made it healthier! Here are some of the ways in which I've done that:
I use whole grain spelt flour,
I've lowered the sugar, significantly. Enough to make it yummy to kids, but not over-the-top, candida-inducing levels.
Coconut sugar replaces processed white sugar.
It's quick and easy and fun for kids!
Ingredients needed
For the dough, you'll need just five ingredients:
Spelt flour - I love using spelt flour, as it is whole grain and therefore doesn't spike the blood sugar like white flour. It's also lower in gluten and not as genetically modified as wheat.
Baking powder
Sea salt
Cold butter - As a dairy-free substitute, you could try cold coconut oil instead, if need be.
Milk (any kind) - We use whole coconut or dairy milk for richness.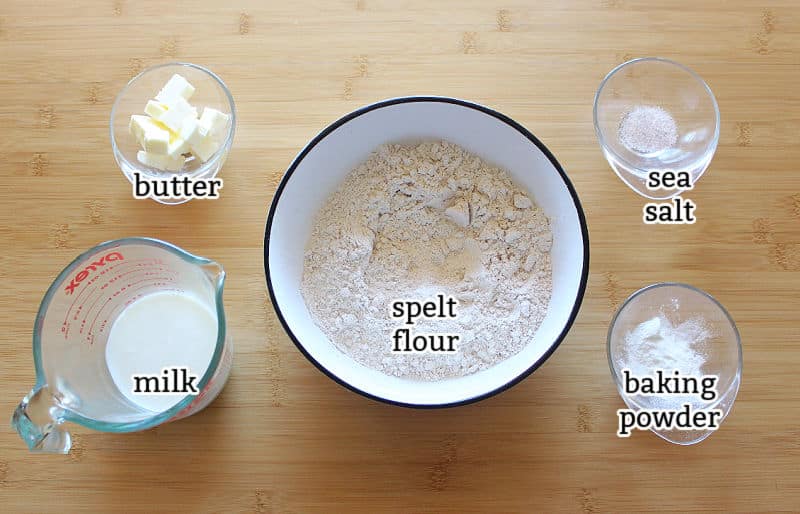 How to make healthy monkey bread
Mix together the dry ingredients first, then add in the cubes of cold butter. It's best to work the butter in with your hands, in the style of making biscuits. It should look 'pebbly' in texture.
After stirring in the milk, you will have a dough. You may need a tablespoon more or less of the milk, depending on how you measure your flour.
The dough should be plenty moist, but not sticky to the touch.
Once you have your ball of dough, you'll want to pull off pieces of dough (a bit smaller than a golf ball), dip them in melted butter, roll them in cinnamon sugar, and place them into a small baking dish like this one. NO bundt pan needed!
You'll then bake the bread until golden and puffy!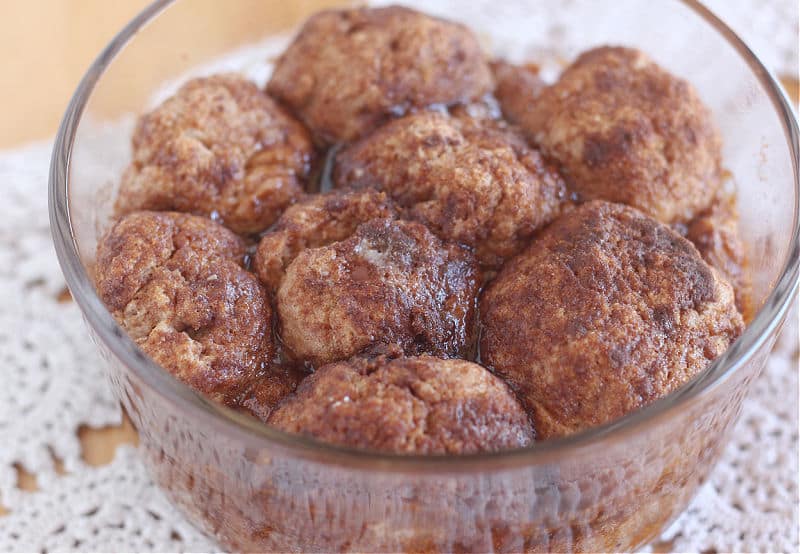 Tips and tricks
The best times for kids to help is when the (unbaked) dough balls are being made and when they are being dipped in butter and rolled in cinnamon sugar.
If you like, you can also bake individual monkey bread portions in muffin cups! Just oil the pan really well beforehand and add just enough to barely fill the cup. Bake time will be less, at about 12-15 minutes.
We like to underbake ours a (somewhere in the neighborhood of 15-20 minutes). It yields soft, doughy balls that are slightly firm and gooey.
Other bread recipes you might enjoy
Sugar-Free Buckwheat Quick Bread
Buckwheat Flour Dessert Flatbread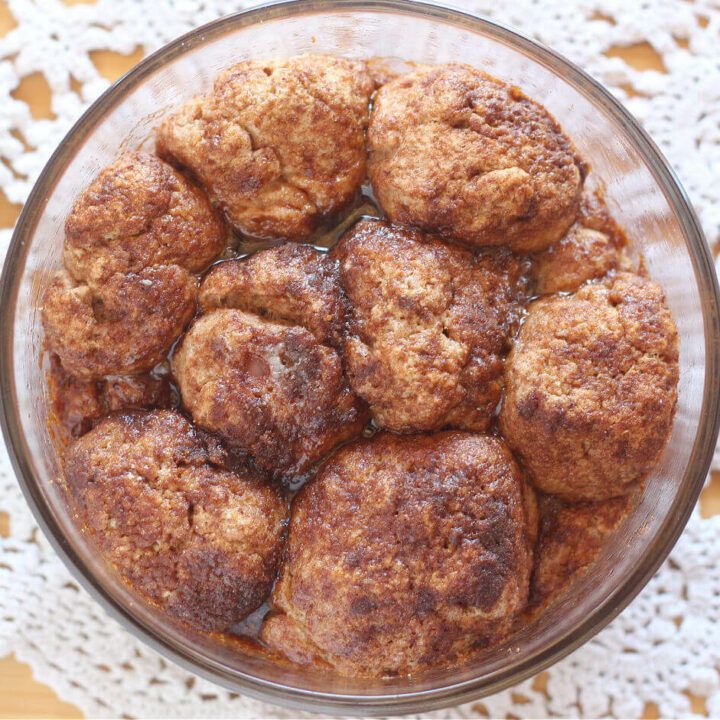 Print Recipe
Homemade Healthy Monkey Bread
This Homemade Monkey Bread is a healthy recipe that is lower in sugar and perfect for making with kids. NO bundt pan needed!
Ingredients
BREAD:
1 ½

cups

spelt flour

2

teaspoons

baking powder

½

teaspoon

sea salt

3

Tablespoons

cold butter

cut into small cubes

½

cup

milk of your choice
CINNAMON SUGAR COATING:
3

Tablespoons

butter

melted

3

Tablespoons

coconut sugar

1

teaspoon

cinnamon
Instructions
Preheat the oven to 350 degrees and generously oil a small baking dish or loaf pan.

In a large bowl, stir together the flour, baking powder, and salt.

Add in the butter and (using your hands) pinch the butter into the flour mixture until the butter lumps are about the size of peas.

Slowly stir in the milk, adding just enough to moisten the dry ingredients, but not so much that the dough becomes sticky. If you add the entire 1/2 cup and the dough is still dry, add more milk a tablespoon at a time until you get the right consistency.

Turn the dough onto a floured surface and knead it for just five seconds.

Pull off small chunks of dough and shape them into ping pong ball-sized pieces (you should have about 15-18 pieces total).

Mix the cinnamon and sugar together in a bowl.

Set up a line with the melted butter in one bowl, followed by the cinnamon sugar mixture in a separate bowl, and then the prepared pan.

One at a time, dip the dough balls in the melted butter, roll them in the cinnamon sugar, and place them into the prepared pan. Stack the balls on top of each other until the dough is used.

Pour any remaining butter and cinnamon sugar atop the bread.

Bake the monkey bread for 18-24 minutes. A toothpick should come out clean.

Allow the bread to cool for 5-10 minutes.

Gently loosen the sides with a small spatula.

Place a plate or serving dish on top of the baking dish; hold the pan and plate together as you flip them both over.

Slowly lift the pan from the plate and the monkey bread should slide out.

Pull pieces from the bread and enjoy!
Notes
Nutrition facts based on using unsweetened almond milk.
WW Points: 9
Nutrition
Calories:
232
kcal
|
Carbohydrates:
29
g
|
Protein:
4.3
g
|
Fat:
12.4
g
|
Fiber:
4
g
|
Sugar:
6.1
g
---
If you have a chance to try this recipe, please leave a star rating and a comment below letting me know how you liked it!