Delicious, high protein pancakes that are made with 100% teff flour and gently sweetened with honey.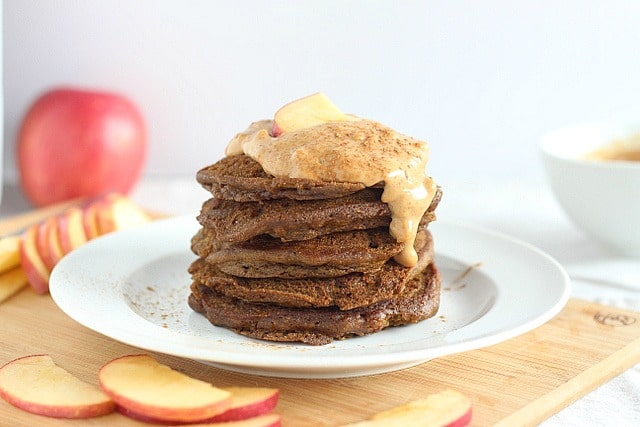 There are those pancakes that you could every day...hello, Oatmeal Fluffy-ness!
Then, there are those pancakes that come about out of need.
Maybe you're cutting out eggs or gluten, or maybe you're like us and rotate your foods so as to avoid becoming allergic.
Whatever your story, you should become acquainted with the tiniest grain in the world: teff!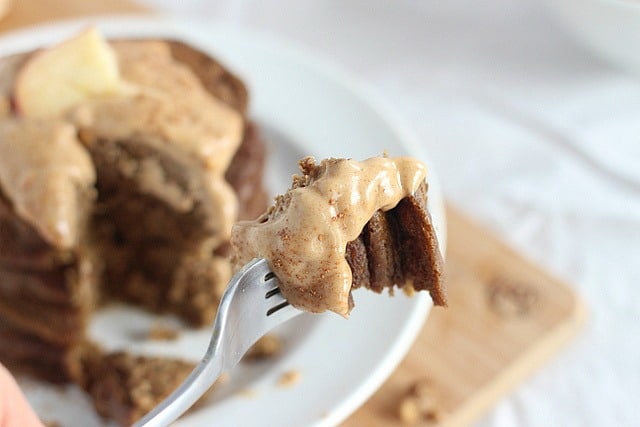 I'm not certain when I first learned of teff, but I was drawn to it for two main reasons: 1) It's known as the 'runner's grain', in that it is highly energizing, and 2) it is considerably high in protein (seven grams in 1/4 cup).
While Jade loves her Buckwheat Pancakes and would eat them every day, I've won her, Nat, and Sam over with these honey teff pancakes.
So, What Does Teff Taste Like??
Teff is delicious! It has a mild, sweeter flavor that makes it ideal for use in baked goods like muffins, as well as pancakes. I'm even dreaming up ways I can incorporate it into a cookie.
It's typically known for its role in an Ethiopian flatbread called injera, which is more sour in taste due to fermentation.
I can see it making a great hot cereal for breakfast or even as an alternative for cornmeal in polenta!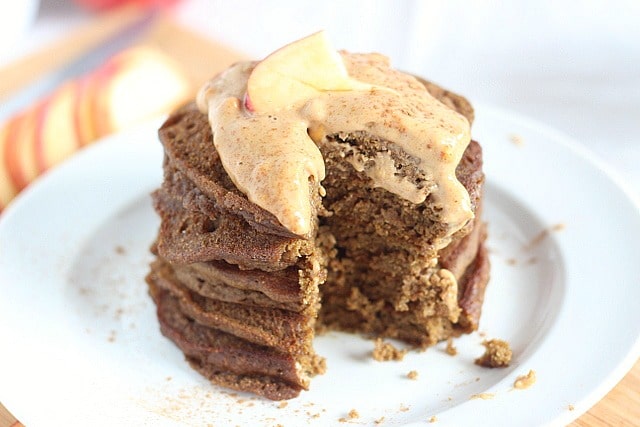 My two goals for this recipe were to cram in as much natural protein as possible, hence the teff and the two eggs. I also wanted to use baking soda as the sole leavening agent (no baking powder).
I'd been using quite a bit of baking powder in recipes, and after a reader reminded me it contains corn, an ingredient Jade tends to react to, I decided to cut it out for a bit.
We had a blind taste-off here recently for the final tweaking of these yummy cakes, and this is the recipe that won!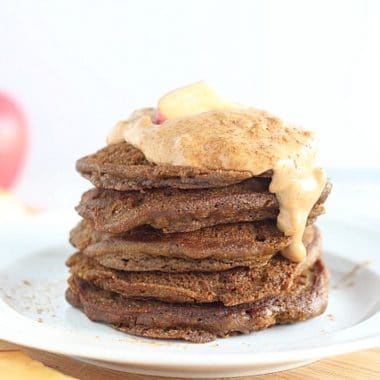 Print Recipe
Honey Teff Pancakes
Delicious, high protein pancakes made with teff flour and sweetened gently with honey.

Ingredients
1

cup

teff flour

¼

tsp

sea

salt

¾

tsp

baking soda

1

cup

buttermilk

(see Notes)

2

eggs

1

Tbsp

olive oil

2

Tbsp

applesauce

2

tsp

honey

½

tsp

vanilla extract
Instructions
Mix the dry ingredients (flour, salt, baking soda) in a medium bowl.


Mix the wet ingredients (buttermilk, eggs, oil, applesauce, honey, vanilla), in a smaller bowl. If any of your ingredients are cold, the honey may need an extra minute of whisking to incorporate.


Begin heating a large non-stick skillet over medium heat.


Pour the wet ingredients into the dry mix, whisking until smooth.


Add some butter or oil to your skillet, and once it melts and spreads a bit, dollop the batter onto the hot skillet using a 1/4 cup measure for each pancake.


Cook the pancakes until the perimeter begins to set and you see small bubbles form on the surface (1-2 minutes).


Flip and cook the other side for another 15-30 seconds, or until springy to the touch.


Repeat with remaining batter (recipe makes about 12 pancakes).

Notes
Nutrition facts based on using store-bought buttermilk. WW SmartPoints: 2
Nutrition
Serving:
1
|
Calories:
71
kcal
|
Carbohydrates:
9.6
g
|
Protein:
2.9
g
|
Fat:
2.4
g
|
Fiber:
1.4
g
|
Sugar:
2.3
g
Notes:
To make your own buttermilk, add one tablespoon of apple cider vinegar or lemon juice to a measuring cup (I find vinegar works better). Add enough milk of your choice (I use my Homemade Coconut Milk) to equal one cup. Let sit a few minutes, then proceed with the recipe.
I've successfully left out the oil, if you prefer your pancakes oil-free.
I've also successfully left out the honey, if you prefer your pancakes sugar-free.
I like to top these with a combination of my Gooey Apples and Peanut Butter Frosting (pictured).
Here are some of the items I use to make this recipe, including my favorite non-stick skillet:
Pancakes a-fryin'...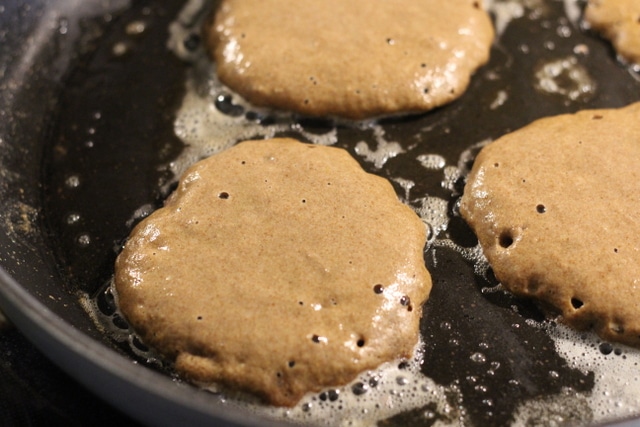 Yumz!