This is my favorite way to enjoy a baked sweet potato, AND there's a secret trick to help them bake faster!
Low and slow or high and quick? Foil or no foil? On the pan or on the rack?
How do YOU bake your sweet potatoes for maximum flavor, sweetness, caramelization, and overall satisfaction?
Over the past few months, I've been trying out numerous methods, including some of the above options, and this post is my ultimate fusion of those readings. There's nothing scientific about my findings...just some food blogger in Tucson on a mission for the best, quickest sweet potato fix!
Choosing the right sweet potato
This is the first step in creating my sweet potato heaven.
I've had the most success with smaller varieties (about 2-3 inches in diameter).
I also like to choose ones that are smooth (not wrinkled or pocked, which can indicate they are old), firm, and oval in appearance. The latter is more for convenience, as I cut the potato in half for this recipe.
Preparing the potato
I have to agree with the rinse and dry method. Having the skin wet in any way can cause a steaming reaction. This isn't something I really took the time to test, it just made sense to me, so I always dry my potato really well after rinsing.
The secret to baking it fast!
Here's the thing. I don't always have an hour plus to sit around waiting on a potato to bake through, SO....the most logical way to bake it in HALF the time is to CUT IT IN HALF! *forehead slap*
In addition to the quicker bake time, I get the added benefit of having TWO sides of caramelized sweet potato goodness!
Recipe Steps
Cut off the ends (for me, I've found this step helps the potato taste better, though I've made them without doing this too)...
Cut in half...
Oil and salt...
Bake...
Caramelized edges...mmmmmm
Make it a dessert!
My husband is a real trooper when it comes to trying out my recipes, and in the course of baking all of these potatoes, we discovered a delicious, dessert-like way of eating them!
First, follow the below method for baking the potatoes.
After the baked potatoes have cooled slightly, mash in a pat of butter or coconut oil, along with a dash or two of sea salt. Follow that with a hefty sprinkling of cinnamon and a drizzle of maple syrup.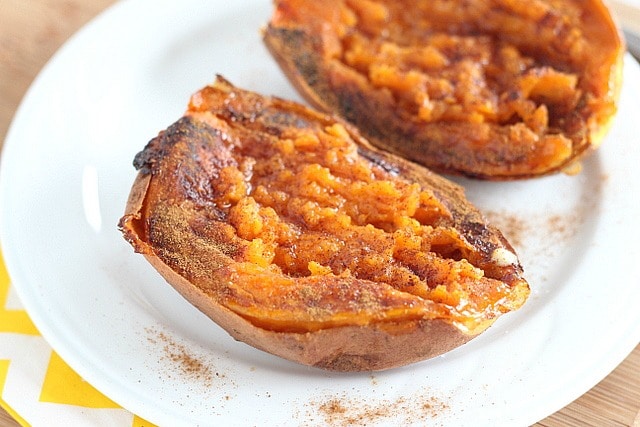 Then, if you're feeling really adventurous, top it all off with a small handful of marshmallows for a 'makeshift' sweet potato casserole!
Recipe notes
Instructions are for one potato, but you can bake as many as will comfortably fit on the baking sheet.
Sweet potatoes freeze really well, if need be. Just bake them, as stated, let them cool, and place them into a freezer-safe container. When you're ready to use them, thaw first and warm or use as desired.
Other ways to use sweet potatoes
I love to eat sweet potatoes by themselves, but they're also great when added to various recipes.
In these cookies...
Or these brownies...
Or these muffins...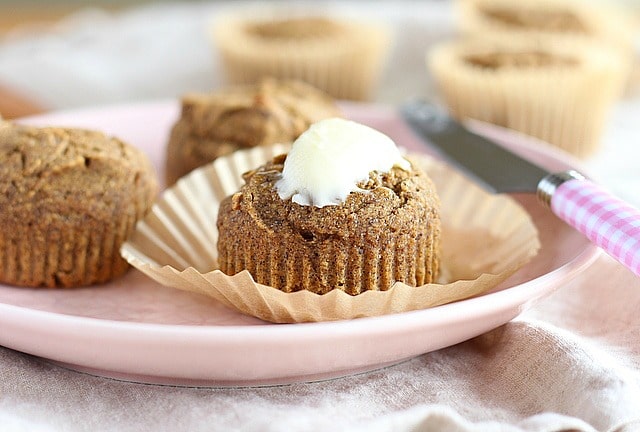 Print Recipe
Fast Baked Sweet Potatoes
This is the best way I've found to make fast and delicious baked sweet potatoes!

Ingredients
1

sweet potato

coconut oil

sea salt
Instructions
Preheat the oven to 425 degrees.


Rinse your potato with water, then thoroughly dry it.


Cut about 1/2 inch off of each end of the potato.


Cut the potato in half, length-wise.


Rub coconut oil onto the flesh of each half.


Sprinkle each half with a bit of salt.


Place the halves flesh-side down onto a parchment paper-lined baking sheet.


Place the pan into the oven and bake for 35-40 minutes, until the potato is easily pierced with a fork (you should see sweet potato syrup oozing out).

Cool a bit and enjoy!

Notes
Nutrition facts do not take oil or salt into account and are based on an average size sweet potato. WW SmartPoints: 4
Nutrition
Serving:
1
|
Calories:
103
kcal
|
Carbohydrates:
23.6
g
|
Protein:
2.3
g
|
Fat:
0.2
g
|
Fiber:
3.8
g
|
Sugar:
7.4
g
---
If you have a chance to try this recipe, please leave a star rating and a comment below letting me know how you liked it!