This is the easiest and quickest method I've discovered for making Instant Pot bone broth!
Who among us has not heard of bone broth??
I'm not a die-hard advocate of the stuff, but I do enjoy a cup of it every once in a while. I also enjoy making rice pilaf and chicken noodle soup with it.
In an effort to aid those of you who'd like to try a homemade version, I decided to post my way of making it, which also involves the beloved Instant Pot.
Fast and easy bone broth
In the past, I've tried making bone broth (with some annoyance) in my slow cooker.
While I enjoyed the end product, it was tedious, and I'm far more inclined to use today's method.
This is the simplest way I've found to make it.
In addition to the bone broth, you get the actual cooked chicken as well, so it's win-win!
If you want to add extras...
While this recipe is in it's simplest form, here are a few additions I've tried that enhance both flavor and nutrition:
A few dashes of turmeric (adds a lovely golden color too!)
A couple of bay leaves (enhances broth flavor)
Vegetables of your choosing (I've added onion, garlic, carrots, and celery)
Any fresh herbs you enjoy (I've tried thyme and parsley)
A splash of apple cider vinegar supposedly enhances mineral properties of the broth (but some say NO!)
How to use bone broth
Some of the recipes I've used bone broth in are:
Arroz con Pollo (Chicken with Rice)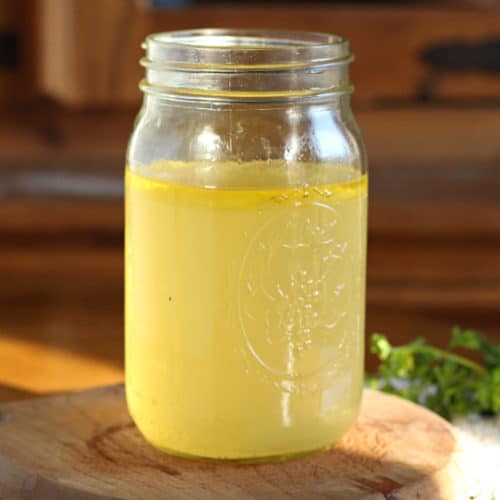 Print Recipe
How To Make Bone Broth In The Instant Pot
This is the easiest and quickest method I've discovered for making the rich and nutritious gut-friendly liquid.
Ingredients
1

3-4 pound

organic chicken

1 ½

cups

water

sea salt
Instructions
Trim and clean your chicken.

Add the water to the Instant Pot.

Place the cleaned chicken into the water.

Secure the lid and set the pot to cook manually on high for 35 minutes.

Let the pressure naturally release for 10 minutes (the display will read LO10 when ready), then manually release the remaining pressure.

When cool enough to handle, strain the broth into a clean glass container and keep fresh with a fitted lid.
Adapted from my Instant Pot Chicken recipe
Notes:
The broth will gelatinize once cold, but it will quickly liquify again once heated.
If you prefer to remove the chicken fat, I've found it easiest to scoop it off the top after the broth has been refrigerated. The fat floats to the top and forms a top layer when cold.
Some of the items I use to make this recipe include:
Shared with: Grace at Home