How To Make Ground Turkey Taste Like Sausage - If you're avoiding pork, try this delicious faux sausage, made with ground turkey and a convincing combination of spices!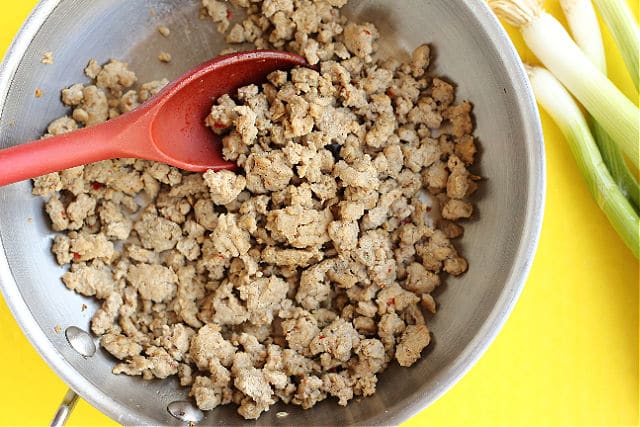 As a kid, my favorite pizza was always sausage pizza!
My dad would get take-out at least once a week, alternating between pizza and Chinese food.
It's so nice to be able to eat anything as a kid, isn't it? I'm in quite a rut right now with food, as I'm reacting to so many foods!
I have a couple of doctor appointments lined up that I'm optimistic about, so hopefully, come Fall, I'll be able to create more deliciousness!
This turkey sausage has been on my menu a lot lately, as has ground turkey in general. You won't believe how much this tastes like true sausage crumbles!
How to make homemade ground turkey sausage
One thing that's nice about this recipe is there's NO CHOPPING! No veggies or garlic to cut and fret over.
You just add a bit of oil to a non-stick or stainless steel skillet, along with the ground turkey and spices and let it cook through.
It has been awhile since I've had sausage, but I truly believe I've created something sausage lovers will appreciate!
How to use your ground turkey sausage
I've used these 'crumbles' a number of ways, including:
As a topping for pizza.
Mixed with zucchini noodles.
Sauteed with veggies and brown rice for a tasty stir-fry.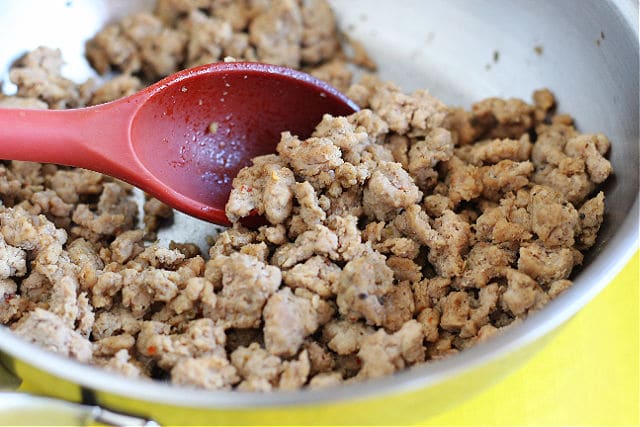 Is ground turkey sausage healthy?
First, let's look a bit at pork and why it may be unhealthy.
Pigs are natural scavengers that will eat pretty much anything, including rotten food and feces.
Unlike animals, such as cows, sheep and goats, it has been written that pigs digest their food within a mere four hours. This is not nearly long enough to remove toxins. Hence, those toxins are potentially stored within the fat cells and organs of the pig itself.
Even worse, they lack the ability to sweat properly, which is extremely important to detoxification.
If that's not enough, pigs are notorious for carrying parasites.
Now, let's take a brief gander at some of the benefits of eating turkey:
High in protein.
Great source of selenium, which is good for your thyroid!
Rich in other vitamins and minerals, most notably iron, magnesium, and vitamin B6.
It's also a good source of tryptophan, which boosts serotonin in the brain.
Taking all this into consideration, I'd wager that yes, turkey sausage is better than pork! 🙂
How do I make this into patties?
If instead of crumbles you prefer patties, just follow this easy method:
Mix all ingredients together with hands.
Form into patties of desired size and thickness.
Place into lightly greased, non-stick skillet on medium high.
Cook without moving until bottom is dark brown and crusted, about 4-5 minutes.
Turn over, then reduce heat to medium and cook 8-10 minutes longer or until center is no longer pink and juices run clear.
Recipe notes
For the turkey, I use a combination of dark and light meat that my local Sprouts offers. Using all breast or light meat tends to yield a drier final 'product'.
Add the red pepper flakes a little at a time to ensure the dish isn't too spicy.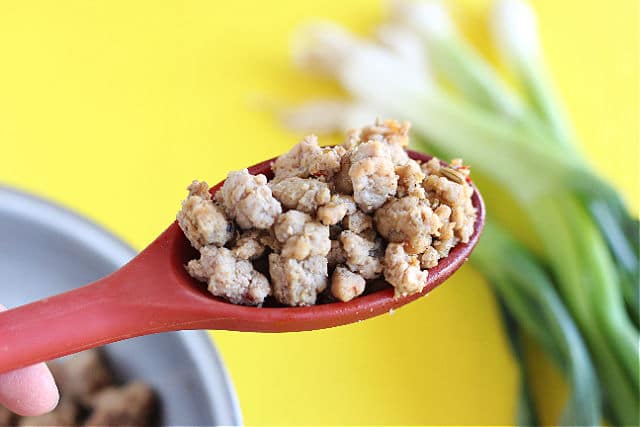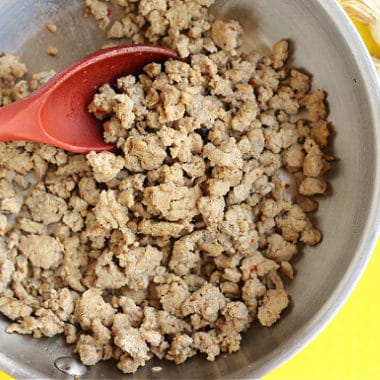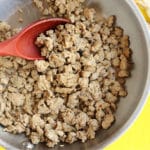 Print Recipe
How To Make Ground Turkey Taste Like Sausage
If you're avoiding pork, try this delicious faux sausage, made with ground turkey and a convincing combination of spices!
Ingredients
2

teaspoons

olive oil

1

pound

ground turkey

1

teaspoon

dried sage

½

teaspoon

fennel seeds

¼

teaspoon

dried oregano

½ - 1

teaspoon

sea salt

¼

teaspoon

black pepper

⅛ - ¼

teaspoon

red pepper flakes
Instructions
Heat the oil in a non-stick skillet over medium heat.

Add in the turkey and remaining ingredients.

Cook the turkey through, stirring the spices into the mixture. This takes about 5-10 minutes, depending on the level of browning you like.
Nutrition
Calories:
243
kcal
|
Carbohydrates:
0.4
g
|
Protein:
31.1
g
|
Fat:
14.9
g
|
Fiber:
0.3
g
Shared with: Lou Lou Girls Fabulous Party