There are very few 'original' recipes anymore.
It seems that there are soooo many food blogs and websites out there and with that, sooooo many slight variations of the same dish (and I'm not excluding my own blog here).
Recipes for the 'best chocolate chip cookies' or 'the ultimate burger' or 'the creamiest mac and cheese' abound, but the variations among each can be crucial.
For example, you might be searching for 'the best grain-free chocolate chip cookies with cinnamon and cayenne' or 'the best burger made with turkey and zucchini', or even 'the best vegan mac and cheese made without soy or cashews', and good luck to ya on that last one!
As you can see, recipes can take on a precision that is only emulated in the world of lasers.
I often find myself coming across the same recipes, so the key for me has been finding bloggers or sites that are of 'like taste'.
What does that mean?...well, for me, it simply means that I've tried a recipe (or two or three) from that site or blogger and enjoyed it!
You'd be surprised at the number of recipes I've tried and had some type of difficulty with, be it in execution or final taste. I'm sure many have had similar problems with the recipes I post, and it's not that the recipe is bad, per se, it's just that we all have such varied tastes.
If you're reading this, hopefully it's because you've tried something from my site and enjoyed it!....or you're just here for my biting wit, either way, I'm glad you're reading. 🙂
This recipe started out completely unoriginal, but based on my allergy needs over the years, it has morphed into something I might call semi-original.
It seems the recipes I make out of necessity are the ones that end up my favorites, and this one is no exception.
This started off as a dollop of Greek yogurt, topped with berries and honey. Like I said, not original.
Then, as I started to develop an intolerance to eating too much dairy, it became berries and dairy-free milk topped with honey.
Finally, after I cut back on my sugar intake more, I started substituting in some vanilla and stevia and lowering the honey amount, making it the treat I now love and eat practically every day!
Please enjoy the following video showing you just how to make it.
Print Recipe
Ice Berry Milk - Video
A delicious, healthy, easy to make slushie treat!

Ingredients
(ALL ROUGH MEASUREMENTS)

½

large mug of dairy-free milk

capfull of vanilla extract

(about 1/2-1 teaspoon)

enough frozen berries to fill the mug

stevia

, to taste, if desired

raw honey or maple syrup
Instructions
Fill mug with milk.

Add in rest of ingredients and mix until 'slushy'.

Drizzle the honey over the top.

Enjoy!
Notes
Rough calorie count based on using one cup unsweetened almond milk, 1/2 cup blueberries, one teaspoon honey, and 1/2 teaspoon vanilla.
Nutrition
Notes:
I don't have exact calorie information on this recipe, as amounts are very subjective.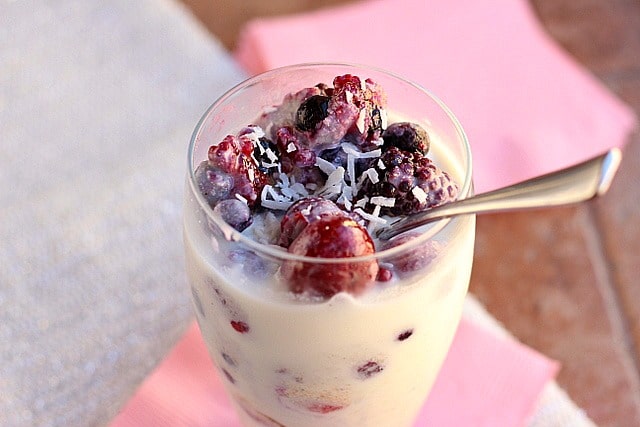 Have a great weekend!