Instant Pot Cream of Celery Soup - This easy and nutritious cream of celery soup makes a great light lunch or dinner! It's also conveniently made in the Instant Pot for a more hands off experience.

DIET OR NO DIET?
I've been eating this soup all weekend and loving every bite!
It's easy to make, cheap, healthy...clean eating at its finest, and nary a diet alive can find fault with the ingredients.
I have to admit, I get a bit tired of the various diet propaganda. Eat some real food, limit your sugar, call it a day.
Interestingly, I was talking with two separate people recently about diets, one of which had just turned vegan, the other who had dabbled in keto. Neither was feeling particularly good on their chosen plan, and I found it fascinating to hear their tales.
I've often considered a segment on the blog about what people eat in a day, though I don't know if it's as brain-boggling to anyone but myself.
Peeking at what people are buying in the grocery store lines and hearing how people eat is a little fetish of mine. I TRY to reserve judgment, but, admittedly, it is hard not to have an opinion.
I don't always feel top-notch myself though, so who's to say I'm not doing something wrong?!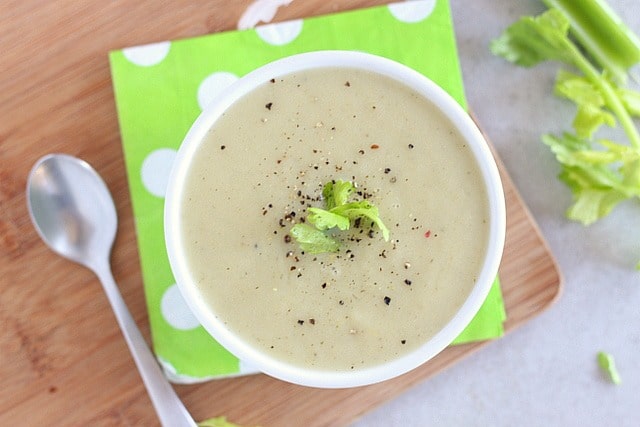 CREAMY CELERY SOUP, SANS CREAM
Back to my squeaky clean soup...did I mention it's an any diet pleaser?
Onion, garlic, celery, dill, water, lemon...yep, no argument with this one. You can't go wrong with veggies, can you? Everyone loves them these days, and what's to hate on? They're high in nutrients, low in calories, and perfect for pregnant women with sudden soup cravings. They're the MVPs we can all get behind and root for because they never steer us wrong or bend a knee.
This soup is conveniently made in the Instant Pot, allowing you the freedom to walk away, if needed (I know I need that!). It's also made with economical, easy to find ingredients, and has a lovely, creamy texture that is complimented by dill and lemon. I omitted any milk addition, rather favoring the use of a bit more olive oil, which adds to the soup's richness.
This has been a real belly warmer for me, as we had a cold weekend, complete with snow!
It's one I'll be making regularly!
Print Recipe
Instant Pot Cream of Celery Soup
This creamy and nutritious soup makes a great light lunch or dinner, and it's conveniently made in the Instant Pot!

Ingredients
3

Tbsp

olive oil

1

large

sweet yellow onion

chopped

2

garlic cloves

minced

1

bunch celery

(about six cups), chopped

½

tsp

dried dill

½

tsp

sea salt

¼

tsp

black pepper

3

cups

water

fresh lemon wedges

for serving
Instructions
Hit the 'saute' button on your Instant Pot (I have the 6-quart).


Add in the oil and let it warm.


Add in the onion and garlic, cooking for 1-2 minutes.


Stir in the celery, dill, salt, and pepper and hit the 'cancel' button to stop sauteing.


Pour in the water and lock the lid into place, making sure the release valve is set to 'sealing'.


Hit 'manual' and set the timer to 12 minutes on high pressure.


Once the pot beeps, let the pressure naturally release for 10 minutes (meaning, don't touch anything!). It will read LO10.


Release the remaining pressure.


With an immersion blender, puree the soup to your liking.


Taste for extra salt and pepper.


Be sure to serve with fresh lemon wedges, as the juice really brings out the flavor!

Nutrition
Calories:
85
kcal
|
Carbohydrates:
5.1
g
|
Protein:
1
g
|
Fat:
7.2
g
|
Saturated Fat:
1
g
|
Fiber:
2.1
g
|
Sugar:
2.1
g
Notes:
Substitute a tablespoon of olive oil for one of butter...gives a nice flavor!
Try this soup paired with a cheese crisp using my Spelt Tortillas for a pleasing meal.