Use your Instant Pot or pressure cooker to make these delicious and healthy vegan charro beans! A simple recipe that pairs well with rice.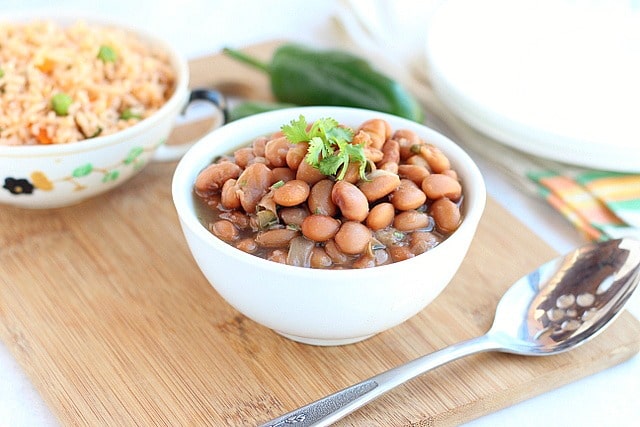 I did it.
I bought an Instant Pot.
Previously, I'd shake my head and furrow my brow at the thought of owning one. 'What do I need that thing for? I have too many kitchen gadgets as it is!'.
Two things broke me.
One, the hubs has one at his station and wouldn't keep quiet about it! Rice and chicken recipes were flowing like water, and my interest in pressure cooking began to pique.
I had previously written off the age-old technique as either 'not for me' or 'something must be wrong with cooking food that fast'.
After looking into it a bit more, however, I discovered that it can actually preserve nutrients better! Say what?!
I couldn't find any negatives related to the food cooked, so my mind began to open.
The second thing that happened was a sale, and boy, does this frugal girl ever love a sale!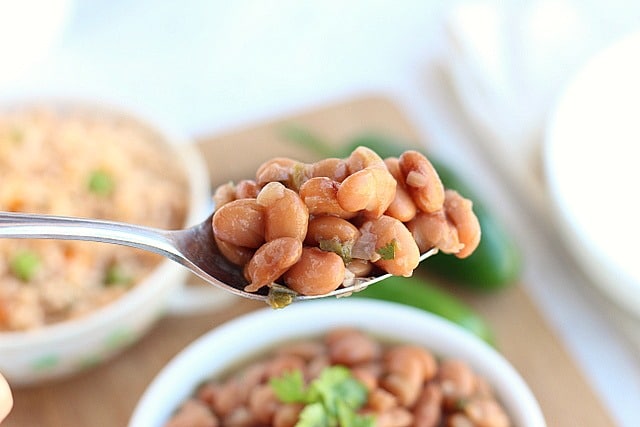 After I received my IP, I opened it, read about it, played with it, but didn't know what the heck to make!
I perused online recipes, but nothing really grabbed me. After pondering what might be most impressive, beans came to mind.
Beans, beans, the hard-to-cook fruit. Usually, beans are required to soak, and soak some more, and then cook for two plus hours. A real pain, if you ask me, so I typically avoid the endeavor.
With the Instant Pot, however, you can take beans from hard little rocks to soft, creamy bliss in about one hour!
My favorite bean is the pinto, so I decided to fashion a recipe after a local Mexican food joint.
El Charro is a popular Tucson restaurant that serves up (you guessed it) charro beans like no one's beeswax. While I love their version, I truly don't care for the added bits of fatty bacon, which is why I've created this recipe without them!
A bit of olive oil, onion, and garlic lend all the flavor necessary. It's truly surprising how incredible these beans taste with such a simple list of ingredients.
We've been enjoying these with a side of Tex-Mex inspired rice (recipe soon to come!).
Jade and Nat like some homemade salsa on the side, along with a good sprinkle of cheddar on the beans.
It all truly makes for a fantastic, filling, and economical meatless meal!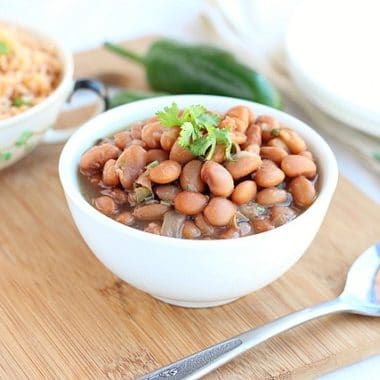 Print Recipe
Instant Pot Vegan Charro Beans
An easy recipe for some tasty Tex-Mex style beans!

Ingredients
1

Tbsp

olive oil

1

small

onion

chopped (yellow or red both work well)

1

jalapeno

chopped (add in seeds as desired for heat; I leave them out)

3

large

garlic cloves

minced

1

pound

bag dried pinto beans

rinsed

6

cup

water

½

tsp

cumin

sea salt

to taste

handful

cilantro

chopped
Instructions
Hit the SAUTE button on the Instant Pot.


Add in the oil, onion, jalapeno, garlic, and a good sprinkle of sea salt.


Cook for 3-5 minutes.


Stir in the beans, water, and cumin.


Secure the lid on the pot, making sure the top is set to 'sealing' not 'venting'.


Hit the KEEP WARM/CANCEL button.


Hit the MANUAL button.


Set it to 47 minutes (see Notes please).


Hit the MANUAL button again.


If your pot is like mine, it will take some time to become pressurized, which is normal.


After the allotted time, it will begin to beep.


Turn the top valve to 'venting'. Alternatively, you could let it naturally release for ten minutes to avoid a big shooting stream of steam.


Once it ceases shooting steam, remove the lid, and salt the beans to your taste.


Stir in the cilantro and enjoy!

Nutrition
Serving:
1
g
|
Calories:
218
kcal
|
Protein:
12.4
g
|
Fat:
2.5
g
|
Fiber:
9.1
g
|
Sugar:
1.6
g
Notes:

I like my beans on the softer side, so I set these to 47 minutes. You can always set the pot to 45 minutes, taste them, and restart for another minute or two, using MANUAL mode.