With Sammy beginning to eat solids and show signs of either distaste or enjoyment, I can now say that I officially share my home with three miniature food critics.
What's great about kids is their honesty, in all situations.
What stinks about kids is their honesty, in all situations.
No one hesitates to tell me if my legs are 'pokey' (aka, need to be shaved), what I'm wearing looks 'weird', or that my music selection for any particular car ride is lacking, and they certainly don't bat an eyelash at moaning with displeasure over my choice of meals.
'Awwww, chicken and rice again?…'
Yes, my darling dears…oh how you complete my life and make me feel so loved!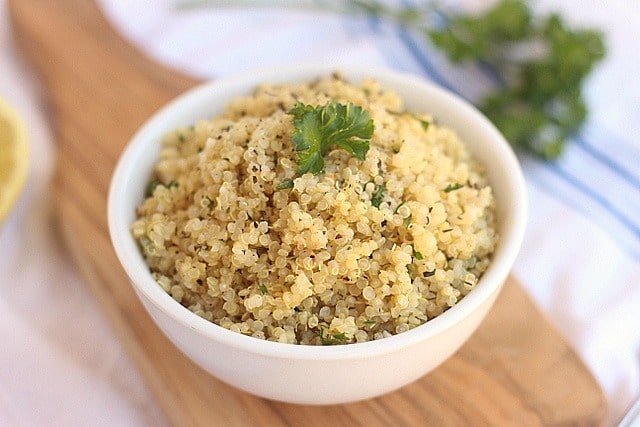 I have to tell you, I thought no one in this house but me appreciated quinoa until a certain blonde-haired, blue-eyed angel came toddling into the kitchen (smacking his lips, no less!), when this recipe was a-cookin'!
Spoonful after spoonful, he gobbled it up, as is evidenced by the crumbs on his lips (you better believe I was sure to get those in the shot).
See! You liked quinoa once!
To the girls' credit, they actually said they liked this recipe, though I often wonder at their desire to appease their mother.
Personally, I love this dish!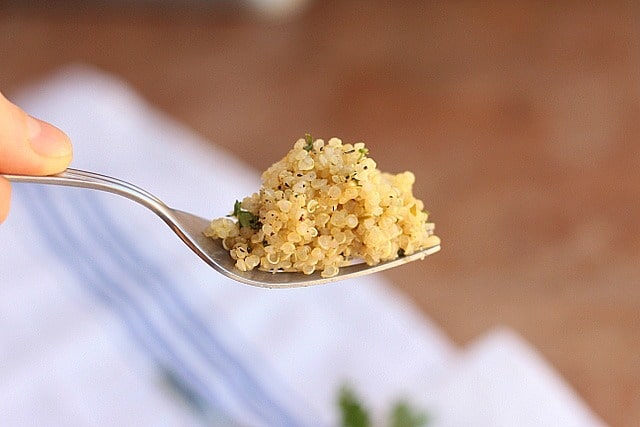 I ordinarily mix quinoa in with other veggies, so this is a nice change. I love the addition of herbs and lemon, and it pairs very well with just about anything!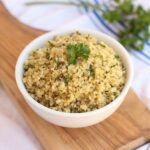 Print Recipe
Lemon Herb Quinoa
Bright and flavorful lemon herb quinoa makes a terrific side to any meal!

Ingredients
1

T

. olive oil

2

garlic cloves

, minced

1

c

. quinoa

, uncooked, rinsed, and drained

1

t

. dried oregano

1/2

t

. dried thyme

1/2

t

. dried rosemary

1 1/3 - 1 1/2

c

. water

, plus more as needed

2

T

. lemon juice

zest of one lemon

1/2

t

. sea salt

, plus more to taste

1/4

t

. black pepper

1/4

c

. fresh parsley

, chopped fine
Instructions
Heat the oil in a medium saucepan.

Add the garlic and cook for about 30 seconds.

Stir in the quinoa and cook 2-3 minutes.

Stir in the oregano, thyme, rosemary, and 1 1/3 cups water.

Bring the mix to a boil, then reduce the heat to low.

Cover and cook for 15 minutes.

Check the quinoa at this time to see if you need more water (I always seem to need much less water than a recipe calls for when cooking grains, so be aware.)

Once cooked through, stir in the lemon zest, lemon juice, salt, pepper, and parsley.

Check for seasoning and serve!
Notes
Fat: 6.2 g  Carbs: 28.7 g  Sugar: 0 g  Protein: 6.3 g; WW SmartPoints: 6
Nutrition
Notes:
Like I wrote above, my water amount for cooking grains always seems to be less than what is called for on packaging, so use your best judgment. If the quinoa isn't done after 15 minutes, and the water has evaporated, add a bit more water as needed and continue cooking for another 3-5 minutes.
What foods do your kids like best?
Shared with: Healthy Vegan Friday