Do you ever get a song stuck in your head?
This happens to me quite often, and with really random music at that.
One week, Duncan Sheik's 'Barely Breathing' was on repeat, while another time, the 80s Power Wheel jingle would not stop...'pow pow powerwheel, power powerwheel, pow pow powerwheel, POWERWHEEL!...now I'm driving for REAL!'.
The brain and memory are fascinating, aren't they? I can recall an annoying toy commercial from my youth, but not what I said ten minutes ago.
Truth be told, I think I have some type of memory disability.
Maybe not so much a disability as a selectivity. I hear what I want and remember only random, comical movie lines.
I'm actually pretty good at recalling movie quotes, usually at opportune moments as well. Of course, my best material comes out when there's either no one around or no one around who appreciates it...*cough*...mom.
I like to think I have a decent sense of humor, but it seems to be lost on quite a few people. Older women, in particular, are not fond of my dry, Billmurray-esk way of creating funny.
One of my favorite reality shows is Last Comic Standing. Did anyone watch this season?
Ian Bagg was robbed! He was definitely my top favorite, but Andi Erickson had me giggling more than once with her cute innocence. The element of surpriiiiiise!...(that one's for you R). 🙂
I could never be a comedian, but I could be a list-maker. I make lists for everything thanks to my memory. What really makes it funny, though, is when I forget my list, hah!
Recipes are probably the most important thing I write down.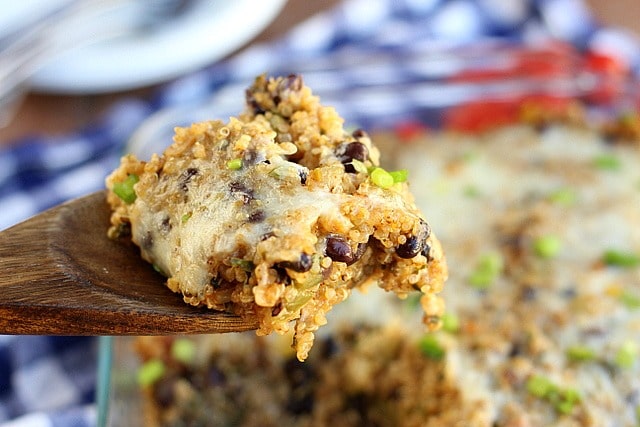 I start with a rough draft type recipe and work from there, usually scratching out various measurements and ingredients 2-3 times before finalizing the damn thing.
This recipe is one that has literally been in the works for a solid year, though to look at it, you probably wouldn't guess so.
I think my biggest struggle with it was the spice blend. I originally had paprika in it and was determined to make that work, when I finally realized that the subtle sweetness of the spice was throwing everything off.
Following that, it was an issue of whether or not to add chicken, being too dry or too wet, too much corn or not enough heat...
Now, however, I find it kinda perfect.
Spices are good, great ratios of vegetables, quinoa, beans, and cheese, and this is one of the few quinoa dishes my kids actually eat (and like!).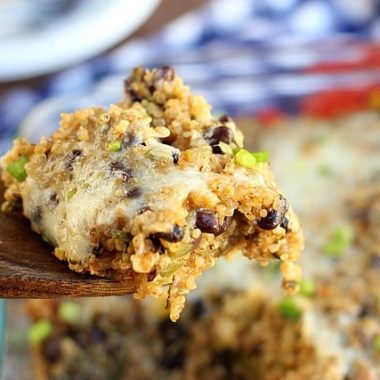 Print Recipe
Mexican Quinoa Lasagna Casserole (Vegetarian)
Healthy and delicious quinoa and bean casserole made with a Mexican flair!

Ingredients
1

c.

quinoa

uncooked

1

T.

olive oil

½

yellow onion

chopped

¼

green bell pepper

chopped

2

garlic cloves

minced

1

medium zucchini

chopped

1

large tomato

chopped (a heaping cup)

1

T.

chili powder

½

t.

oregano

½

t.

cumin

¼

t.

red pepper flakes

¼

c.

water or vegetable broth

15

ounce

can black beans

rinsed and drained

2

c.

spinach

chopped (lightly packed)

¼

c.

frozen corn

rinsed and drained

¼

c.

cilantro

chopped

1 ½

c.

cheddar cheese

grated (lightly packed)

2

scallions

chopped

salt and pepper
Instructions
Begin cooking the quinoa according to package directions.

Preheat the oven to 350 degrees.

Heat the oil in a pan.

Add in the onion and bell pepper.

Saute 2-3 minutes.

Add in the zucchini and garlic.

Saute 2-3 minutes.

Add in the tomato and spices.

Cook 1-2 minutes.

Add in the water or broth and beans.

Cook 1-2 minutes.

Stir in the spinach, corn, and cilantro.

Remove the pan from the heat, and stir in the cooked quinoa.

Taste for salt and pepper (I usually add about one teaspoon of salt).

Spoon half of the quinoa mix into an 8 x 8 baking dish.

Top with a little less than half of the cheese.

Spoon the remaining quinoa mix onto the cheese.

Top with the remaining cheese.

Bake 20-25 minutes.

Sprinkle with chopped scallions.

Serve!
Notes
Nutrition facts are based on using water. No amounts for salt and pepper are included. WW points (new system): 6
Nutrition
Serving:
1
|
Calories:
224
kcal
|
Carbohydrates:
25.1
g
|
Protein:
11
g
|
Fat:
9.5
g
|
Saturated Fat:
4.4
g
|
Polyunsaturated Fat:
5.1
g
|
Fiber:
4.9
g
|
Sugar:
2.1
g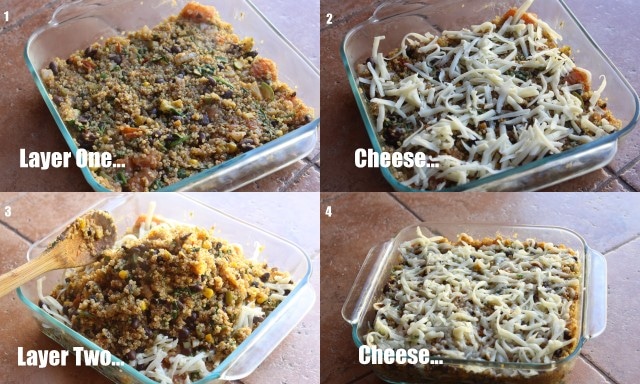 One of the best things about this meal for our family, is that it takes under an hour to do everything, including chopping the veggies, cooking the quinoa, and baking.
A great go-to dish for busy nights!
Do you have a go-to meal for busy nights?