Three different whole grains combine to make these multi-grain chocolate chip cookies that are low in added sugar and vegan-friendly.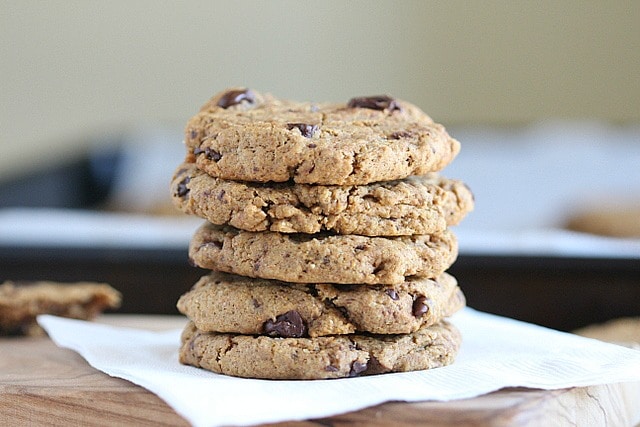 Yes, these cookies have not one, but three grains in them. I know grain-free is trending at the moment, but I love my fiber-filled grains! They do my body well, so I typically eat 1-3 servings of them a day.
My love is reflected in my pantry, which is overflowing with various flours.
Buckwheat, spelt, oat, coconut, rice, millet, teff, and almond, just to name a few. Some of my favorites are derivatives of wheat, including spelt and kamut.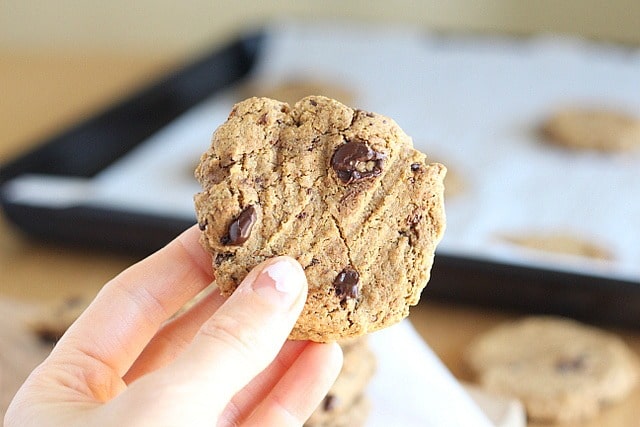 The girls went back to school last week, which leaves me and Sammy at home together for a good chunk of the day.
When dad's not home, my energetic little boy can get rather restless! Some of this time is often passed in the kitchen making his favorite cookies!
On this particular day, he was napping when I made these, so I snapped a couple of random real life shots of us...
As I said above, these are Sam's favorite cookies. They're a recipe I randomly created one day, and they happened to turn out great, so I've been making them for him ever since.
I keep them in the freezer, as Sam seems to enjoy them most cold. This works out well to also keep them from spoiling!
There isn't much sugar in the cookies, but he doesn't seem to mind. I pack them pretty well with chocolate chips, so I think that helps, but my kids are also used to very low sugar treats.
If you're on a mission to retrain your sweet tooth, you might like to give these a try!
Print Recipe
Multi-Grain Chocolate Chip Cookies
Three different whole grains combine to make these multi-grain chocolate chip cookies that are low in added sugar and vegan-friendly.
Ingredients
½

cup

spelt flour

½

cup

kamut flour

1

Tbsp

millet flour

½

tsp

baking soda

¼

tsp

sea salt

½

tsp

cinnamon

2

Tbsp

granulated sweetener

¼

cup

semi-solid coconut oil

(should be in a softened, almost melted state)

¼

cup

applesauce

2

tsp

vanilla extract

¼

cup

milk of your choice

¼

cup

chocolate chips
Instructions
All ingredients should be room temperature. Any cold ingredients will cause the coconut oil to clump.


Preheat the oven to 350 degrees.


Mix the following dry ingredients together (flours, baking soda, salt, cinnamon) in a bowl.


In a separate bowl, whisk the sugar with the oil, applesauce, vanilla, and milk until the mixture is smooth and the sugar granules are incorporated a bit.


Add the wet sugar mix into the dry ingredients bowl, along with the chocolate chips, and stir until well combined.


Dollop the batter onto a parchment paper-lined baking sheet. You should have 12 equal-sized cookies.


Form the cookies a bit with your hands, as they won't spread much.


Bake for 12-14 minutes until golden (see step 9 before doing this).

Here's the important step: Once they've been baking for 8 minutes, take them out and press down on them gently with a fork. This action removes the air that is created by the baking soda, thus compacting the cookie and making the texture better!


I like to transfer them onto a plate and into the freezer right away, which solidifies them.

Notes
Nutrition facts based on using regular sugar and unsweetened almond milk.
WW SmartPoints: 5
Nutrition
Calories:
112
kcal
|
Carbohydrates:
13.2
g
|
Protein:
1.9
g
|
Fat:
5.9
g
|
Fiber:
1.6
g
|
Sugar:
4.4
g
Notes:
I make my own millet flour from raw millet, which I grind in my Nutribullet.
I like to use my Homemade Coconut Milk in this recipe.
Please pay special attention to step 8, as I've found this greatly helps lower sugar cookies have a better texture (more akin to higher sugar cookies).
Some of the items I use in this recipe, including flours, are linked here:
Recipe Steps:
Mixing the dry...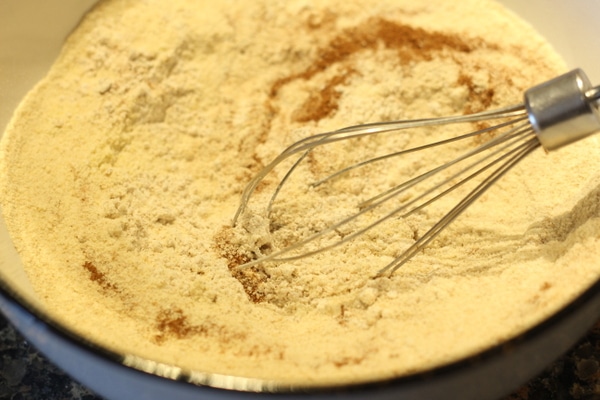 Mixing the wet...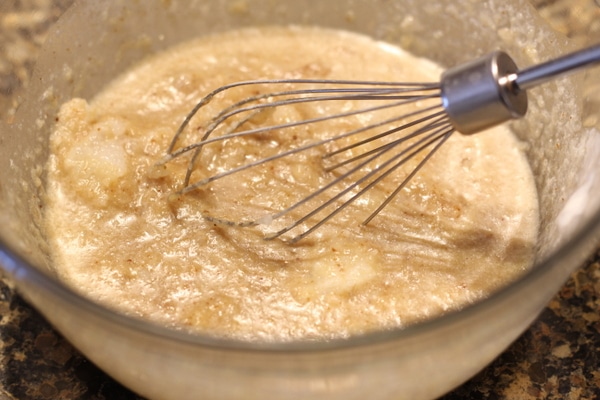 Batter is a-formin'!
Don't forget the chocolate...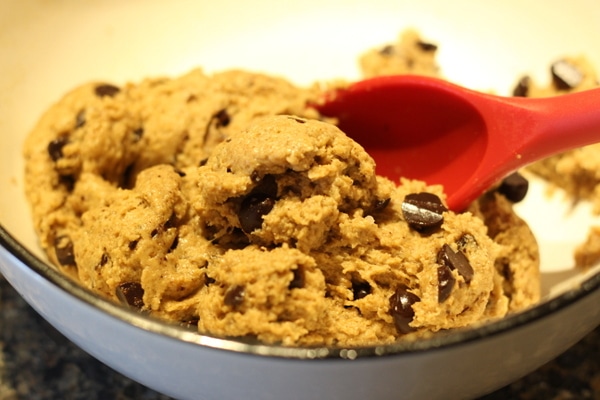 Form the cookies...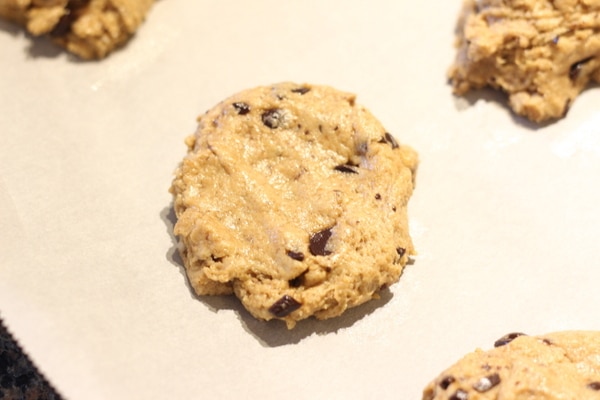 Sheet shot...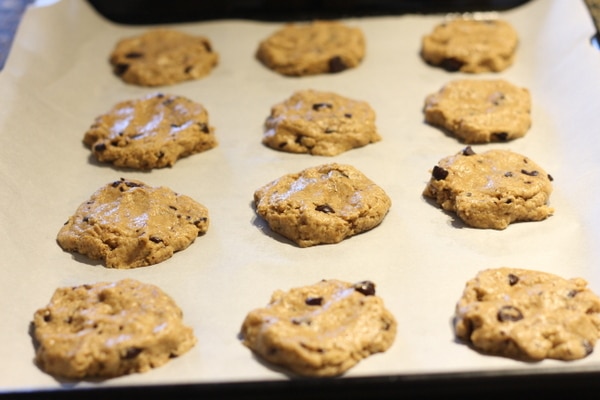 Fork trick, appropriately named (very important in low sugar baking)...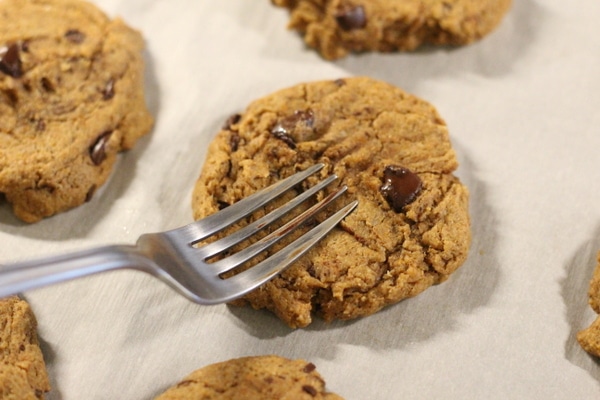 Yummy, kid-approved cookies!