My husband and I have done a lot of conversing in our eight years together.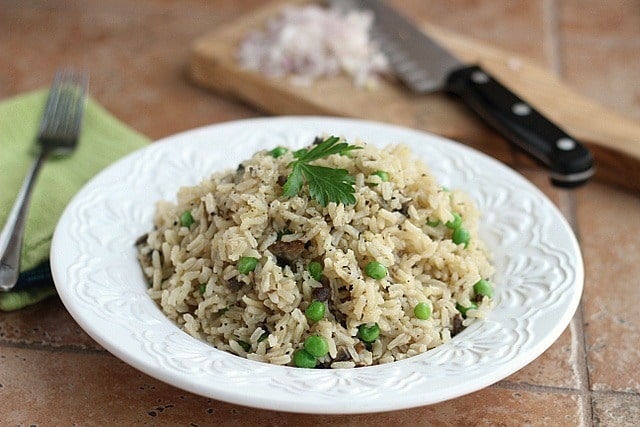 Our discussions run the gamut from the extremely morbid to the deeply philosophical. One of the many (and admittedly more mundane) topics that has arisen has been some variation of 'what food could you NOT live without' or 'you're stranded on a desert island and can eat one food for the rest of your life...'.
While my husband's answer typically revolves around some sort of protein (usually eggs), I often vacillate between my beloved oats and brown rice.
I looooooove brown rice. If this blog weren't called Oatmeal with a Fork, it might be dubbed something like 'Fire and Rice' or 'Not Without My Rice' or 'Dude, You Gonna Eat That Rice?''. Cauliflower proxies begone!
Having realized how few rice recipes are on this blog, I knew I needed to remedy the situation. This delicious pilaf is the perfect side to any meal. I'm not a fan of broths (buying them or making them), so I've used a combination of olive oil, mushrooms, and a bay leaf to add flavor without the extra work or cash.
Print Recipe
Mushroom Brown Rice Pilaf
Brown rice, mushrooms, and peas combine to make this tasty side dish!

Ingredients
1

T

. olive oil

2

T

. shallot or onion

, finely chopped

½

c

. mushrooms

(I use cremini), finely chopped

¼

t

. dried thyme

1

c

. long-grain brown rice

1 ½

c

. water

¾

t

. sea salt

¼

t

. pepper

1

bay leaf

¼

c

. frozen green peas

, rinsed and drained
Instructions
Heat oil in a medium saucepan.

Add in shallot or onion, 1/4 teaspoon of salt, and pepper.

Saute for 2-3 minutes.

Add in mushrooms and thyme.

Saute about five minutes, until the mushrooms have released their juices and softened.

Add in the rice, and toast for about three minutes until fragrant.

Add in the water, and bring the mix to a boil.

Once boiling, reduce the heat to a low and cover the rice.

Allow it to cook for 25-30 minutes (covered), at which time the liquid should be evaporated, and the rice should be soft and plump.

Add the peas to the top of the rice and cover it for another five minutes (off the heat).

Season with the remaining salt, adding more if needed.

Remove the bay leaf, fluff, and enjoy!
Notes
Fat: 4.6 g  Carbs: 34.4 g  Sugar: 0 g  Protein: 3.4 g; Nutrition facts are based on using shallot and one teaspoon of bay leaf. Weight Watchers points (new system): 5
Nutrition
At my most allergic, brown rice and rice milk were among the foods I tolerated best, and that reigns true to this day. Lucky for me, I happen to love them both!
My hubby and I postulated that if we ever were stuck on a desert island together, at least we could make some semblance of fried rice with my chosen grain and his eggs. I think I could definitely live with that as long as he's there to partake with me. ♥♥
What's one food you can't live without?