Happy Wednesday! I'm hoping to connect a bit more with other bloggers by participating in a detailed account of what I ate (in this case) Monday!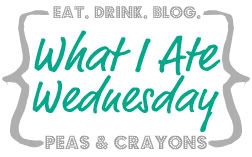 For those of you who may be unfamiliar with this, check out Jenn's blog, Peas and Crayons, for more details.
As you may gather from the name of my blog, I adore oats! I've been known to eat them for breakfast, lunch, and dinner. I also try to cram them in anything and everything, from cookies to meatloaf! My favorite, can't-live-without-it food inspired half of this blog's name, while my husband's affinity for eating them with a fork, inspired the other half. He literally eats all things 'bowl' (except ice cream) with a fork! Soup, chili, and cereal are all pronged by his eclectic hand.
Breakfast
It's no surprise that breakfast consisted of my Favorite Overnight Oats...
Right now, this is probably my favorite breakfast, but with my tendency to develop allergies to things I eat often, I need to be sure I'm eating a variety of foods.
Snacks
An apple...
...with some homemade walnut butter (recipe below), yum!
Honey greek yogurt from Trader Joe's....
...some raspberries...
...that someone stole the majority of...
Can you believe that not that long ago this little devil was my sweet, agreeable angel that didn't know the word 'no'?
Now I know why they call it 'the terrible twos'.
My main lunch was consumed while out and about, so it is attractively displayed in a Tupperware...
While this may not look that appetizing here, this meal is phenomenal! It's chock full of veggies, brown rice, and chicken. I make it at least once a week.
A peppermint patty and some unpictured chocolate may have been consumed in the midst of putting groceries away and preparing for dinner...
...the cracks in the other chocolates are yours truly searching for the patties...yup, I'm that girl.
A break in food for Jadie and I to show off our blue toes...
Unfortunately, as I knew I would, I forgot to snap a picture of dinner before inhaling it! Aaaaarrrggghhh! I was doing so well! But, alas, I was able to get a shot of one of the last bites....
We had chicken quesadillas stuffed full of beans, veggies, chicken, and cheese. We used my homemade whole wheat tortillas, and they were phenomenal!
That about wraps it up! I'll usually bake something at night, but this night I didn't. In future posts, though, you can anticipate late night sweets!
I wanted to include the walnut butter recipe, as it is so good and easily adapted to your tastes.
CINNAMON HONEY WALNUT BUTTER
Adapted from this recipe
2 c. walnuts, soaked overnight
1/4-1/2 t. salt
2 t. honey
1/2-1 t. cinnamon
1-3 t. olive oil
Toast the walnuts in a 350 degree oven for about 12-15 minutes. Watch closely so they don't burn! Process the walnuts until it starts to butterize (this happens quick). Add other ingredients to your taste. Only add enough oil to make it creamy enough to your liking.
What are you eating this week?