How To Make Eggplant Pizza - A much lighter way to enjoy pizza! Topped with my homemade pizza sauce, cheese, and vegetables, you'll (hardly) miss the crust!
A blog buddy once deemed me the 'queen of pizza'.
I have to admit, I kind of enjoy that caption.
I grew up in a family where we either ordered or made pizza at least once a week.
My dad made the BEST pizza, along with his own homemade sauce. I wish I could have gotten his recipe before he passed.
Those memories and his passion instilled in me a love for the Italian pie that has me craving it quite frequently.
Eggplant as a pizza crust
Eggplant makes a great, low carb pizza crust, as it has a fairly neutral flavor that combines well with Italian spices, tomato, and cheese. It's also much easier to make than dough!
How to prepare eggplant for pizza
The main downfall with eggplant is that it can become soggy.
To remedy this, salt the eggplant, which will draw out the water, and then pat them dry with a clean dish towel.
Pre-baking will then dry the eggplant rounds out even more, preparing it to be a less soggy base for your pizza.
Peel or no peel?
I like mine with the peel.
I feel it gives the pizza a bit more stability, I enjoy the taste, and it's full of nutrients!
Just be sure you give it a good wash beforehand.
How many calories are in eggplant pizza?
This can be a loaded question, as it depends A LOT on your toppings!
Assuming an eggplant gives you about 12 1/2-inch slices, each eggplant slice is about ten calories. This doesn't take into account the oil used for baking or any toppings.
For each slice, figure on a tablespoon of tomato sauce, which clocks in at about four calories, plus one tablespoon of cheese, which is about 28 calories (for cheddar).
Is eggplant high in oxalates?
Since I myself am careful about oxalates right now, I thought some of you might appreciate the information, so I'll be adding it to some of my posts.
For reference, eggplant is considered medium oxalate (1/2 cup, raw is about 16.2 milligrams). Most folks who are eating low oxalate allow themselves no more than 50 milligrams of oxalates a day.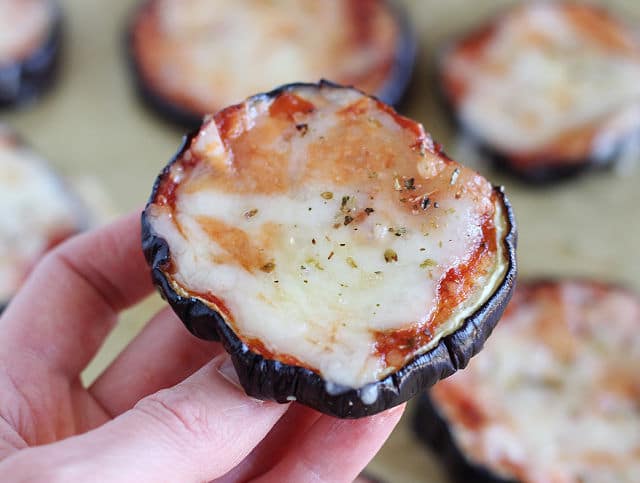 We enjoyed topping these with my Homemade Pizza Sauce and a combination of white cheddar and parmesan cheeses.
They would also be delicious topped with my Ground Turkey Sausage crumbles!
They are a delicious, low carb, low calorie alternative to the traditional version!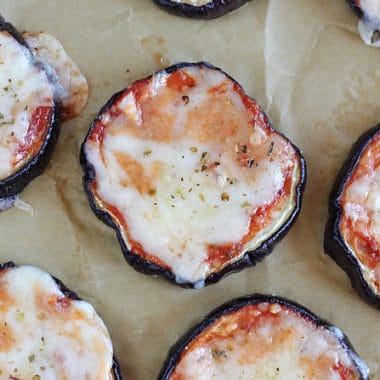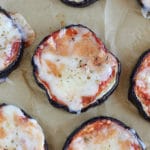 Print Recipe
How To Make Eggplant Pizza
A much lighter way to enjoy pizza! Topped with my homemade pizza sauce, cheese, and vegetables, you'll (hardly) miss the crust!
Ingredients
1

large eggplant

sliced into 1/2 inch rounds (I leave the skin on, but you can peel it if you wish)

salt

for sweating the eggplant and for taste

olive oil spray

toppings of your choice
Instructions
Preheat the oven to 350 degrees.

Place the eggplant rounds onto a clean dish towel.

Lightly salt each side of the eggplant rounds.

Let them sit on the towel for 15-30 minutes to 'sweat' some of the water out.

Press down on the eggplant slices with the towel to squeeze out some of the water.

Spray each side of the rounds with an oil spray (I use a Misto for this step).

Place the rounds onto a parchment paper-lined baking sheet.

Bake for 20 minutes.

Remove the pan, and top the rounds however desired (sauce, cheese, vegetables, etc.).

Place the pan back into the oven for about 10 minutes, until toppings have cooked through.

Remove and enjoy!
Notes
Nutrition facts are based solely on the eggplant, as everything else is subjective.
WW Points: 0
Nutrition
Calories:
10
kcal
|
Carbohydrates:
2.2
g
|
Protein:
0.4
g
|
Fat:
0.1
g
|
Fiber:
1.3
g
|
Sugar:
0.9
g
Notes:
Be sure to NOT over-oil the eggplant during the first bake. Oil will make the rounds soggy, which is the opposite of the point of the pre-bake.
Shared with: Full Plate Thursday