Can I bore you with one of the best side effects of pregnancy?
A lowered immune system.
Now, most of you are probably furrowing your brow and wondering how this is by any means a good thing.
For someone like myself, who ordinarily has constant itching and perpetual food allergies, this is sheer bliss!
For the third, and probably final, time in the last 12 + years, I'm able to eat normally!
This comes as a result of the body's inability to 'attack' the growing baby, which would be perceived as a foreign invader under different circumstances. Consequently, the body lowers its overall defenses, which is why pregnant women can easily get sick during this time.
Though I mentioned burger and fry cravings in my previous post, that was more a product of the incessant nausea that was plaguing me day in and day out.
Now that I'm through that phase and into my second trimester, my taste buds have somewhat returned to normal, giving me the freedom to indulge a bit in foods that would typically give me distress.
Peanut butter is high on this list of indulgences.
Creamy, crunchy, I don't care....just give it to me without added sugar or oil and I'm good!
Laura Scudder's is my all-time fave brand, one of the reasons being that I grew up eating it, but another being that it's one of the few natural peanut butters that you can still buy in a glass jar.
Peanuts, salt...that's what your peanut butter labels should read people.
No sugar or palm oil or whatever other crap companies want to try to stick in there to 'enhance' the taste.
One of my favorite tricks, if you can even call it that, is to pour off the top layer of separated peanut oil and replace it with an equal amount of olive oil.
This, I feel, makes it just a little bit healthier for me.
Peanut butter oatmeal, peanut butter muffins, peanut butter cookies...needless to say, I've been going a bit mad with the stuff, eating it while I can!
These cookies came about as a result of just wanting a healthy, high protein treat to munch on in a day, so I made them a bit smaller, yielding a more appropriate 'snack-size' portion.
I feel good about giving these to my girls, and the hubby has been enjoying them at work, so (if you give them a try) I hope you like them too!
Print Recipe
Oatmeal Peanut Butter Cookie Snackers (Gluten-Free)
Servings:
12
small cookies
Ingredients
1/2

c.

natural peanut butter

salted

6

T.

coconut sugar

1/2

t.

vanilla

1/4

t.

cinnamon

1

egg

1/2

t.

baking soda

1/2

c.

quick oats

gluten-free, if necessary (I use Country Choice Organic Oats)
Instructions
Preheat the oven to 350 degrees.

Beat the peanut butter, sugar, vanilla, and cinnamon together just until combined.

Beat in the egg and baking soda, again just until combined.

Stir in the oats, the mixture will be very thick at this point.

Roll the dough into 12 equal-sized balls and flatten them onto a parchment paper-lined cookie sheet.

Bake the cookies for 9-11 minutes until golden.

Once out of the oven, gently press down on the tops with a fork (see below image) to decrease air and compact the cookie for best texture/taste.

Cool and enjoy!
Notes
WW points (new system): 3
Nutrition
Serving:
1
g
|
Sodium:
59
mg
|
Sugar:
6.8
g
|
Fiber:
1
g
|
Cholesterol:
14
mg
|
Calories:
108
kcal
|
Polyunsaturated Fat:
4.7
g
|
Saturated Fat:
1.2
g
|
Fat:
5.9
g
|
Protein:
4.2
g
|
Carbohydrates:
10.4
g
Adapted from this recipe
Notes:
Increasing the size on these (AKA making fewer, larger cookies) will also increase the baking time, so be aware.
Don't skip the flattening step!...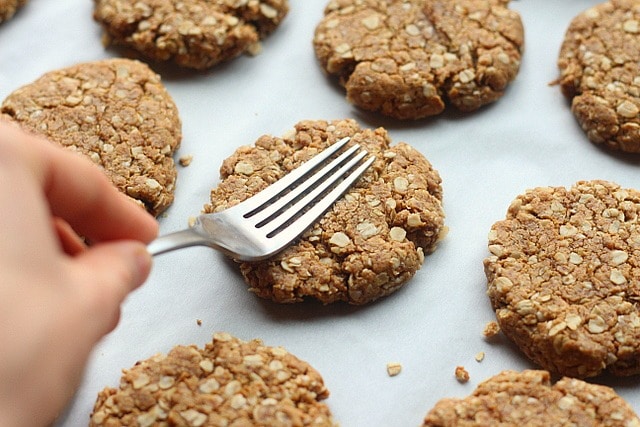 It really compacts the cookie, lending a better texture and taste...crispy edges with a chewy center, mmmmm...
Little girls everywhere approve! 🙂
What is your favorite way to enjoy peanut butter?