This is not my typical fare...
...but for whatever reason, I was recently struck by an insatiable hunger for vegan pizza.
By vegan I mean no cheese, no pepperoni...simply crust, sauce, and veggies.
Weird for me since I love cheese and don't think I've ever eaten a pizza without it!
I think the root of my craving began with Instagram.
Oh social media, you are my nemesis, but I do find you fascinating at times.
Instagram, if you've never partaken, is nature's indirect gift of random snapshots. You can pretty much find pictures of anything and everything (and I do mean everything) on Instagram.
While washboard abs and pouty faces abound, Instagram can actually be a neat resource for food inspiration. I like to search hashtags like 'healthy eating' or 'clean food' right around lunch time to discover new meal ideas.
I'm not a big fan of the posed food shots that ultimately look too pretty to touch, but rather I enjoy seeing what I think are pictures of what people are actually eating! Case in point, this vegan pizza was among the many photographs under the heading 'healthy food', and the description sounded so delicious that I had to recreate it!
My youngest daughter and I have been enjoying this for lunches lately, as it comes together in about 30 minutes. Though she likes hers with just sauce and cheese, I just pile on the sauce and veggies, and it's delicious!
If you've never tried it, vegan pizza is surprisingly scrumptious, especially if it's paired with the right sauce (ahem, this one is awesome!).
With no yeast or oil in the crust and tons of healthy vegetables atop, this is a great new way to try an old favorite!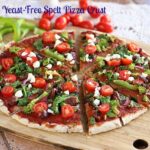 Print Recipe
Yeast-Free, Oil-Free Spelt Pizza Crust (Vegan)
Ingredients
1

c.

spelt flour

2

t.

baking powder

½

t.

sea salt

1

t.

garlic powder

optional

1

t.

herbs de Provence or Italian seasoning

optional

1/3-1/2

c.

water

maybe a splash more...
Instructions
Preheat the oven to 400 degrees.

Mix the dry ingredients (flour, baking powder, salt, spices) in a large bowl.

Stir in the water, adding a little at a time after 1/3 cup just until the dry ingredients are all moistened, but not sticky to the touch.

Knead for a minute or so, and let stand on your counter for about 5-10 minutes while you prepare toppings.

Roll out the dough, using flour as needed.

Place on a pizza pan and make a crust, if desired.

Top with sauce and veggies (or cheese, if desired).

Bake 15-20 minutes on the bottom rack of your oven until toppings are cooked through.

Cool, slice, and enjoy!
Notes
WW points (new system): 1
Nutrition
Serving:
1
|
Calories:
53
kcal
|
Carbohydrates:
11.7
g
|
Protein:
2.1
g
|
Fat:
0.3
g
|
Polyunsaturated Fat:
0.3
g
|
Sodium:
119
mg
|
Fiber:
1.9
g
My husband and I are especially fond of the added garlic and herbs, as this really adds a little something extra to the pie!
Topping ideas I love include:
-green or red bell pepper
-broccoli
-red onion
-spinach or other dark leafy green
-cauliflower
-olives
-roasted eggplant
-cherry tomatoes
If you're like I was with cheeseless pizza, I urge you to give it try once! I think (hope) you'll be pleasantly surprised!