I know what you're thinking...
...another pesto recipe in a world full of pesto recipes??...b-o-r-i-n-g...and to be honest, there's probably not much about this recipe to differentiate it from any number of others already in existence.
But!...I've been working on and testing this recipe for a few months now, and I love it. I can eat it with a spoon it's so good! It's also nut-free and basil-free, which may have you furrowing your brow, since that's what pesto dreams are made of, but let me explain.
The nuts are out because of Jade's allergies. Among other things, I like to have this recipe on hand as a quick lunch fix for my girls... a dollop of pesto mixed in with some warm brown rice pasta and chopped chicken is a fave with them (and a life-saver for me when Sammy is crying and needy)!
Regarding the basil, I love it, I really do! I will actually throw it in certain smoothies and use it in moderation in recipes.
For pesto, however, it can get a bit pricey.
A four-ounce package around these parts costs about three dollars, which becomes a bit silly when I can find a bigger bunch of spinach or kale or even chard on sale for half that price, and it makes just as good a pesto.
I make this on any given day, and it keeps for about a week.
In addition to the girls' noodles, I love spreading it on my Oil-Free Spelt Pizza Crust or atop my Lentil Flatbread or even mixing it in with some cooked quinoa and chopped cherry tomatoes.
(Red Lentil Flatbread shown above)
I also lowered the oil as much as I saw fit before the taste began to suffer.
I call this 'adaptable' because I've tried it with a few different dark greens, and they all work well! That way, we (or you) aren't limited to what may not be on sale at the grocery store (a legitimate concern here).
In addition, if you're not nut-free, you can substitute the hemp seeds with walnuts or whatever you like. I have it in mind to try pumpkin seeds, though I haven't yet.
However you use or make this, I am hopeful you'll enjoy it as much as we do!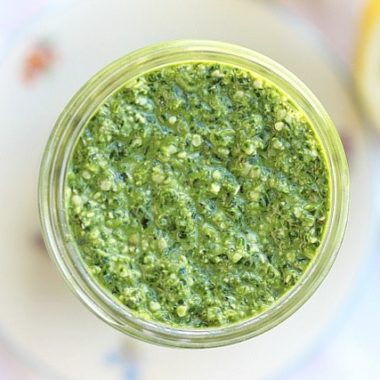 Print Recipe
Our Favorite Adaptable Pesto
Perfect, bright pesto made with greens of your choice!

Ingredients
2

garlic cloves

3

(packed!) c. dark leafy greens, such as kale or spinach (choose something you like the taste of!)

¼

c

. hemp seeds

2

T

. lemon juice

½

t

. sea salt

1/4-1/2

t

. black pepper

¼

c

. good olive oil

¼

c

. grated parmesan
Instructions
Pulse the garlic in a food processor until minced.

Add in the kale, hemp seeds, lemon juice, salt, and pepper and process until everything is broken down.

With the processor still running, slowly add in the oil.

Once everything is well combined, pulse in the parmesan.

Enjoy!
Notes
Fat: 12.8 g  Carbs: 4.7 g  Sugar: 0 g  Protein: 5.8 g; Nutrition facts based on using on kale and two ounces of parmesan. WW SmartPoints: 5
Nutrition
What's your favorite recipe to use pesto in?
Shared with: Hearth and Soul, Sunday Fitness and Food