I know most food bloggers tend to stay within the realms of what's currently popular in food world, but I have a habit of just making what I want. Ice cream in February and now squash in March....it's typically how I roll.
Soooo, instead of a Girl Scout cookie variation, today you are getting fries. Delicious, flavorful, good-for-you fries.
I kind of hate the squash taste that comes from vegetables like zucchini, yellow and butternut squash, but when cooked or baked a certain way, my attitude completely changes...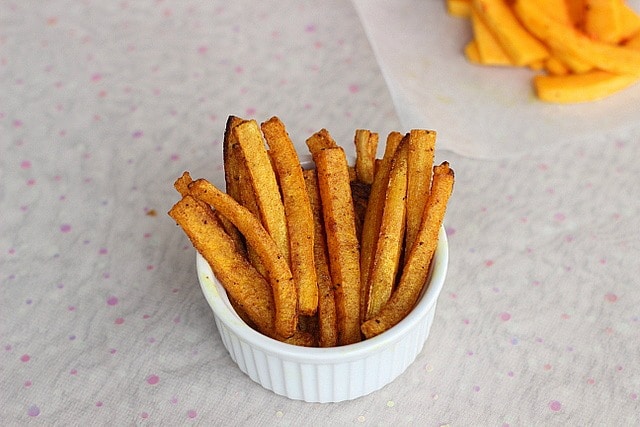 Don't they look like regular fries? 🙂 Illusion is half the war in eating healthy. If something healthy looks good, it's that much easier for me to get it into my belly because, psychologically, I feel like I'm indulging.
Print Recipe
Paleo Curried Butternut Squash Fries
Ingredients
1

medium butternut squash

deseeded, peeled, and sliced into 1/2 inch fries

2

T.

oil

1

t.

curry powder

¼

t.

cinnamon

⅛

t.

ginger powder

scant 1/2 t. sea salt
Instructions
Preheat the oven to 375 degrees.

Mix the oil with the salt and spices.

Toss the 'fries' in the spice mix.

Lay the fries onto a parchment paper-lined cookie sheet (don't crowd them!).

Bake for about 35 minutes until golden, flipping halfway through.
Notes
The nutrition facts are based on using a 1 pound butternut squash. Weight Watchers SmartPoints: 8
Nutrition
Serving:
2
|
Calories:
227
kcal
|
Carbohydrates:
27.4
g
|
Protein:
2.4
g
|
Fat:
14
g
|
Saturated Fat:
1.8
g
|
Polyunsaturated Fat:
12.2
g
|
Sodium:
478
mg
|
Fiber:
5
g
|
Sugar:
5
g
I gathered some information about sweet potatoes and russet potatoes (the veggies most typically used to create fries) to compare to butternut squash, and this is what I discovered:
RUSSET POTATOES
CALORIES 153
CARBS 39.9 g
SUGAR 4.6 g
SWEET POTATOES
CALORIES 204
CARBS 47 g
SUGAR 14.7 g
BUTTERNUT SQUASH
CALORIES 102
CARBS 26.5 g
SUGAR 5 g
*This information is based on using 1 pound of each.
Butternut squash is significantly lower in both calories and carbs than both types of potatoes, and much lower in sugar than sweet potatoes. This is not to say that potatoes are bad for you, but it is nice to know that you can eat something a bit healthier in these specific areas if need be.
What motivates you to be healthy?
For me, there have been numerous things...weight gain, acne, depression, fatigue....to name a few...all of which compel me to this day to keep my diet clean.