This low sugar pumpkin chocolate chip cookie has a rich, fudgy texture thanks to the addition of the popular Fall vegetable!

Target woes
Let me tell you about my recent Target trip.
All three kids were in tow, mama was unshowered, unshaved, hoping no one looks her way...
I just had a few necessities to pick up...soap, a razor, a random can of pumpkin...but still, by the time we got to the checkout lane, I was frazzled by all the kiddie chitchat and six hands a-grabbin'.
We made it through the line and to the parking lot successfully, but as I was pulling out, I nearly T-boned another car!
I felt so bad, so I waved and mouthed 'sorry' to the driver, only to get a mean, steely stare that made me initially shrink, but then feel indignant. Hey, I said sorry, what more do you want?? Then I think, well, I'd probably be mad too if I was her.
Needless to say, I mulled that encounter over the rest of the day!
It's pumpkin time!
Well, at least I came away with my Ivory bars and can of Libby's pumpkin.
Pumpkin is most definitely in full bloom and on parade right now. Anything and everything you could think of to add pumpkin to is now a tangible possibility, thanks to millions of food bloggers and the world-wide web!
I like pumpkin, but I can't say I love it. Pumpkin and I are just platonic friends that meet every so often when I need a good pie or a scary face.
I do, however, find that it can add a helluva texture to my baked goods!
The addition of pumpkin in this cookie makes for a really great consistency: a bit fudgy, soft, moist...delicious!
Drizzled with yogurt and cinnamon...
Baking tips
This lower sugar pumpkin cookie is baked in a small ramekin, which helps to hold in moisture and keep it from being too dry. I find this to be one of the best ways to retain a good cookie-like texture when baking without much sugar.
I'd recommend using coconut milk or another naturally sweet milk in this recipe, as it adds to the overall sweetness and taste.
I use 100% unsweetened chocolate to keep the sugar/carb content low, but if you're still retraining your sweet tooth, try the 73% bar from Trader Joe's (no soy in that one!).
This one was approved by all in my household, so I hope you like it if you try it!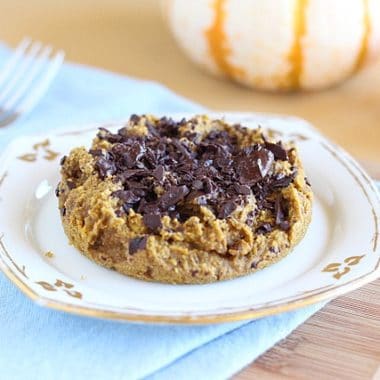 Print Recipe
Low Sugar Pumpkin Chocolate Chip Cookie
This single serve treat is low in added sugar and has a rich, fudgy texture thanks to the addition of pumpkin puree!

Ingredients
4

Tbsp

oat flour

1

tsp

buckwheat flour

1

Tbsp

oats

½

tsp

coconut sugar

1/16

tsp

sea salt

1/16

tsp

baking soda

good

dash

cinnamon

1

tsp

coconut oil

1

Tbsp

pumpkin puree

2

Tbsp

coconut milk

½

tsp

vanilla extract

1

Tbsp

chocolate chips or chopped chocolate
Instructions
Preheat the oven to 350 degrees.


Mix together the flours, oats, sugar, salt, baking soda, and cinnamon.


Stir in the oil and pumpkin until the mixture is 'pebbly' in appearance.


Add in the milk and vanilla, stirring to combine.


Spread the batter into a small (8-10 ounce) well-oiled ramekin.


Top with chocolate.


Bake 15-17 minutes or until cooked through. Don't overbake it.

Notes
Nutrition facts based on using chocolate chips. WW SmartPoints: 13
Nutrition
Calories:
302
kcal
|
Carbohydrates:
32.6
g
|
Protein:
5.7
g
|
Fat:
16.8
g
|
Fiber:
4.6
g
|
Sugar:
9.3
g
Notes:
You can sub more oat flour for the buckwheat flour, but the buckwheat gives it a little sumpinsumpin', if you know what I mean.
I use my Homemade Coconut Milk in this recipe, but any full-fat canned variety will work.
These are some of the items I use to make this recipe, including the ramekins:
Recipe Steps:
Mixing the dry ingredients...
Creating the batter...
Oil a ramekin...
Add batter...
Add chocolate...