Are you looking for a nut-free alternative to the ubiquitous almond flour? Try making your own pumpkin seed flour! It's a great substitute that adds variety and different nutrients to recipes.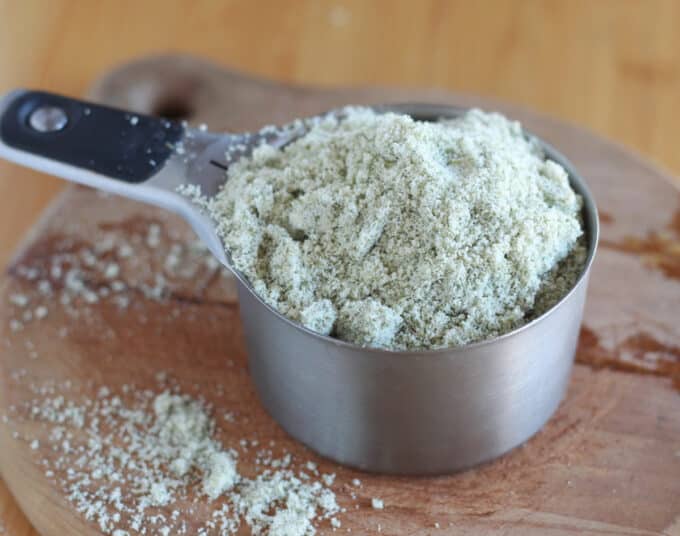 So, what is pumpkin seed flour?
This may be obvious, but it's just ground raw pumpkin seeds. I started making it many moons ago as an alternative to almond meal and other grain-based flours.
Pumpkin seeds are high in zinc and protein, gluten-free, and when ground up fine, they make a great supplemental flour.
The flour itself does have a pumpkin seed flavor, so it is best used in recipes mixed with other flours, like oat and/or spelt.
How I make pumpkin seed flour
Making this flour is super simple and requires just a few moments of time!
All you have to do is grind raw pumpkin seeds (the green kind) in a coffee grinder or small food processor until fine.
My favorite appliance to use is my Nutribullet 900 and the accompanying flat blade.
Unlike almonds, pumpkin seeds are soft, and they quickly grind into flour, making the process easier.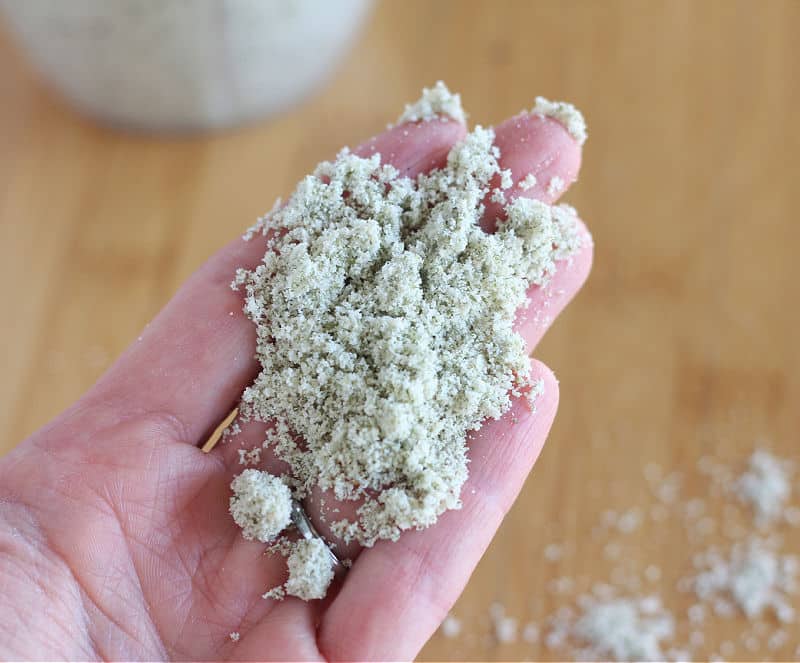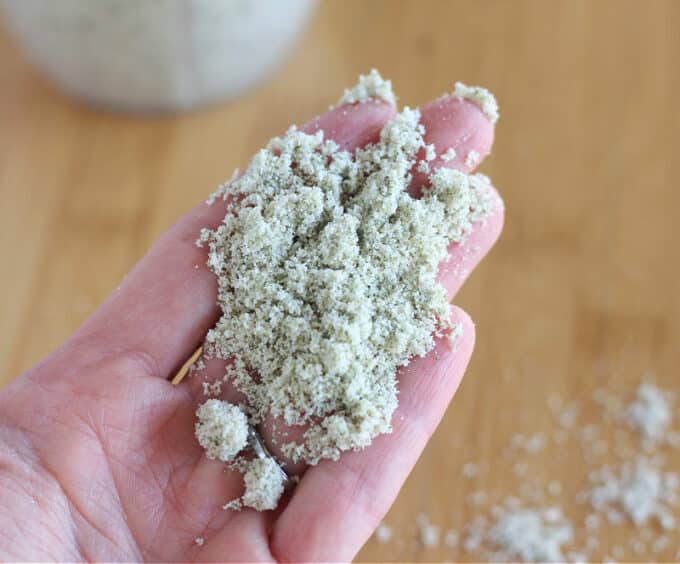 Almond flour vs pumpkin seed flour
Let's take a peek at the nutritional differences between these two. The facts are based on a 1/2 cup measurement and the brand Simple Truth for both.
As the nutritional calculator I use is highly variable, depending on brand, I opted to choose the same brand for each to compare.
Almond flour
340 calories
30 grams fat
14 grams carbs
8 grams fiber
2 grams sugar
12 grams protein
Pumpkin seed flour
320 calories
28 grams fat
10 grams carbs
2 grams fiber
0 grams sugar
14 grams protein
While almond is superior in fiber, pumpkin is higher in protein and lower in carbohydrates.
Pumpkin seed flour is also low in oxalates, whereas almond is quite high. If you have trouble with oxalates, you may have bladder issues or unexplained pain.
I realized oxalates were an issue for me about two years ago, and while my symptoms have improved with time and effort, I still avoid the foods that are really high (like almonds).
How to use
Unless you truly love the taste of pumpkin seeds, the flour works best as a supplemental flour. By this, I mean using it in combination with other flours, like oat flour or spelt flour.
Measurement references
If you're working with measurements in the metric system, I've figured a few calculations for using pumpkin seed flour.
Flour
1/2 cup + 2 Tablespoons
1/2 cup
Metric weight
75 grams
60 grams
To explain, 1/2 cup of raw pumpkin seeds makes approximately 1/2 cup plus two tablespoons of pumpkin seed flour, which weighs 75 grams.
1/2 cup of measured pumpkin seed flour is equal to about 60 grams.
How to substitute
Because pumpkin seed flour is higher in fat than wheat flour, or grain flours in general, it will add more moisture to recipes. Because of this, you may need less liquid than usual.
While I have made recipes with 100% pumpkin seed flour, I prefer to use it as a conjunctive flour. I've been successful using 1/2 oat or spelt and 1/2 pumpkin seed, but my favorite ratio is about 2/3 cup regular (oat or spelt) flour to 1/3 cup pumpkin seed flour.
That way, the taste isn't overpowering, and it adds a lovely texture and subtle flavor.
How to store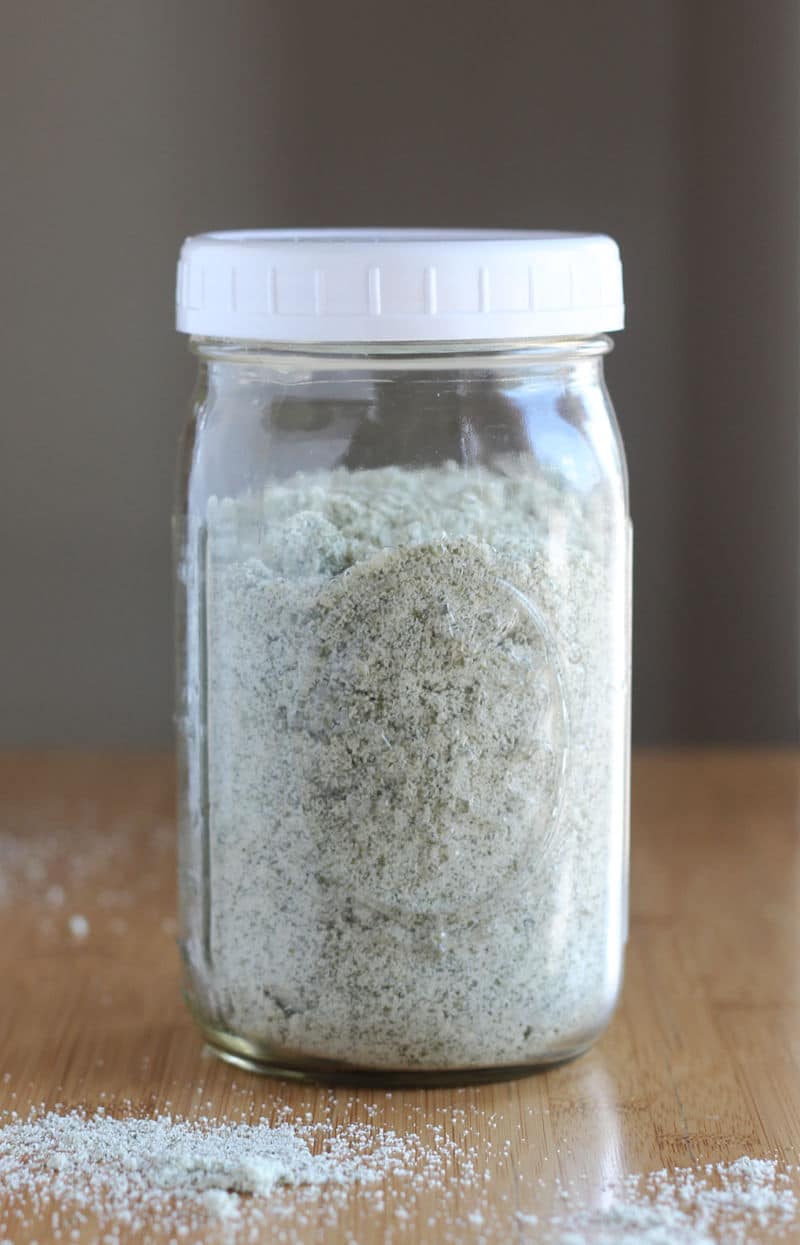 Like other seeds and nuts, pumpkin seeds contain oils that can easily go rancid. For that reason, they are best kept in either the refrigerator or freezer.
If kept in an airtight container in the fridge, pumpkin seed flour could last anywhere from 3-6 months, depending on the age of the seeds when purchased.
If stored in the freezer (in an airtight container), the flour could be kept for about one year.
These are just general guidelines. Always use your nose and taste as common sense barometers!
Recipes to try
Give a few of these recipes a shot to introduce yourself to the taste!
Oat and Pumpkin Seed Flour Chocolate Muffins
Candida-Friendly Chocolate Mug Cake
Low Sugar Chocolate Chip Cookies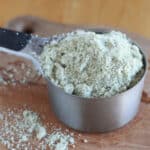 Print Recipe
How To Make Pumpkin Seed Flour
Are you looking for a nut-free alternative to the ubiquitous almond flour? Try making your own pumpkin seed flour! It's a great substitute that adds variety and different nutrients to recipes.
Instructions
You can make pumpkin seed flour as you need it, or make a larger batch to save for later. Fill your blender or food processor with the seeds. One cup of raw pumpkin seeds yields about 1 1/4 cup flour.

Blend until the seeds have turned into a fine flour, about 15-30 seconds. The flour is done when it feels like powder with a very slight texture (not sandy). If you see larger pieces of seeds, keep blending.

Keep your flour in an airtight container (preferably glass) in the fridge to maintain freshness. It can keep 3-6 months in the fridge and about one year in the freezer.
Nutrition
Calories:
320
kcal
|
Carbohydrates:
10
g
|
Protein:
14
g
|
Fat:
28
g
|
Fiber:
2
g
---
If you have a chance to try this recipe, please leave a star rating and a comment below letting me know how you liked it!