Quick Teff Flour Flatbread (NO Yeast) - This delicious, gluten-free flatbread recipe is made with teff flour, and it comes together in about 10 minutes!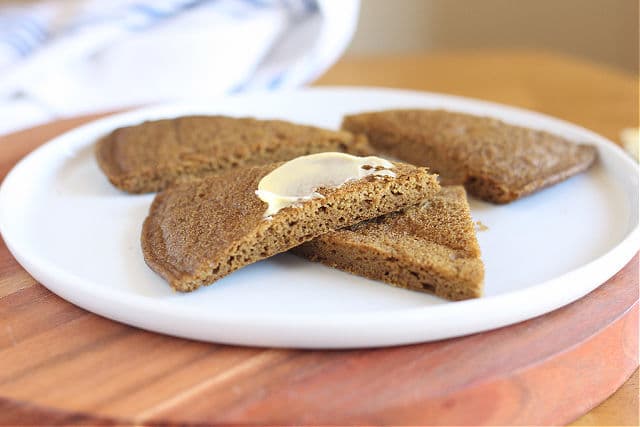 Benefits of teff flour
I initially became interested in teff flour for two main reasons.
One, it's high in iron, and I'm forever trying to keep mine up. Two, it's high in protein (for a grain), and I'm forever trying to keep my blood sugar balanced.
Stop me if I've said this before, but has anyone else had blood sugar issues when eating gluten-free?
The thing is, many gluten-free recipes are made with low protein/high carb flours (rice, cassava, sorghum...) and starches (tapioca, arrowroot...), which is no bueno for persons like myself.
I remember when I first tried eating gluten-free for funsies, and I'd consistently be tired within mere minutes of eating.
Long story short, I came to discover some type of intolerability (word?) on my part, and that I must have protein to balance out my carbs.
That brings me full circle back to teff flour and this recipe.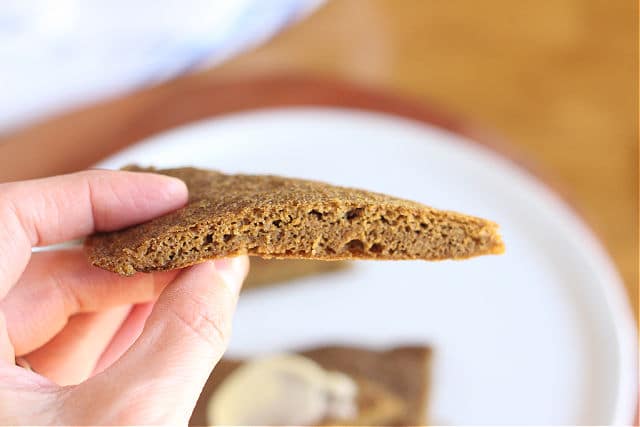 Given that I'm currently on the gluten-free bandwagon for health reasons, I've been experimenting with various flours. At the top of my experiment list is bread.
Oh, I miss bread! I've given it all up for the time being in the name of being pain-free.
Henceforth, I make this scrumptious flatbread on occasion to quell the starch beast!
Not only do I use teff flour, which has a naturally higher protein count, but this recipe also includes an egg for even more aminos.
Even little Miki got down with this recipe, eating it in her birthday suit on a hot day.
If this recipe suits your way of eating, I hope you give it a shot!
If you want more teff flour recipes, check out some of my other favorites: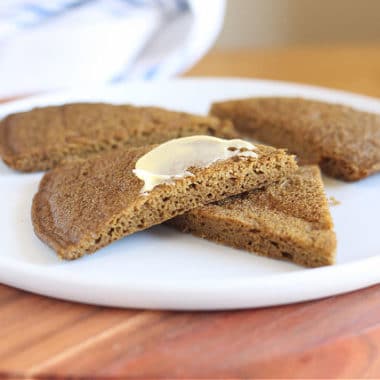 Print Recipe
Quick Teff Flour Flatbread (NO Yeast)
This delicious gluten-free flatbread is made with teff flour, and it comes together in about 10 minutes!
Ingredients
¼

cup

teff flour

¼

tsp

baking soda

few

dashes

sea salt

1

large

egg

1

Tbsp

olive oil (or other you enjoy)

2

Tbsp

water

1

tsp

apple cider vinegar
Instructions
Heat a non-stick skillet (about 10 inches) over medium heat.

Whisk all of the ingredients together until you have a smooth batter.

Add some coconut oil or butter to the pan (enough to spread around) in the warm pan.

Pour the batter into the pan in the style of a large pancake.

Cook 2-3 minutes or until you can get a spatula under it and it holds together.

Cook the other side for another 1-2 minutes.

Remove, slice, and enjoy!
Nutrition
Calories:
171
kcal
|
Carbohydrates:
14.7
g
|
Protein:
5.7
g
|
Fat:
10.2
g
|
Fiber:
2.5
g
|
Sugar:
0.2
g
Notes:
This is the skillet I use to cook my flatbread.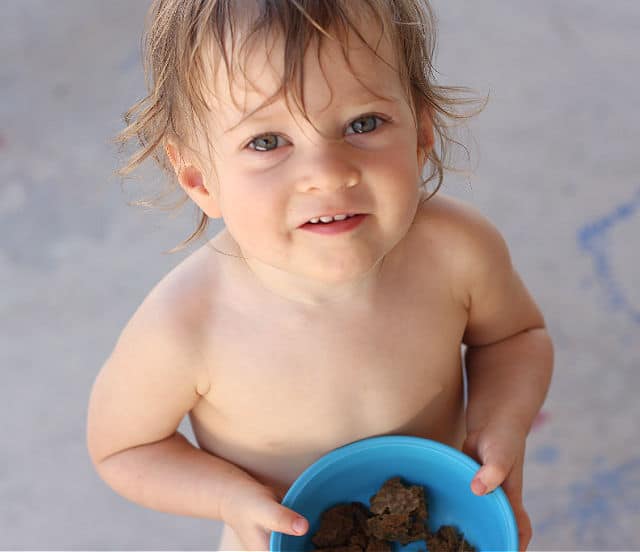 Shared with: Full Plate Thursday