Once I find a food I like, I go a bit nuts with it.
Lately, that food is dates. I have been buying them whenever I see them because some weird, neurotic part of me is terrified that the date supply will run out! I had this problem with peanut butter a while back. I would buy and hoard jars, even though I had 10 at home.
On top of all of this madness, I am incredibly selfish with food. Just ask my husband. I will buy or make things and then tuck them away in the vegetable drawer of our fridge (somewhere he'd never look). Yes, I am a joy to live with.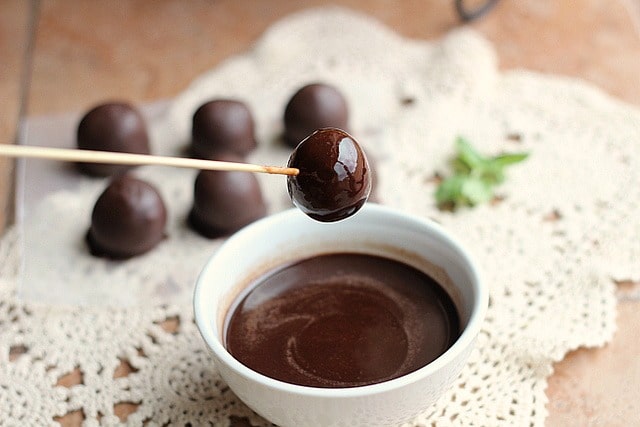 Aside from all of this, the reason behind my date obsession lies with treats like these. Raw treats are my passion lately, the biggest reason being that I honestly feel so good eating them! Initially, I was pondering a raw Thin Mint, since my favorite combination is mint and chocolate, but I felt like the 'cookie' was incomplete. After slapping a minty chocolate coating on them, they became heavenly and are my new obsession!...(along with the dates).
Print Recipe
Raw Mint Chocolate Bon-Bons
Ingredients
THE BON-BON:

½

c.

pecans

use pumpkin seeds if nut-free

½

c.

oats

use more pecans if grain-free

10

Medjool dates

about five ounces

3

T.

cacao powder

¼

t.

sea salt

¾

t.

mint extract

1

T.

coconut oil

melted

2

T.

water

THE CHOCOLATE COATING

use room temperature ingredients for best results:

6

T.

coconut oil

melted

3

T.

maple syrup

3

T.

cacao powder

¼

t.

+ 1/8 t. mint extract

¼

t.

+ 1/8 t. vanilla extract

⅛

t.

sea salt
Instructions
Process the pecans and oats until they are the consistency of flour.

Remove the mix, and add the dates along with one tablespoon of water.

Process the dates until they are broken up and resemble a paste.

Add back the pecan/oat mix, along with the rest of the ingredients.

Process until well combined.

Using wet hands, roll the dough into about 18 balls.

Place them onto a wax paper-lined plate, and place the plate in the freezer.

While the bon-bons are hardening, mix together the ingredients for the chocolate coating (try to use room temperature ingredients as this will facilitate the coating process).

Once the bon-bons are cold and firm, place a toothpick in the top of each.

Dip and coat the bon-bons in the chocolate mix, rolling them around until completely covered.

Once coated, place them back onto the plate and back into the freezer (once all have been coated) to set.

Remove toothpicks and enjoy!
Notes
Nutrition facts are based on using pecans, oats, and five ounces of Medjool dates. Weight Watchers points (new system): 3
Nutrition
Serving:
1
|
Calories:
110
kcal
|
Carbohydrates:
11.1
g
|
Protein:
0.9
g
|
Fat:
7.8
g
|
Saturated Fat:
4.8
g
|
Polyunsaturated Fat:
3
g
|
Sodium:
40
mg
|
Fiber:
1.8
g
|
Sugar:
7.2
g
I've tried these multiple ways, so you can tailor them to your personal diet type:
If you're paleo or grain-free, eliminate the oats and use an equal amount of nuts or seeds.
If you're nut-free, use pumpkin seeds (I do this for my daughter, as she cannot have nuts).
The posted combination is my personal favorite, but they all taste great!
If you're not a fan of mint, vanilla extract would make a great substitute. Any way you make them, I hope you enjoy them as much as we are!
What's your favorite food combination?
Aside from mint and chocolate, some of mine include saffron and rice, lemon and broccoli, and banana and tahini.
Shared with: Make Your Own Monday, Natural Living Monday, Slightly Indulgent Tuesday, Fat Tuesday, Allergy-Free Wednesday, Healthy 2day, Healthy Vegan Friday