Soft and fluffy single serve chocolate pumpkin cake that's actually good for you! NO added sugar or oil, gluten-free, and vegan-friendly.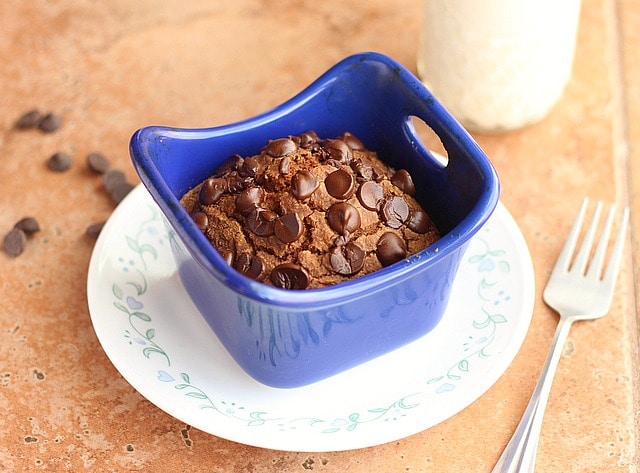 I'm a big fan of single serve desserts, especially those with the word 'chocolate' in the title.
When I first started blogging, single serve desserts were all the rage.
The trend has kind of died off, but in my home, they are still as popular as ever!
I have about five variations of chocolate 'mug' cakes.
I make them on a rotating basis, depending on my taste preference and where my allergies are at.
Strangely enough, this chocolate pumpkin cake I make around 'that time of the month'.
My body seems to need an extra dose of beta carotene during that particular week!
While I tend to get eczema from too many orange foods, on certain days, my system seems to literally need them.
This little cake is the perfect answer to a woman's cycle for three reasons:
NO added sugar, which can wreak havoc on hormones.
A nice dose of cocoa, which helps boost energy, elevate mood, and provide a bit of magnesium.
Added oats, which help balance out those finicky estrogen levels.
To keep this chocolate pumpkin cake totally sugar-free, you can top it with some chopped unsweetened chocolate....but over here, we usually splurge and pile on the chocolate chips.
Hey, the cake is free of sweeteners, so I still consider it pretty guilt-free!
Plus, there are no added oils in the cake, leaving you even more wiggle room for a dollop of whipped cream. 🙂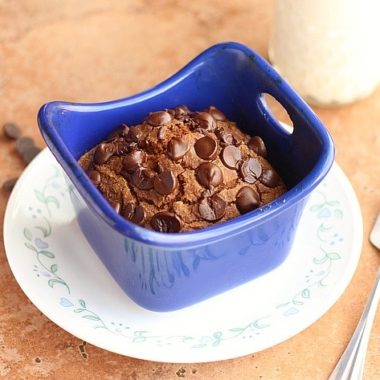 Print Recipe
Single Serve Chocolate Pumpkin Cake (Sugar-Free!)
Soft and fluffy single serve chocolate pumpkin cake that's actually good for you! NO added sugar or oil, gluten-free, and vegan-friendly.
Ingredients
½

c

. oat flour

, ground from oats

1

(heaping) T. cocoa powder

½

t

. baking powder

⅛

t

sea salt

good dash cinnamon

⅓

c

. pumpkin puree

¼

c

. milk of your choice

1

t

. vanilla

chocolate chips or chopped chocolate

, for topping
Instructions
Preheat the oven to 350 degrees.

Mix all the ingredients until well combined.

Pour the batter into a small, well-oiled ramekin.

Top with chopped chocolate or chocolate chips.

Bake 18-23 minutes, until toothpick is relatively clean.

Cool and enjoy!
Notes
Fat: 4.8 g Carbs: 43.5 g Sugar: 3.3 g Protein: 8.1 g; WW SmartPoints: 7; Nutrition facts based on using one tablespoon cocoa powder and unsweetened almond milk.
Nutrition
Notes:
Add in some stevia for extra sweetness, if desired.
I like to use my Homemade Coconut Milk for this recipe, as it adds a bit of natural sweetness.
I love these ramekins by Rachael Ray for my single serving cakes!
A note about stevia: Up until recently, I had been relying on stevia quite a bit. Maybe a bit too much, as some internal health compass was directing me to ease up on it.
I still use it conservatively, but have found enjoyment in tasting the actual ingredients in a recipe, sans any sweetness, even if they are desserts.
From this point on, it will be mostly optional for the recipes I post. 🙂
Happy 2017 everyone!