How about a sad story to lead you into your weekend?
--------->CLICK HERE TO JUMP TO RECIPE<---------
I'm sure you're wishing the above was a legit button, and I'm honestly looking into it, as I'd assume many of you would like to skip over my over-analytical, often-cynical, always anecdotal writing.
But for now, you must read or scroll.
As I've written before, this blog is a bit of a journal for me, hence the occasional rant, so you may have noticed my tendency to just spew out what's on my mind that particular day, possibly having nothing to do with the recipe I'm posting.
This might be one of those days.
I feel the need this year to acknowledge that today is the anniversary of my dad's death, and definitely not in a 'oh, poor me' kind of way, but rather in an observational manner.
This day is not more painful than any other day in my life, but I found myself recently reliving some old, dusty memories while in bed the other night, and thought I'd write about them here.
If you haven't read my bio, the quick synopsis is that a lot of my health problems began shortly after my dad had a sudden heart attack.
Our family had lived in the same home for over 20 years, when we decided to upgrade, and shortly after moving in to our new house, about two months, to be exact, my dad had a heart attack.
Needless to say, it was a tough time for me and my mom, and much of it is a blur, looking back today.
There were a few poignant moments, one of which I recalled the other night.
Though we were living in our new house when he passed, we hadn't yet sold our old home, and many nights following his death, I would drive over to our former residence and just sit in the empty space, reliving our time there.
I've often blamed the move on his sudden death. I'm sure in part, this particular memory surfaced because our family is currently contemplating a move, giving me a good deal of anxiety.
I never stop wishing that my dad could have seen me 'grow up'. I think he would have adored all my kids, and, given his fancy for cooking, I think it would have tickled him to see me with a food blog.
It was his meals, not my mom's, ironically, that I loved as a kid and that have really stuck with me over the years.
Some of his best dishes were pizza (he'd make both the dough and the sauce), chicken fajitas with all the Mexican fixings, including rice and beans, and homemade submarine sandwiches and soup, often beef barley.
As a young teenager, I had a job just down the street from our house, and on my lunch breaks, I'd actually return home for that delicious soup and sandwich combo. Heaven!
I thought of his pizza dough while making this bread, as I remember him kneading his dough and covering it to rise...little Lauren in the foreground, pinching off pieces of yeasty dough for consumption, hehe.
While not yeasty in any capacity, this flatbread is just as incredible as I remember my dad's to be, and it's more nutritious!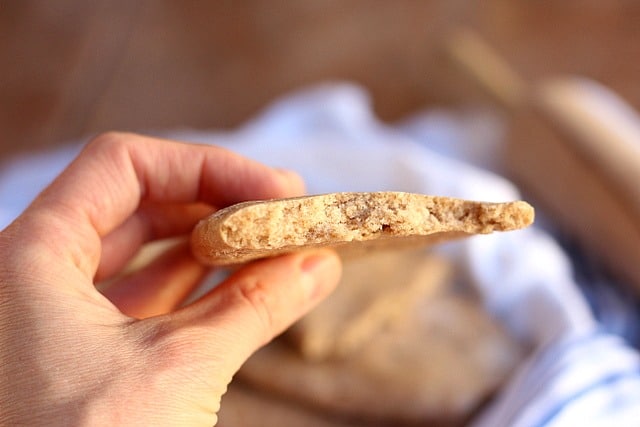 This bread is what we pair with the Creamy Red Lentil Dal I posted on Monday. I have to admit, I think what everyone here wants deep down, is this bread, not the lentils...but the two are awesome together, especially when this is used as a dipping vehicle for the dal!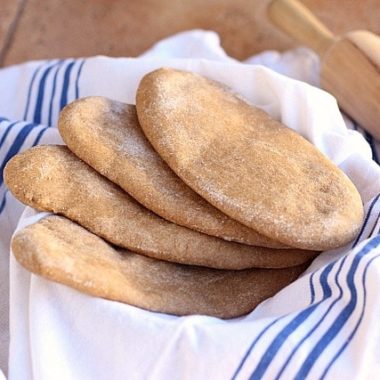 Print Recipe
Soft and Fluffy Spelt Naan Flatbread (Yeast-Free)
Soft, delicious naan flatbread made with spelt flour.

Ingredients
2

c

. spelt flour

, plus more for kneading and rolling

½

t

. baking powder

¼

t

. baking soda

¾

t

. sea salt

3

T

. plain yogurt

2

T

. applesauce

1 ½

T

. olive oil

½

c

. water
Instructions
Mix the dry ingredients (flour, baking powder, baking soda, salt).

Stir in the wet ingredients (yogurt, applesauce, oil. water; using the same bowl is fine).

Stir until everything is well combined.

Remove the dough from the bowl and knead it a bit, adding flour as necessary so that the dough is no longer sticky.

Set the ball of dough aside and cover it with a damp towel.

Let sit for 30-60 minutes.

Preheat the oven to 400 degrees.

Knead the dough again for 1-2 minutes.

Divide the dough into 4-8 pieces, as desired.

Lightly flour your surface and roll each ball of dough into an oval shape.

Place the pieces onto a parchment paper-lined baking sheet.

Lightly brush each side of the bread with olive oil.

Bake for nine minutes.

Enjoy!
Notes
Fat: 3.2 g  Carbs: 22.7 g  Sugar: 0.9 g  Protein: 4.5 g; WW SmartPoints: 4
Nutrition
Notes:
Use a dairy-free yogurt, if needed.
Instead of water, use  milk of your choice for more richness.
My favorite spelt flour to use is this one.
Thanks for reading today, if you did. Have a great weekend!
Shared with: Healthy Vegan Friday, Hearth and Soul