Spicy Broccoli Pesto (NO Nuts or Seeds) - This healthy pesto is made with a helping of broccoli and a good dose of red pepper flakes. It is delicious atop pizza and other breads or stirred into rice or pasta.
My body is really rejecting nuts and seeds right now.
While we've never been the best of friends, a couple of years ago I tolerated various nut and seed butters in small amounts, which is all I really need!
Now, however, my inflammation goes through the roof when I consume more than a tablespoon a week of any nut or seed. Even my beloved pumpkin seeds, though tolerated better than any other, have begun to torment me.
Why, oh why?!
Even as I write this post, I hope to look back next year and think to myself, 'man, I'm glad I don't feel like that anymore!'.
Nut and Seed-Free Pesto
While the typical pesto recipes have either nuts or seeds...and no broccoli...and tons of oil...this 'pesto', if I can still call it that, breaks the rules!
I feel I am getting all of the broccoli benefits here, as it is just lightly steamed and blended. Cruciferous veggies are important, healthy body or not. They kick out those bad estrogens that can be accumulated from plastics or pretty much just breathing.
I kept the oil to a minimum, though I didn't intentionally skimp.
Some pesto recipes, I feel, really overdo the oil, and that can be all I taste. This recipe lets the broccoli and the basil shine and is a bit heartier.
You could actually almost 'dollop' this, though it does spread.
I like to top Monday's Coconut Flour Flatbreads with this and a couple of chopped tomatoes.
Add an egg on top or even some shredded chicken, and I've got myself a decent little lunch!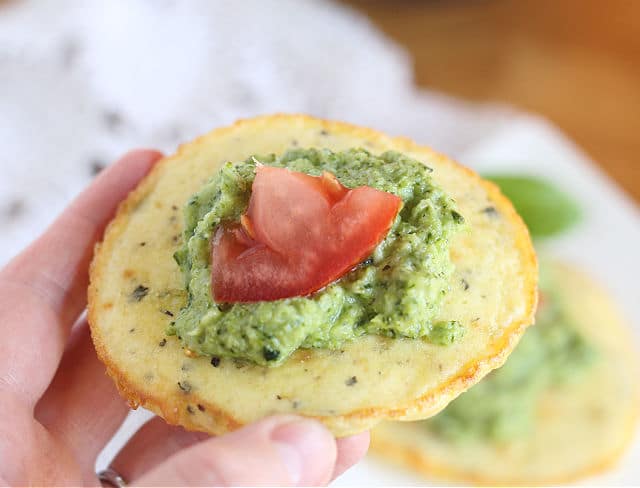 If you're looking for more delicious ways to eat broccoli, take a peek at these recipes: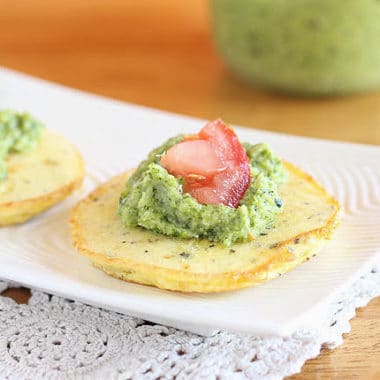 Print Recipe
Spicy Broccoli Pesto (NO Nuts or Seeds)
A delicious and hearty pesto made with broccoli, basil, and olive oil.
Ingredients
6

ounces

broccoli florets

1

large

garlic clove

5

Tbsp

olive oil

1

Tbsp

water

¼

tsp

sea salt

¼

tsp

red pepper flakes

¼

cup

fresh basil

1

Tbsp

lemon juice

1

Tbsp

grated parmesan
Instructions
Steam the broccoli for about eight minutes, until bright green and fork tender.

Process or blend the broccoli with the remaining ingredients, except for the parmesan.

Stir in the parmesan at the end, adding extra salt, if desired.
Nutrition
Calories:
117
kcal
|
Carbohydrates:
2.2
g
|
Protein:
1.4
g
|
Fat:
12.2
g
|
Fiber:
0.8
g
Some of the items I use to make this recipe include: