Herb Coconut Flour Flatbread - These delicious, low carb rounds make great little snacks or they can be used as sandwich 'bread'.
Low carb and bread do NOT really belong together, BUT!...since I am eating for healing lately, that is the task at hand, so to speak.
While I'm currently staying away from yeast and wheat, I find myself in desperate need of 'bread'!
It can be hard to enjoy eggs without toast or even just fight off the craving for a buttery, grainy slice of toast. What's a girl to do??
Try to find a good temporary solution.
I say temporary, as I do plan on eating toast again in the future. As I fight a plethora of ailments right now, namely Lyme and mold, it has been necessary to tweak my diet in a most unpleasant way.
Meat, fruit, veggies, oils...that's the great extent of how I'm eating these days. It's neither exciting nor particularly blog-worthy, though I have come up with a few things low-carbers might enjoy.
I also bend some days and make a little sugar-free chocolate cake from teff and oat flours. I may post it one day for those of you going through a similar phase of life!
While I have other gluten-free bread recipes on the blog, I do like my variety...and I'm a food blogger, so trying different recipes is my jam.
I like this particular recipe for it's ease and quickness coupled with the fact that you can use the rounds to make a faux sandwich.
Can it be made without eggs?
I tried to make this egg-free, but it did NOT turn out well.
A better alternative if you're looking for an egg-free, grain-free flatbread would be socca, which is basically chickpea flour and water.
This makes for a really delicious (and pretty quick) lunch for me.
I pre-make some pesto so that it's in my fridge ready to go, and I just make the flatbread right before I'm ready to eat.
Sometimes, I take the two flatbread pieces and make a sandwich filled with the pesto, cherry tomatoes, and alfalfa sprouts. Yum!
My daughters have blogs!
May I take a moment and let you know that my daughters have started blogs?
This is rather exciting for them, and they are thriving on writing about themselves and their interests. As I am homeschooling, I also find it a good way for them to use a computer in a productive way, practice writing and grammar, and have a hobby.
If you have a moment, take a peek at what they're up to here:
They'd get such a kick out of some views, if you're so inclined!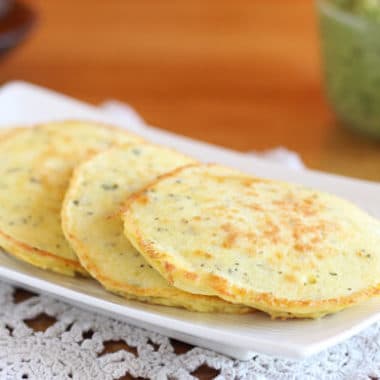 Print Recipe
Herb Coconut Flour Flatbread
These delicious, low carb rounds make great little snacks or they can be used as sandwich 'bread'.
Ingredients
2

large

eggs

2

Tbsp

coconut flour

¼

tsp

basil

¼

tsp

oregano

¼

tsp

sea salt

4-5

Tbsp

water (or milk of your choice)

1

Tbsp

grated parmesan

oil of your choice

for frying
Instructions
Whisk together all of the ingredients.

Let the batter sit for 5 minutes. Whisk in another tablespoon of water if the batter looks too thick.

Heat the oil in a large non-stick skillet.

Make four small pancake-sized circles (about 1/4 inch thick) and fry both sides until cooked through.
Nutrition
Calories:
75
kcal
|
Carbohydrates:
4.3
g
|
Protein:
4.9
g
|
Fat:
4.1
g
|
Fiber:
2.5
g
|
Sugar:
0.7
g
Flatbread recipe adapted from this book
Notes:
I like to use coconut or olive oil to fry these.
Some of the items I use to make this recipe include:
Shared with: Inspire Me Monday