Happy Firefighter Friday everyone!
This week's recipe is a play off of last week's rice tutorial found here.
....this little concoction came about by necessity. My husband and I were at home one day, and basically blew off our chores and grocery shopping in favor of staying in all day, watching movies and TV (my husband is sweet enough to sit through old reruns of Sex and the City with me and laugh about it all the while :-)).  As a result, we had very few food items in the fridge for me to work with, but, in this case, the result was an absolutely delicious meal that has become a staple recipe for me!
Chili rice is a melange of ground beef, vegetables, chili spices, and cheese atop a bed of soft and fluffy brown rice....it is a scrumptious way to enjoy the taste of chili, minus the beans, in casserole form!
SPICY NO-BEAN CHILI RICE
3 c. cooked long-grain brown rice
1 lb. grass-fed organic ground beef
1/2 large yellow onion, chopped
1 small jalapeno, diced
3 garlic cloves, minced
3/4 c. zucchini, diced
1 1/2 c. cherry tomatoes, chopped
1 1/2 t. cumin
1 t. oregano
1 T. chili powder
1 t. salt
several grinds of black pepper
1/4 c. fresh cilantro or parsley, chopped
1-2 c. pepper jack cheese, grated
about 10 kalamata olives, sliced
2 scallions, chopped
Preheat oven to 400 degrees. Begin cooking the beef in a deep skillet. Add in the onion, jalapeno, garlic, and zucchini. Cook for about 5-8 minutes until vegetables are softened. Add in the spices and the tomatoes, and cook for another 5 minutes until the tomatoes begin to break down. Season to taste and stir in the cilantro or parsley.
Fill the bottom of a 9 x 13 baking dish with the cooked rice, and top with the ground beef mixture. Mix everything slightly, but I like the rice to be the base, so I don't mix it too much. Top with the grated cheese (I like it cheesy, so I usually add about two lightly packed cups), and scatter the olives on top of the cheese. Bake the casserole for 12-15 minutes until the cheese is melted and slightly bubbly (don't you love that word?? :-)). Let cool for about 5 minutes, top with the scallions, and enjoy!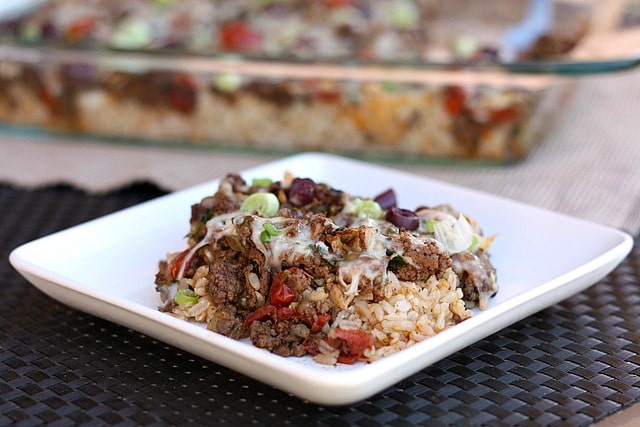 This could even be made Paleo by using cauliflower rice and eliminating the cheese!
What's your go-to quick and easy meal?
What TV show would you watch with your extra time?
I do love Sex and the City, but aside from it, I really enjoy old shows like I Love Lucy and The Dick Van Dyke Show. 🙂