This sugar-free cornbread is not only free of sweeteners, it's free of corn! Allergy-friendly and made more nutritious with the addition of sweet potato.
We recently decided to invest in a Costco membership.
When my husband and I first married, we bought a membership, but didn't find it very useful, as it was just the two of us.
Now, however, our burgeoning family of five is quite in need of the bulk paper products and big, glorious bags of organic produce!
On our most recent trip, I landed myself a gigantic bag of sweet potatoes!
We all love said veggie, and I like to roast a few at once to keep the flesh on hand for recipes like muffins and pancakes.
The girls also love eating the starchy tuber as roasted cubes of salty goodness.
Having the soft puree ready and waiting compelled me to try something new, namely, cornbread.
Corn is a bit of a gray area for us, allergy-wise.
When I eat it, I get very tired afterwards. Jade also seems to have a delayed itching reaction. For those reasons, I tend to avoid it, unless we are dining at our favorite Mexican food restaurant. (I'm not one to ever pass on chips and salsa, knowwhatimean?)
Anywhoodle, back to cornbread.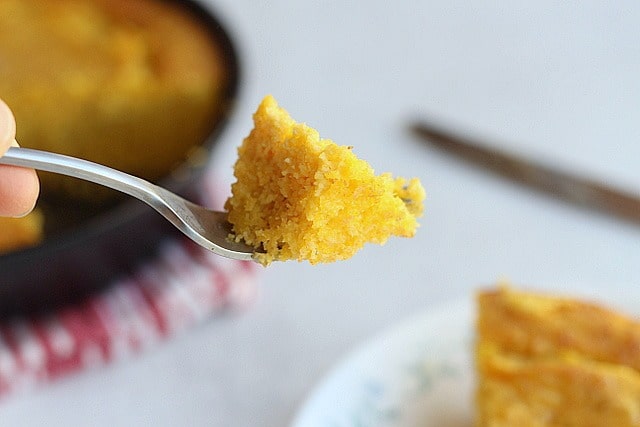 I've seen millet used in cornbread recipes before, but until now, I never realized what an incredible substitute for cornmeal it is.
Truly, this is one of the most amazing recipes I've ever made!
I've played with millet more and more recently, as it one of the top allergy-friendly grains.
So far, I've used it in cookies, snack bread, with curried veggies, and now this.
I can't emphasize enough how absolutely delicious this sugar-free cornbread is! Our entire family gobbled it up, and my husband and I both agreed we couldn't tell the difference between this and the real deal.
I'm so grateful for this recipe.
It has given us a symptom-free way to enjoy something I never thought we would!
Print Recipe
Sugar-Free, Corn-Free Sweet Potato Cornbread
An amazing cornbread recipe for those with allergies to corn and gluten.

Ingredients
1

c

. millet flour

(I just grind mine from the whole grain)

1 ½

t

. baking powder

¼

t

. baking soda

¼

t

. sea salt

1

c

. buttermilk

(see Notes)

1

egg

½

c

. sweet potato puree

2

T

. coconut oil

(for the pan)
Instructions
Preheat the oven to 450 degrees.

Heat the oil in a 6 to 8-inch cast iron skillet in the oven for five minutes

Mix the flour, baking powder, baking soda, and salt.

Mix the buttermilk, sweet potato, and egg together in a separate bowl.

Make a well in the center of the dry mix.

Pour in the egg mix and stir just until moistened.

Pour into the hot skillet.

Bake 15-18 minutes or until golden.

Allow 5-10 minutes cooling time, as this helps the bread set and hold together.

Cut and enjoy!
Notes
Fat: 7.4 g  Carbs: 22.5 g  Sugar: 4 g  Protein: 5.4 g; WW SmartPoints: 7
Nutrition
Notes:
Make your own corn-free baking powder with this recipe.
To make buttermilk, start with a measuring cup. Add one tablespoon of apple cider vinegar to the cup, then add enough milk to equal one cup total.
I use my Homemade Coconut Milk to create the buttermilk in this recipe
I use this 6-inch cast-iron skillet for this recipe, so it takes about 18-19 minutes to bake. If you use a 7 or 8-inch pan, it will be done a minute or so sooner.
Pair this with my Apple Juice Chicken or Tomato-Free Beef Chili for a delicious meal.
We all love to eat this with a drizzle of honey on top. I highly recommend it!
Shared with: Full Plate Thursday