This creamy, sugar-free, dairy-free chocolate sauce is a delicious accoutrement to any treat that needs a gooey touch of healthy chocolate!
Halloween on the horizon
Hello mid-September, where did you come from?!
Once we get to this point in the year, particularly October, the remaining months and holidays just fly by.
Anymore, my favorite holiday is Thanksgiving because, well, food…but!…Halloween is a close second. I recently went online to Michael's and bought a few new knickknacks for the house.
A new 'BOO' sign for the entryway, some cobwebs, paper ghosts for the trees…er, cacti…
Ordinarily, I stink at any kind of decorating (all of my domestic expertise lies in the kitchen), so this is new territory for me, but I'm feeling good so far!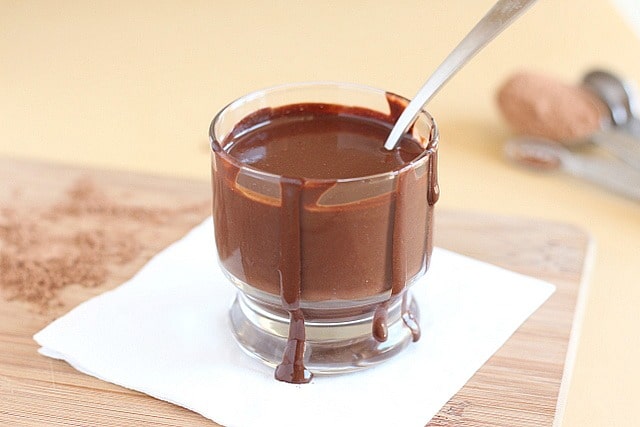 Healthier alternatives to candy
What I do have down this year are the healthy treats!
Butterfinger fat bombs (recipe coming!), homemade Snickers bars, Peanut Butter Cups, Raisinet Truffles….gang's all here!
I'm not sure how this chocolate sauce recipe fits in, but it seems right. Chocolate = Halloween, yes?
Truth be told, there's actually very little chocolate (or rather, cocoa) in this recipe. That's because it's centered around chocolate's distant, attractive-in-a-different-way cousin, carob!
Carob looks like cocoa, mixes like cocoa, but is much sweeter (naturally) and even has a hint of caramel/malt (to me, anyway). That's why I created this malt after it long ago.
How to use this chocolate sauce
This all-purpose sauce goes well atop many things that may need a kick of gooey, slurpy chocolate, including my Big, Fat Cookie for One, this Bitter Chocolate Cake, and even these Sweet Potato Brownies.
I originally used almond butter as the fat of choice in the recipe, but I've since discovered it works with numerous substitutes, including tahini, pumpkin seed butter, coconut butter, and even olive oil. I haven't tried peanut butter because of the dominant taste that would add, but if you're after a peanut butter chocolate sauce, it would probably be delicious!
The best part about this recipe?…NO added sweeteners! I use a couple of drops of my favorite less processed stevia, but it tastes great without it as well. If you're not too concerned about being sugar-free, just add in a teaspoon or so of maple or honey.
Print Recipe
Dairy-Free Chocolate Sauce
A delicious drizzle of sugar-free chocolate sauce to go atop your favorite treats!

Ingredients
6

Tbsp

carob powder

1

Tbsp

cocoa (or cacao) powder

1

(heaping) Tbsp

raw almond butter, tahini, or olive oil

1/2

cup

milk of your choice

(plus 1-2 tablespoons more, as needed)

1/8

tsp

vanilla powder

see notes

4-6

drops

stevia
Instructions
Mix everything together with a whisk until smooth, starting with 1/2 cup of milk. If your carob powder is clumpy, be sure to sift it first.


Add in 1-2 tablespoons extra milk, as needed for consistency. I add approximately nine tablespoons.


Use as desired!

Notes
Nutrition facts based on using raw almond butter and unsweetened almond milk. WW SmartPoints: 1
Recipe adapted from NutriPlanet
Nutrition
Calories:
39
kcal
|
Carbohydrates:
3.2
g
|
Protein:
1.4
g
|
Fat:
2.9
g
|
Fiber:
1.2
g
|
Sugar:
1.1
g
Notes:
I like to use my Homemade Coconut Milk in this recipe.
I use approximately nine tablespoons of milk in total, but it can vary depending on how the powders are measured that day. Start with 1/2 cup (eight tablespoons) and add milk to get the consistency you desire.
If you don't have vanilla powder, use 1/4 teaspoon of vanilla extract, but I HIGHLY recommend the powder for raw recipes! It's pricey, but lasts a good while.
Items I use in this recipe (including the carob, vanilla powder, and stevia) include:
Recipe Steps:
Mixing the dry ingredients (sometimes, I add in a dash or two of maca powder too!)…
Add in the nut/seed butter or oil…
Milk…
Stir…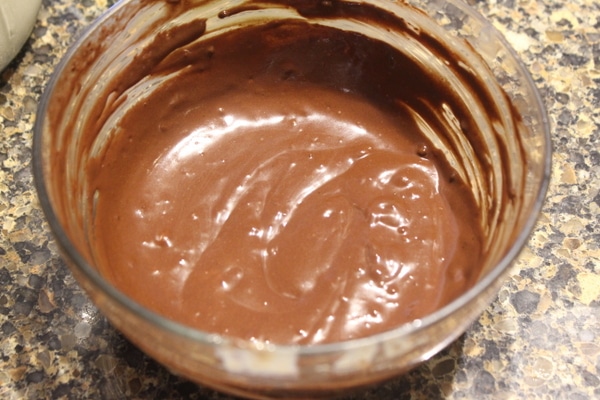 This is the vanilla powder I use…