I didn't have a close sibling growing up, so it has been fun to observe my two daughters interact.
Half the time, they're the best of friends, laughing and playing. The other half, they're fighting over who gets to sit on which chair or use what fork, blah, blah, blah.
They're also quite competitive. If one wears her favorite name necklace, you can be sure the other will too, and if one gets to use mommy's lip gloss, her sister has got to have it as well!
In the beginning, my husband and I would just buy two of everything, two Sofia the First dolls, two pairs of brown boots, two sets of Hello Kitty silverware, and so on. Within the last year, however, I've come to a point where I want them to be more individual, asking them independently what they each like or want, informing them that daddy and I want them each to be 'their own person'.
Jadie now repeats that back to me.
'Mommy, today at school, Amelia was copying Charlette, but I was my own person.'
Very good honey.
It's actually quite adorable and a good way for her to learn to separate what she does from what her friends are doing.
As Jade gets older, I'm constantly impressed by her. She helps me with baby Sam, folds laundry, readies her own lunch in the morning...and she only recently turned six! Bragging rights granted, Mrs. Goslin!
In college, I once conducted an experiment for my final project in psychology, looking at the best ways to discipline children, and what I came away with was that positive reinforcement was a big key to behavior.
In other words, if a child does something right, you praise the hell out of them. That's not to say that you don't discipline, but rather, put a lot of energy into making sure they know when they're doing something right. This encourages future good behavior.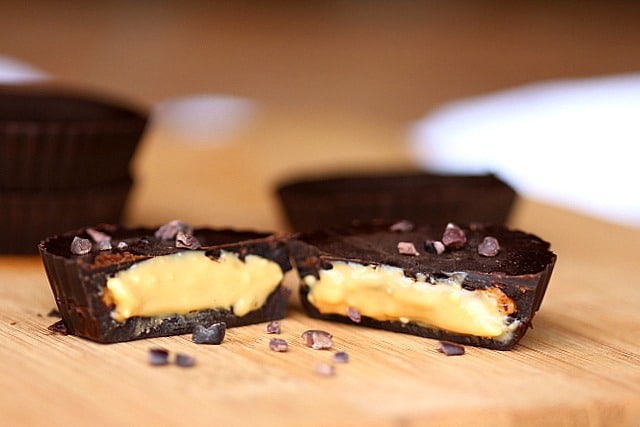 One of things I do to encourage good behavior around here, aside from verbal praise, is with a treat!
I say 'treat' loosely, as these sugar-free goodies totally count.
I use carob in this recipe, as it is a better pair with stevia, and it doesn't give the kiddies ADHD for two hours straight.
Print Recipe
Sugar-Free Peanut Butter Cups
Healthy and easy sugar-free peanut butter cups made without cocoa powder.

Ingredients
1/2

c.

carob powder

1/2

c.

coconut oil

melted

1/2

t.

cinnamon

1

t.

vanilla

dash sea salt

dash powdered stevia extract

if desired

7

t.

peanut butter
Instructions
Mix together the carob, oil, cinnamon, vanilla, salt, and stevia until smooth.

Pour about one tablespoon of the mixture into 7 muffin cups (lined with paper or silicone).

Freeze the cups about 10 minutes (they don't have to be perfectly solid).

Dollop one teaspoon of peanut butter into each cup (more if you like!).

Cover the tops of the cups by evenly distributing the remaining carob mixture.

Freeze until solid.

Enjoy!
Notes
Nutrition facts based on using 96 grams of carob powder. WW SmartPoints: 13
Nutrition
Sodium:
74
mg
|
Sugar:
5.3
g
|
Fiber:
0.9
g
|
Calories:
242
kcal
|
Polyunsaturated Fat:
4.6
g
|
Saturated Fat:
18
g
|
Fat:
22.6
g
|
Protein:
2.5
g
|
Carbohydrates:
9
g
Notes:
If you prefer a chocolate coating, use my 5-Ingredient Homemade Chocolate recipe in place of the carob, though there is a sweetener in that one.
This is a really easy, no fuss recipe, but if you're looking for something a bit more 'gourmet', take a gander at these.
Do you have siblings close in age?
Shared with: Healthy Vegan Friday