This healthy and delicious Tex-Mex rice recipe is patterned after our family's favorite Mexican food restaurant here in Arizona. It's a great addition to any Mexican-themed meal!
Of any food group I eat, grains are the most loved, particularly rice.
I've said that if this blog weren't called Oatmeal with a Fork, it might just be Fire 'N Rice.
Having made rice at least three times a week for the last 15+ years has given me some definite kitchen cred with the tiny kernel. In addition, living in Arizona has had me eating Mexican food more than any other cuisine.
My goal with today's recipe was to recreate my favorite restaurant rice, which is more Tex-Mex, given the additions of peas and carrots.
I've been making this recipe for some time now, and it is my favorite!
The overall taste is fairly mild, making it very kid-friendly. It is, in fact, the only rice my daughter Jade will eat (she hates rice!).
The spices are ideal, the tomato taste is not overpowering, and the little pop of carrot and peas give it texture as well as nutrition.
Ingredients and substitutions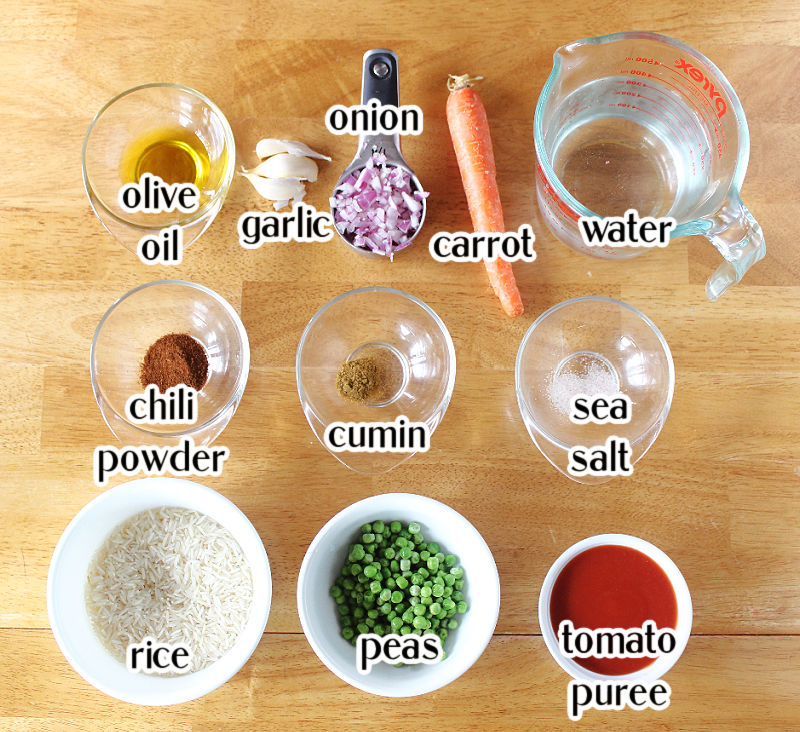 Olive oil - Any oil or even butter can be used here.
Onion, garlic, carrot, peas - I patterned this recipe after a popular Mexican food restaurant here in Tucson; if you don't like the addition of carrot and/or peas, they can easily be omitted, but the onion and garlic are fairly essential for flavor.
White rice - I've tried this recipe with brown rice, and it just isn't the same! Long grain white rice is best.
Chili powder, cumin - Both spices contribute to flavor, and I find the amounts listed to be the perfect ratio.
Tomato puree/sauce - I use this brand by Pomi. Puree is a bit thicker in consistency than tomato sauce, but I've used sauce with success as well.
Sea salt - For flavor; start with a little for sweating the vegetables and add more at the end.
Water - For cooking the rice; broth could also be substituted.
Recipe steps
In a saucepan, saute the veggies in the oil. Cook until softened, about 4-5 minutes.
Add in the water, spices, and tomato puree. Give it a tiny, gentle stir just to mix the ingredients. Do not vigorously stir the mix, as this will create a sticky rather than fluffy rice.
Bring the mix to a quick, low boil, then lower it to a simmer and cover the pan.
The rice should be cooked through after about 15-20 minutes. If you find the rice is still 'wet' at this point, pop the lid up to allow the rice to evaporate a bit. Keep the heat on low for this.
Helpful tips for making fluffy rice
ALWAYS rinse your rice well. This simple act washes away a good deal of starch, which helps the rice to fluff rather than be creamy/sticky, a la risotto.
DON'T stir your rice. As in the aforementioned risotto, stirring causes the rice to release its starches, creating a creamier rather than fluffy consistency.
The old adage of 'if you're lookin', it ain't cookin'' is true! If you're constantly lifting the lid to peek, precious steam escapes, thus lengthening cook time and causing water evaporation. This could potentially lead to hard, undercooked grains, and nobody likes crunchy rice!
If you get to the end of your cooking time and the rice is still 'wet', but done (soft), pop the lid to your pot and let it keep cooking on low. The steam will escape, and the excess liquid will evaporate. Do NOT stir the rice at any point.
How to serve it
I like to serve up a variety of Mexican-themed foods when I make this rice. Some ideas include:
Spelt Flour Tortillas - Add some Homemade Refried Beans, rice, cheese and chicken for a delicious and healthy burrito!
Instant Pot El Charro Beans - Tex-Mex rice is a perfect match with these scrumptious and flavorful beans.
Salsa Chicken - Chicken and rice is a classic pairing.
Nachos
Protein Guacamole Dip - This is a great twist on guacamole, my whole family loves this recipe!
Various accoutrements, including grated cheese, sour cream, salsa, scallions, cilantro, tortilla chips, and avocado.
Subscribe Now
Get new recipes delivered to your inbox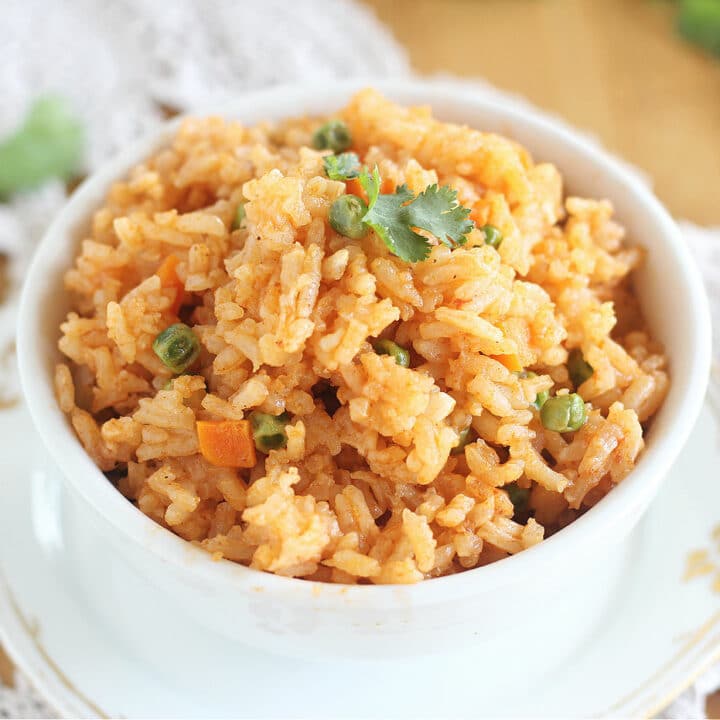 Print Recipe
The Best Tex-Mex Rice
The perfect Tex-Mex rice recipe for your Mexican spread.

Ingredients
1

Tablespoon

olive oil

½

cup

yellow onion

chopped

3

garlic cloves

minced

1

medium

carrot

chopped

1 ½

cups

white rice

rinsed well

1

teaspoon

chili powder

½

teaspoon

cumin

½

cup

tomato puree or sauce

2 ¼

cup

water

½

cup

green peas

frozen, rinsed and drained

1/2-1

teaspoon

sea salt

as needed for taste
Instructions
Heat the oil in a 2-quart saucepan over medium heat.


Stir in the onion, carrot, and garlic, along with a good pinch of salt.


Cook for 4-5 minutes until the veggies are softened.

Add in the rice, tomato puree, spices, and water. Give it a small stir, but not too much, as this will release starch, which will cause the rice to be sticky rather than fluffy.

Bring the mix to a boil, then reduce it to low and cover the pan with a fitted lid.

Cook the rice for 15-20 minutes or until soft.

If you find the rice is still wet, just pop the lid up on your pan (see photo above) and allow the moisture to evaporate a bit.

Lift the lid and quickly place the peas atop the rice, trying to avoid letting a lot of heat escape. Don't stir it at this time.

Replace the lid and let the rice stand for five more minutes.


Remove lid, fluff rice, season to taste, and serve!

Notes
Weight Watchers points: 5
Nutrition
Calories:
164
kcal
|
Carbohydrates:
32.5
g
|
Protein:
3.5
g
|
Fat:
2.2
g
|
Fiber:
1.7
g
|
Sugar:
2
g
---
If you have a chance to try this recipe, please leave a star rating and a comment below letting me know how you liked it!
Shared with: Fiesta Friday