I don't know about you, but I used to be crazy for Fig Newtons!
I had a certain method for eating them. I would scrape the top layer off with my teeth, and proceed to nibble my way in a circular fashion around the remaining delicious, figgy cake.
With recipes I'm creating, I figure if I can get them vegan or gluten-free, all the better since so many are eating that way these days. My daughter, Jade, has also been showing signs of having a gluten sensitivity, so I've been purposefully tailoring some creations for her.  My husband took one bite of this and declared with giddy glee, 'that's a Fig Newton!', so I'm hopeful that anyone who tries this recipe will agree!
GLUTEN-FREE, VEGAN FIG NEWTONS
25 dried figs
2 T. grapeseed oil
2 T. applesauce
1/4 c. maple syrup
6 T. coconut milk
1 c. oats (ground into flour)
1/4 c. raw buckwheat groats (ground into flour)
1/2 c. brown rice flour
1/4 c. chia seeds (ground)
1 t. baking powder
1/2 t. salt
1 t. vanilla
15 drops liquid stevia, divided
Preheat the oven to 350 degrees.
In a saucepan, cover figs with water (just enough that they are still poking out the top of the water). Bring to a boil, shut heat off, but let pan remain on the stove. Let sit for about 15 minutes until cooled a bit. While they cool, begin mixing the dough. Mix the dry ingredients (oat flour, buckwheat flour, brown rice flour, chia flour, baking powder, and salt). Mix the wet ingredients in a separate bowl (oil, applesauce, maple syrup, coconut milk, vanilla, and 8 drops of stevia). Mix all the dough ingredients (it will be very thick...you will be thinking, 'wow, I need more milk', but this is not the case).
Oil an 8 x 8 baking dish. Press half of the dough into the bottom of the dish (you will need to use your hands). Add 7 drops of stevia to the fig mix, stir, and spread atop the bottom dough layer. Finally, dollop the remaining dough onto the fig layer, and, using your hands, carefully spread it out to cover the figs.
Bake for 18-20 minutes, depending on your oven heat.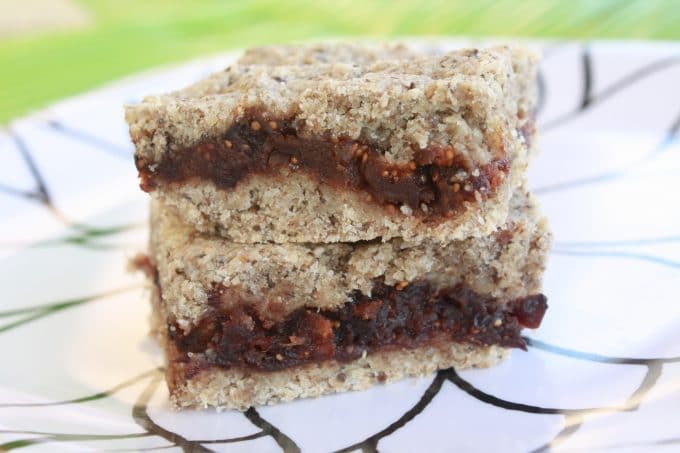 For the best taste, I would suggest letting them cool completely. They will then be the most reminiscent of the soft cookie bars you remember from days past.
What's your favorite childhood snack?
My dad used to buy me s'mores that became all gooey and delicious when they were popped in the microwave for a minute or so! Oh, how I loved those!
Shared with: Healthy Vegan Fridays