I have been craving potatoes lately.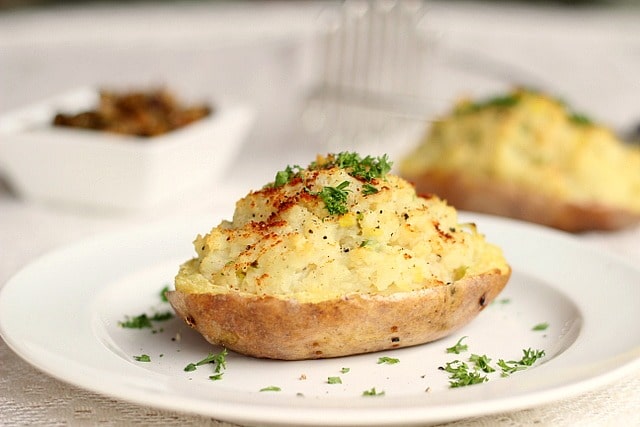 What's funny about this is the fact that my mom made potatoes every single night when I was a kid, and I loathed them....so much so that I'd palm them and wrap them in my napkin in order to deposit them into the nearest trash receptacle without being detected.
While I still use the potato shell here (which is deliciously edible, by the way), I use cauliflower in place of the potato flesh to put a different, low carb spin on the traditional baked potato. The addition of nutritional yeast and coconut oil gives this a richness and a cheesiness without using tons of butter and cheese, a plus for everyone!
Print Recipe
Twice Baked Faux-tatoes
Servings:
2
potato halves
Ingredients
FOR THE POTATO:

1

Yukon Gold or russet potato

FOR THE CAULIFLOWER:

3

c.

cauliflower

chopped into small florets

1

large garlic clove

water

for boiling

2

t.

coconut oil

plus a bit more for rubbing on the skins

¼

t.

+ 1/8 t. sea salt

2

T.

scallion

chopped

2

t.

nutritional yeast

black pepper and cayenne

to taste

paprika

for sprinkling on top

coconut oil

olive oil, and fresh parsley, for garnish
Instructions
Preheat the oven to 450 degrees.

Wash and prick the potato with a fork multiple times.

Bake the potato for one hour.

Meanwhile, add the cauliflower, garlic clove, and a dash of salt to a saucepan.

Add enough water just to cover the cauliflower.

Bring the cauliflower to a boil, then reduce the heat to a low simmer.

Cover the pan, and let it simmer for 10 minutes until soft.

Strain the cauliflower from the water, reserving the water in a separate bowl.

Using a potato masher or a food processor, mash or puree the cauliflower with the coconut oil, sea salt, dashes of black pepper and cayenne, nutritional yeast, and scallions.

Add the reserved boiling water as needed to give the mix the consistency you desire (I used about one tablespoon).

Once the potatoes have baked and cooled, slice them in half lengthwise, and scoop out the flesh. Be sure to leave enough flesh to give the potato skin structure!

Lower the oven temperature to 350 degrees.

Rub the outside of the potato skins with a bit of coconut oil (this makes them nice and crispy!).

Arrange the empty skins in a small baking dish, and fill them with the cauliflower mix.

Sprinkle the tops with paprika, and bake them for 30 minutes.

Garnish them with fresh parsley and drizzle them with a bit more coconut or olive oil.
Notes
The calorie count actually includes the potato flesh, as I couldn't figure out how to subtract it, so keep that in mind! The facts are based on using a 250 gram Yukon Gold potato, and none of the garnishes. Weight Watchers points (new system): 5
Nutrition
Serving:
1
|
Calories:
176
kcal
|
Carbohydrates:
30.4
g
|
Protein:
6.4
g
|
Fat:
4.9
g
|
Saturated Fat:
4
g
|
Polyunsaturated Fat:
0.9
g
|
Sodium:
399
mg
|
Fiber:
8.1
g
|
Sugar:
5.4
g
As I stated in the recipe box above, the nutritional information actually includes the potato flesh, as I didn't know how to subtract it, so keep that in mind for calories and carbs, especially. The cauliflower mash nutrition facts are as follows:
Calories: 93
Fat: 4.9 g
Carbs: 10.4 g
Fiber: 4.8 g
Protein: 4.7 g
WW points: 2
I have to say, these are fantastic! My husband and I each had a half, and we kept saying to one another how delicious they were. We topped them with some pumpkin seed 'bacon' bits which added a nice crunch!
I really enjoy eating the crispy skins as well. It gives you a bite of the actual potato, along with the cauliflower mash.
If you don't want to use the potato skins, the cauliflower mash is delicious on its own. It makes a light, yet filling substitute for mashed potatoes.
Serve this with a big green salad for a healthy meal, and I bet you'd still have room for these yummy Chocolate Chip Truffles. 😀
Do you enjoy potatoes or have you ever had faux-tatoes?