This delicious low carb lasagna substitutes spaghetti squash in place of the traditional noodles - An easy, cheesy, please-y meal for all eaters!
Please welcome....the amazing spaghetti squash!
My mom introduced me to spaghetti squash.
I was in literal awe of this vegetable that could transform itself into noodles! At the time, I was very carb-conscious, so this discovery was of great significance.
My mom is quite the minimalist with her food preparation, in that she uses very few spices or extras in her meals. Her simple way of preparing the amazing gourd was simply to top it with some butter and salt.
Obviously, times have changed. Spaghetti squash is right up there among health food favorites like kale and chia seeds.
Any way you can think to prepare noodles, chances are there's an equivalent recipe substituting spaghetti squash!
Spaghetti squash is my go-to vegetable for (most) things pasta-related.
A pleasing meal for all
This is a meal my daughters and I make together at least once a week.
My husband recently became a fan, though his typical response is to 'add some chicken or beef and it'll be perfect!'. My typical response to that is a choice finger.
We sass. 🙂
If you are so inclined though, either meat would be a nice addition, but it really does a great job of being a meal on its own!
However you make it, I am sure you will love this modern version of an Italian favorite!
Looking for more low carb dishes? Peek at these: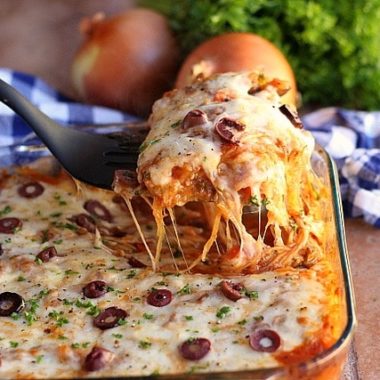 Print Recipe
Low Carb Spaghetti Squash Lasagna
Vegetables and cheese abound in this nutrient-dense, noodle-free lasagna!

Ingredients
1

T.

olive oil

½

c.

yellow onion

chopped

2

garlic cloves

minced

½

cup

mushrooms

chopped

½

cup

broccoli

chopped into small pieces

2

cups

your favorite marinara sauce

~4 c. cooked spaghetti squash

2

Tbsp

fresh parsley

plus a bit more for sprinkling on top

8

Kalamata olives

sliced

2

cups

white cheese, such as mozzarella or cheddar

¼

cup

grated parmesan

salt and black pepper

to taste
Instructions
Preheat the oven to 425 degrees.

Saute the onion and garlic along with sprinkles of both salt and pepper, in the oil for about five minutes, until everything softens.

Add in the mushrooms and broccoli and cook for another 4-5 minutes until the mushrooms release their water and soften and the broccoli becomes bright green.

Stir in the marinara, cooked spaghetti squash, and parsley.

Heat through just until everything is warm, then remove from the hot stovetop.

Lightly oil an 8 x 8 baking dish with coconut oil.

Add in half of the spaghetti squash mixture to the baking dish.

Top with one cup of the mozzarella cheese.

Layer the remaining half of the spaghetti squash mixture atop the cheese.

Top that with the remaining one cup of mozzarella.

Sprinkle the parmesan on top of the mozzarella and arrange the olive slices atop the cheeses.

Bake for 12-15 minutes until bubbly.

For a golden top, broil the lasagna for 1-2 minutes, watching carefully.

Cool, top with freshly chopped parsley, and serve!
Notes
Nutrition facts are based on using two cups of white cheddar. WW SmartPoints: 7
Nutrition
Calories:
197
kcal
|
Carbohydrates:
12.8
g
|
Protein:
13.1
g
|
Fat:
9.5
g
|
Fiber:
1.9
g
|
Sugar:
5.5
g
Notes:
To cook my spaghetti squash, I simply add it whole to a preheated 400 degree oven, then let it bake for 35-40 minutes until easily pierced with a fork. Cool it and cut into it as usual.
I use my Homemade Pizza Sauce in this recipe, which should really be titled 'All-Purpose Marinara' because I use it for everything!
Some of the items I use in this recipe include:
One of my favorite little additions to this recipe is the olives on top. It adds a slight, briny bite to the mildly sweet sauce and gooey cheese that I just love!