I've been in the kitchen a lot lately, working on quite a few new recipes, some of which I'm really excited about!
To recap, this post is just to highlight some of my favorite foods and recipes recently, so if you see anything that I'm working on that interests you, please drop me a line in the comments. Thank you so much!
1. Vanilla Ice Cream Bars
Whether any of you drop me a line or not, I'm fixin' to post these bad boys!
I have been trying for years to create a vanilla ice cream bar, free of nuts, avocado, and coconut, and this is my ace. I'm hoping to share these soon, I just wanted to whet your taste buds a bit. 🙂
2. Cauliflower Mash
I've been trying to perfect a cauliflower mashed potato recipe…
…this version is a bit too 'wet' in consistency, but the taste is there! I love adding in some parmesan and scallions for flavor.
3. Coconut Flour Cookies
I recently tried this recipe from Imma Eat That blog for coconut flour chocolate chip cookies, and it's the best one I've come across…
I've made these a couple of times, once without any sugar, and another time with just one tablespoon of coconut sugar, relying instead on chocolate chips for sweetness.
I like the consistency of these better than any other recipe I've tried for coconut flour cookies, and I've tried a few!
4. Garlic Cheddar Coconut Flour Biscuits
More coconut flour! I made these biscuits one night to accompany a vegetable hash and chicken. I enjoyed the taste, but they are still a bit dry (a common coconut flour issue).
Hoping to perfect these in the near future since Jadie does well with them. I think they'd make a great addition to a bowl of soup!
5. Cheesy Quinoa and Pinto Bean Bowl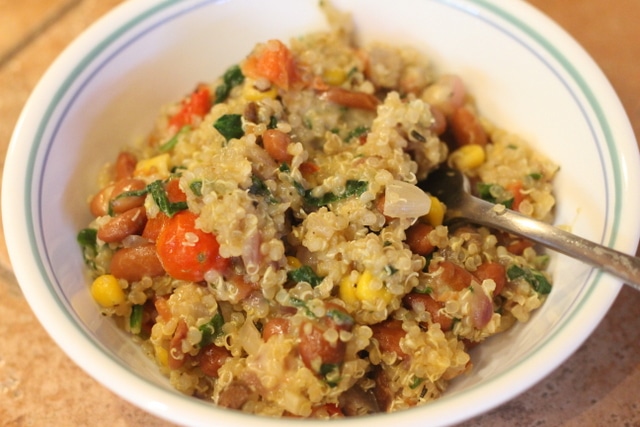 If you can believe it, after all my complaining about my kids not liking quinoa, they gobbled this dish right up!
I added in a few different spices, tomatoes, corn, spinach, cilantro, and a heavy hand of raw cheddar cheese. It really was delicious, and it might be the recipe to get the quinoa-hater in your life to change their mind!
What new recipes have you tried lately?