I'm stoked for this month! As I've said many a time, this is definitely my favorite time of year. Let's get right into some food!
Whole wheat english muffins with Vegan Apple Honey (recipe at end of post) have been on the agenda for morning snacks….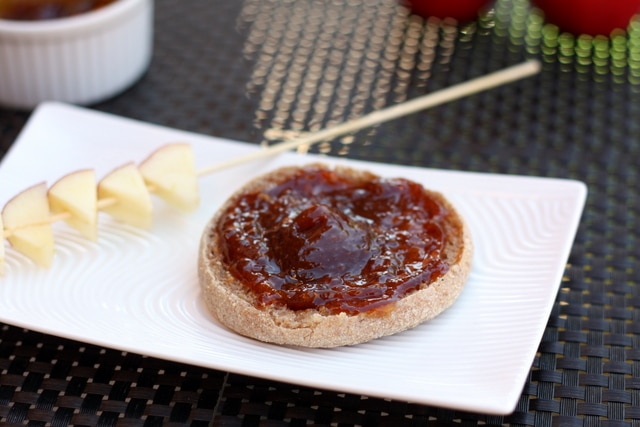 I've always felt bad that vegans can't have honey….it's so delicious and wonderful! I'm hoping this might be an easy alternative.
I've been eating a lot of spaghetti squash lately. This one I topped with my Homemade Pizza Sauce and grated goat cheddar….
Sorry for the messy picture! I was in a hurry to eat! 🙂
This individual almond butter fudge made its way into my mouth for an afternoon snack…
….while this quinoa and broccoli casserole was my dinner!
This was so tasty! I just sort of threw some stuff together I had in the fridge, and it turned out fantastic!
For dessert, my daughters and I partook of the ubiquitous banana soft serve…..
….Jadie topped hers with a chocolate sauce and I added some carob powder to mine (I have a serious fixation on carob lately)…..some Pumpkin Fudge also made its way into our bellies…..
Another recipe you have to try is this Vegan Apple Honey….
…it's so easy and all you need is one ingredient!
VEGAN APPLE HONEY (NO bees harmed)
Inspired by this recipe
2 c. 100% organic apple juice
Heat a shallow pan over medium heat. Add juice. Bring to a boil; lower to a simmer and continue cooking until the juice has reduced to syrup consistency (about 45 minutes to one hour). Allow it to cool before using. This should be kept in a clean glass jar in the fridge, and warmed a bit before using.
Other healthy Halloween snacks and treats on this site:
What are you planning on dressing up as for Halloween?
My husband and I thought it would be fun to be a dead bride and groom….or a dead gangster pair….or……something dead. Yes, we're a bit morbid. 🙂
Shared with: What I Ate Wednesday