I absolutely love salad.
Not in a leaf-and-crouton-trying-to-eat-like-a-bird kind of way, but in a way where it stands on its own as a complete meal. I actually have my own little formula for making it just perfect.
Leafy greens paired with a crisper kind of lettuce, like green or red leaf, is my favorite base, and from there, I just pile on the vegetables!
Red cabbage, red onion, carrots, cucumbers, radishes, celery, bell peppers, cauliflower, and tomatoes are all excellent additions...pretty much anything you like that tastes good raw.
Once the veggies are in place, I like to add in a dried fruit and a nut or seed.
My favorite dried fruits to toss in include raisins, cranberries (washed well if they have sugar added!), or diced prunes. This adds a touch of sweetness to the mix.
Next in, a crunch factor!
Pumpkin seeds, sunflower seeds, or walnuts are all well-tolerated favorites with me. They're all great raw, but if I have time, I'll give them a shimmy in a skillet to toast them and bring out a whole new level of flavor.
I may or may not add in some chopped chicken breast, depending on my need. I've been working out like a madwoman lately, so I've been including it more often, and it definitely makes for a more filling meal.
Cheese is an optional (but delicious) component. I used to toss in some feta for a nice 'tang', but decided to back off, as I suspected it might have been bothering me. I would love to add in some blue cheese or gorgonzola, but because of their natural mold content, I don't digest them very well. Womp, womp.
The thing that brings it all together is, of course, the dressing.
I'm sure you'll all agree that the dressing is what really makes a salad, hence the popularity of ranch, not lettuce.
Though I vacillate between creamy dressings and vinaigrette types, my personal at-the-moment preference is for the former.
I created this one day after hunting for a 'healthy', lower fat, creamy Italian dressing on the web. Unable to find anything that didn't require mayo, dairy, or some other expensive 'superfood' ingredient, I embarked on a mission to make my own!
I've added zucchini to my smoothies before and noticed that they add thickness, so, I thought, why not here?
Combined with some Italian herbs, apple cider vinegar, and a touch of oil, this has become the daily go-to accompaniment for my favorite lunch.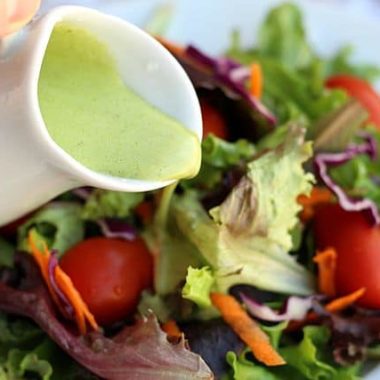 Print Recipe
Zu-Creamy Italian Dressing (Nut-Free, Sugar-Free)
Healthy, lower fat Italian salad dressing made with zucchini.

Ingredients
1

large

zucchini

6

T.

apple cider vinegar

6

T.

water

3

T.

extra virgin olive oil

1

garlic clove

1

T.

dried oregano

3

T.

fresh basil

or 1 T. dried basil

⅛

t.

dried rosemary

¼

t.

dried thyme

½

t.

sea salt

½

t.

black pepper
Instructions
Blend all 1-2 minutes until smooth and creamy.

Keep refrigerated and shake before each use.
Notes
Nutrition facts are based on using fresh basil. WW points (new system): 4
Nutrition
Calories:
140
kcal
|
Carbohydrates:
3
g
|
Protein:
0.8
g
|
Fat:
14.3
g
|
Saturated Fat:
2
g
|
Polyunsaturated Fat:
12.3
g
|
Sodium:
318
mg
|
Fiber:
1.2
g
|
Sugar:
0.8
g
While creamy, this dressing isn't thick like ranch dressing, so keep that in mind when making it! It has a delicious tang from the vinegar and plenty of flavor from the combination of herbs and spices.
How do you enjoy your salads?