My husband and I each have our respective cheesecake pig-out stories.
His tale takes place during his high school wrestling years when, following an intense practice, he would swing into a grocery store and purchase an entire cheesecake for himself. He would proceed to drive said confection home and devour damn near the whole thing.
My saga is a bit more refined, but not by much.
My family and I used to go out to eat once a week, either to Mexican food or a local buffet, and if the buffet was the chosen destination, I always knew dessert was in order!
Rows and rows of cheesecake and ice cream machines galore abounded, and believe you me, I took advantage of the sugary goodness.
Cheesecake forever left its creamy, sweet imprint on my mind, but after I developed more severe allergies, I could no longer partake.
Dairy, soy, cashews...these are among the most common cheesecake ingredients, but because I'm sensitive to all of them, I've had to find an alternative...though you may be skeptical, what finally worked for recreating this delicious dessert was raw buckwheat groats!
For those of you without allergies, this recipe may not be your cup of tea, but if you've been craving cheesecake for years like I have, and unable to enjoy it, this may be just what you need (or want). 🙂
Please enjoy the following video (minus my poofy humidity hair) showing you just how to make it!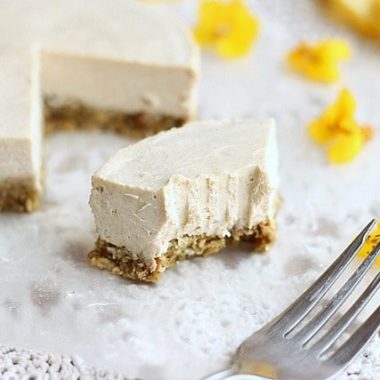 Print Recipe
Allergy-Friendly Cheesecake (Nut-Free, Dairy-Free, Soy-Free)
Delicious, allergy-friendly cheesecake made WITHOUT soy, nuts, and dairy!

Ingredients
CRUST:

¼

c

. pumpkin seeds

¼

c

. oats

dash sea salt

2

soft dates

1

t

. vanilla

2-3

t

. water

FILLING:

6

T

. raw buckwheat groats

, soaked 6-8 hours

2

T

. coconut oil

, melted

1

T

. honey or maple syrup

4

t

. lemon juice

1

T

. water

½

t

. vanilla

dash sea salt

stevia

, to taste
Instructions
CRUST:

Pulse the seeds, oats, and salt together until powdery.

Add in the remaining ingredients, adding water as needed to create a dough.

Press the mixture into a mini springform pan or a similar-sized dish.

Freeze while you make the filling.

FILLING:

Process or blend together all of the ingredients (adding stevia to taste) until very smooth (30-60 seconds). Be sure to drain and rinse the groats before using.


Pour the filling on top of the crust.

Let the cheesecake sit in the fridge until firm to the touch (6-ish hours).
Notes
Fat: 7.7 g  Carbs: 13.8 g  Sugar: 5.1 g  Protein: 2.9 g; Nutrition facts based on using honey. WW SmartPoints: 6
Nutrition
Notes:
This is the buckwheat I use in this recipe.