Candida-Friendly Chocolate Mug Cake - A sugar-free treat for those watching their sugar intake or suffering with candida!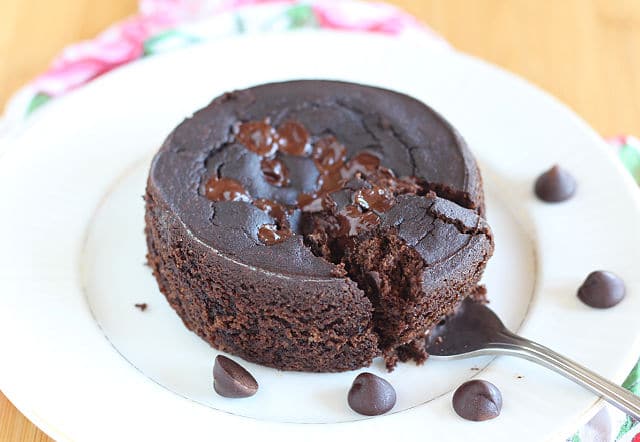 So, this recipe and my way of thinking may NOT agree with some of you.
The candida diet can be fuzzy when it comes to the dos and don'ts, as well as the why behind them.
Candida is a multi-faceted issue, and each person will be different, as far as what works for their healing.
In my case, I've successfully kept fruit, grains, legumes, and even cocoa powder in my diet and had the candida improve. At my worst, I cut out beans and (most) grains, along with higher sugar fruits. Each time, however, I kept cocoa powder, making various 'bitter' cakes and brownies with stevia instead of sweeteners.
Why does cocoa powder contribute to candida?
I will preface here that this is all based on my reading, my experience, and, ultimately, my opinion.
I've done a good amount of research on candida, including cocoa powder. Avoiding sweeteners and even high starch foods is understandably necessary, but cocoa powder is low sugar and low carb, so why wouldn't one be able to enjoy it?
1. Cocoa contains caffeine
One theory behind avoiding cocoa is that it is high in caffeine, which can affect your adrenal glands. Commonly, people with yeast problems have some type of adrenal fatigue, and the last thing they need is a caffeinated stimulant that can exacerbate the situation. Most docs that are well-versed on the subject say that a cup of coffee a day is fine.
For me, I don't drink coffee, so I consider a tablespoon of cocoa a few days a week to be my caffeine of choice.
If you're drinking 4-5 cups of coffee a day and trying to eat half of a chocolate bar, you might want to reconsider.
Ultimately, it's all in how you choose to use your caffeine 'allowance', so to speak.
2. Cocoa powder is fermented
I don't know if most people know this, but cocoa powder is actually a fermented food, meaning it goes through a process of being exposed to natural yeast.
In short, cocoa beans are picked and removed from their pods, then placed into fermenting boxes. They then go through a succession of microbial activities with three groups of micro-organisms, namely yeasts, lactic acid bacteria, and acetic acid bacteria, resulting in well-fermented, fully brown cocoa beans.
This process develops their color and, more importantly, flavor. All fine and dandy, until you have a yeast problem!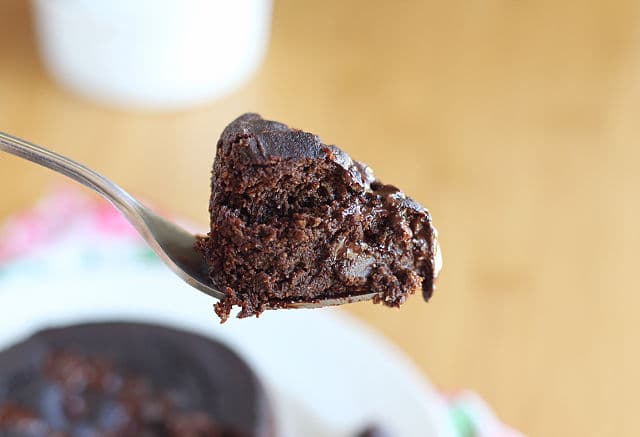 Non-fermented cocoa powder
There is but ONE company that I have found that makes non-fermented cocoa powder. Unfortunately, they are frequently out of stock, so I would get on their waiting list if you'd like some!
This is the only cocoa powder I use in my recipes now!
Today's cake is one that I've crafted over the last year or so, mostly out of necessity for some type of healthier, energy-inducing 'treat'.
While this may not appeal to the majority of readers, I thought there might be someone out there who could relate. I've been eating this so much lately, I just had to share!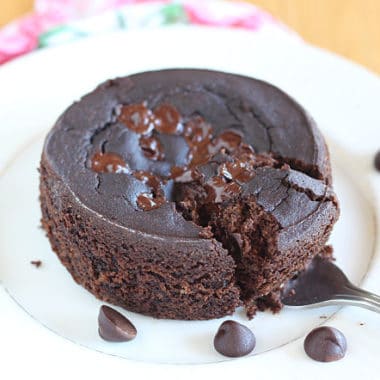 Print Recipe
Candida-Friendly Chocolate Mug Cake
For those watching their sugar intake or suffering with candida, this mug cake may offer you a nice, sugar-free treat!
Ingredients
1

Tbsp

teff flour

1

Tbsp

oat flour

1

Tbsp

pumpkin seed flour

(almond meal also works!)

1

Tbsp

non-fermented cocoa powder

⅛

tsp

baking soda

couple

dashes

sea salt

1

Tbsp

butter or coconut oil

2

Tbsp

applesauce or pumpkin

3-4

Tbsp

milk of your choice

½

tsp

vanilla extract

5-8

drops

stevia

see Notes
Instructions
Preheat the oven to 350 degrees.

Oil or butter a small 8-10 ounce ramekin.

Mix everything together, adding milk as needed to get a cake batter consistency. If using pumpkin, you will need a bit more milk.

Pour the batter into the well-oiled ramekin.

Bake for 14-18 minutes, or until top is springy to the touch.
Notes
Nutrition facts based on using coconut oil, pumpkin, and unsweetened almond milk. If applesauce is used, sugar goes up to 3.5 grams.
WW Points: 11
Nutrition
Calories:
267
kcal
|
Carbohydrates:
16.9
g
|
Protein:
5.9
g
|
Fat:
21
g
|
Fiber:
4.6
g
|
Sugar:
1.4
g
Notes:
I make pumpkin seed flour by grinding raw pumpkin seeds in a coffee grinder.
Use room temperature ingredients for best results.
Shared with: Sundays on Silverado, Meal Plan Monday