Easy to make summer squash soup with flavors of lemon and thyme - A rich and creamy texture without any added cream or milk!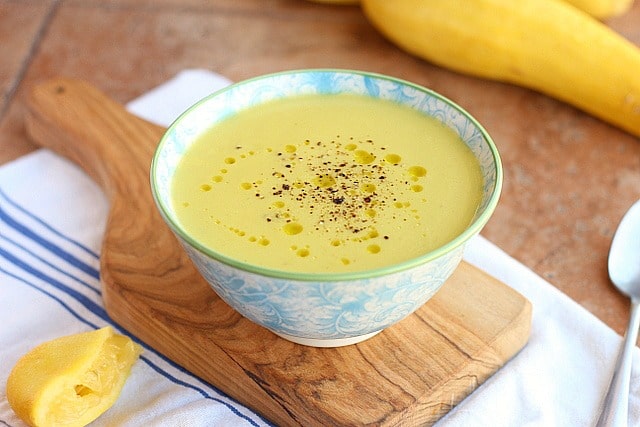 Despite rapidly increasing temperatures, I'm sharing a soup today.
The leftovers of this particular recipe saved my behind this blessed Easter weekend.
We had it in mind to take the kids to an egg hunt, and then get together with my side of the family. Suffice to say, it all ended with a sweaty, grumpy mommy, as well as a few choice phrases I'll keep to myself.
The kids had some fun, at least, egg huntin', candy eatin' and whatnot, so it wasn't a total bust.
After hitting a morning Easter extravaganza, complete with man-suited bunny plus hoards of peeps (and I don't mean the marshmallow kind), we headed back to our house for lunch. Without much ambition to cook, I was thrilled to claim the last bowl of this lemony delight!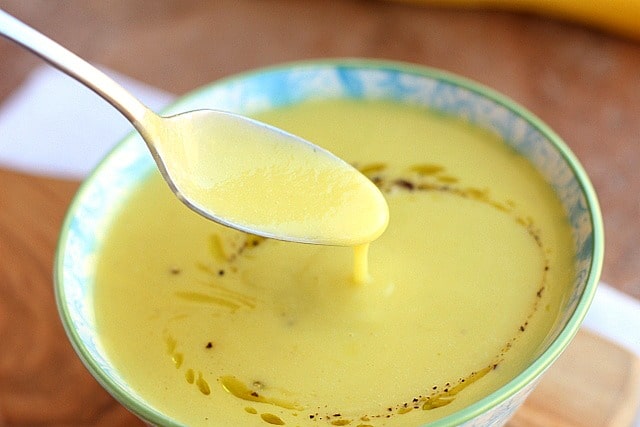 My eating habits don't tend to change too much with the weather. I'll drink cold smoothies all winter long and just as easily be found eating hot soup on a 100-degree day. No matter.
I love easy soups like this for their simplicity, as well as their ease. Chop three veggies, add some water, cook, blend, eat! This recipe is patterned after another favorite of mine, this Creamy Curried Zucchini Soup.
My favorite way to eat this is with a big, fat, Cheesy McCheese crisp made with my Homemade Spelt Tortillas! It makes for a terrific lunch, and it's a combo I revisit often.
We're all fans of this one, except Natalie, who isn't keen on many soups except my red lentil variety.
With summer and summer squash a-comin', this is a great recipe to keep in mind on a hot day (inside an air-conditioned house). 🙂
Print Recipe
Lemon Thyme Summer Squash Soup
Lemon Thyme Summer Squash Soup
Ingredients
2

T

. butter or olive oil

1

small sweet onion

, chopped

3

garlic cloves

, minced

4

summer squash

, sliced into 1/8-inch half moons (each squash should be ~7-8 ounces)

½

t

. dried thyme

4

c

. water

zest of one lemon

2-3

T

. fresh lemon juice

1

t

. sea salt

black pepper

, to taste
Instructions
Heat the butter or oil.

Add in the onion and garlic.

Cook 4-5 minutes until onion is translucent.

Add in the squash, thyme, salt and pepper.

Cook 5-7 minutes until squash is soft.

Add in the water and bring the mix to a boil.

Lower the heat to a simmer and cook 15-20 minutes.

Blend the soup (carefully, as it is hot!).

Stir in the lemon zest and lemon juice, adding more juice if desired.

Taste for season and serve.
Notes
Calories: 80 Fat: 5.2 g Carbs: 8.4 g Sugar: 6.3 g Protein: 1.9 g WW SmartPoints: 3 Nutrition facts based on using olive oil.
Nutrition
Notes:
I like the taste of sweet onion in this recipe, but if you can't locate one, the yellow variety will work.