'You can't please everyone 100% of the time.'
That's definitely one poignant phrase that repeats in my mind on a weekly basis, especially when I receive criticism in any form.
Social media is quite the reckoning force these days, with pretty much anyone and everyone able to establish (and hide behind) various outlets.
My husband and I have joked that social media is like driving a car, in that, many of the things one would write, say, or do, wouldn't happen if the two parties were in each other's physical presence.
Think of how much easier it is to flip someone off and drive away, anonymously, in a sense, or how convenient it is to hide behind your cat's avatar on Facebook and make gratuitously rude comments in someone's feed.
Many of these seemingly angry people would think twice before carrying out such actions in person, which is really sad, when you think about it.
This blog was definitely a people-pleasing outlet for me at one point.
In my head, I would consider the popularity of various diets, including paleo, vegan, and gluten-free, NONE of which I personally follow, making me feel a bit like a 'poser'.
These days, I'm following my heart, in a way, and posting tried and true recipes that my family and I actually enjoy and eat, and if some of them happen to be paleo, vegan, or gluten-free, that's cool too.
This Zucchini Pizza Crust was the first of many alternative pizza options to make it on the blog back in 2012, and while it's still a favorite among readers, I've since become allergic to almonds and can no longer partake of its goodness.
This new version was something I came up with for my oldest daughter (also allergic to almonds) and I to enjoy, but it has become a hit with our whole family, and it is requested often, so I hope you all enjoy it too!
Print Recipe
Nut-Free and Gluten-Free Zucchini Pizza Crust
Zucchini-based pizza crust made without gluten or nuts!

Ingredients
3

medium zucchini

grated

1

egg

1

egg white

1

T.

oil

such as grapeseed or olive

3

T.

brown rice flour

½

t.

baking powder

½

t.

oregano

¼

t.

garlic powder

⅛

t.

sea salt

plus more for sweating the zucchini

black pepper
Instructions
Place the grated zucchini in a sieve, sprinkling it with about one teaspoon of sea salt and tossing the shreds around a bit to distribute the salt.

Let the zucchini 'sweat' for about 15 minutes.

Preheat the oven to 400 degrees.

After the sweating the zucchini, place the shreds into a clean dish towel and SQUEEZE as much water out as you can.

Lightly beat the egg with the egg white and whisk in the oil, flour, baking powder, and spices, until well combined.

Stir in the zucchini until all of the shreds are fairly well coated.

Spread the 'dough' onto a parchment paper-lined baking sheet.

Place the pan on the bottom rack of your oven and bake for 20 minutes.

After 20 minutes, replace the pan on the top rack of the oven and bake for 15 minutes.

Remove the pan, top the pizza as desired, and bake for another 7-10 minutes, until toppings are cooked through.

Cool the pizza, slice, and enjoy!
Notes
Nutrition facts are based on using olive oil. WW points (new system): 1
Nutrition
Serving:
1
|
Calories:
34
kcal
|
Carbohydrates:
3.8
g
|
Protein:
1.6
g
|
Fat:
1.7
g
|
Polyunsaturated Fat:
1.7
g
|
Cholesterol:
14
mg
|
Sodium:
33
mg
|
Fiber:
0.7
g
|
Sugar:
0.9
g
I love using my Homemade Pizza Sauce on this, along with a combination of part-skim mozzarella and parmesan. Caramelized onions, sautéed mushrooms, and pepperoni are all favorite toppings for us as well!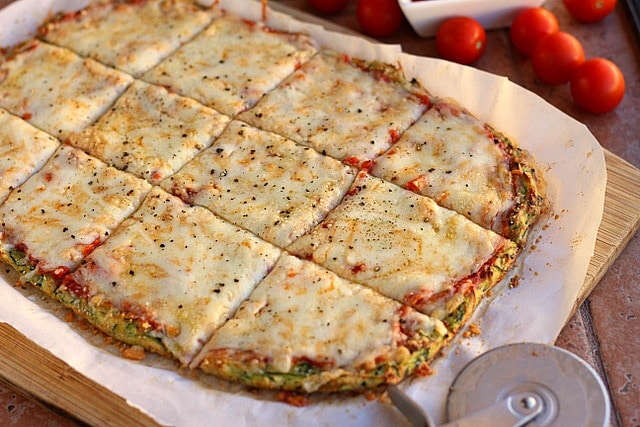 Have you ever experienced any negative social media interaction?