Hello everyone! Welcome back to the blog world! I hope you all had a great Christmas and New Year's!
It feels good to be back and to be posting recipes again. Today marks the beginning of a month-long series on Oatmeal with a Fork that I've titled 'DetoX-mas'.....
...complete with complimentary artwork. 🙂
My husband and I were both feeling all the sugar from the many sweets made and consumed over the last few months, so we are both aiming to significantly decrease that amount.....so I thought it'd give me even more motivation if I blogged about it!
This month, all the desserts and treats you see will be free of ANY added sweeteners, with the exception of fruit (fresh, frozen, and dried) and stevia.
To kick it all off, I've got these babies for you....
....if you like Reeses' peanut butter cups, I'm sure you will love these! They taste just like them....only in bar form....
....and with only 5 ingredients, there's no reason NOT make them.
PEANUT BUTTER CUP CANDY BARS
1/4 c. peanut butter (I used salted)
1/4 c. coconut oil, melted
1/4 c. carob powder
1/8 t. salt (a bit more if using unsalted peanut butter)
1/4 t vanilla
20 drops liquid stevia
Mix everything together until combined (there should be no lumps). Pour the batter into a small square container (I used a 7 x 5 inch Pyrex container). Place it in the freezer until hardened. Cut and enjoy your sugar-free treat!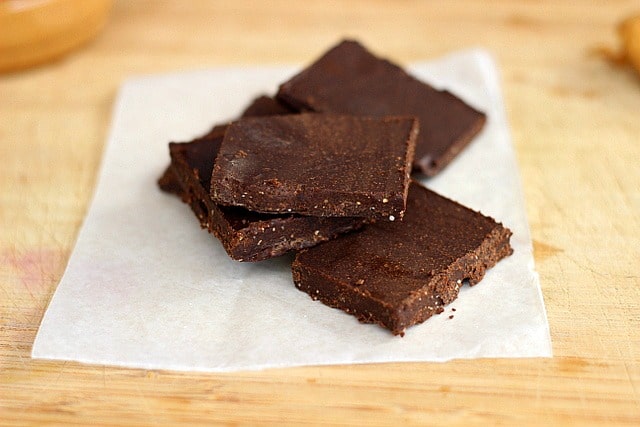 I would highly recommend sticking with the carob in this recipe, as it is less bitter than cocoa and pairs very well with stevia.
....and just in case you're wondering if these are worth a darn....
...another flattering picture she'll thank me for.
What's your favorite sugar-free treat?