Delicious and healthy chicken noodle soup made in the Instant Pot! Chicken thighs, gluten-free pasta, veggies, thyme, and turmeric all come together to create this new classic.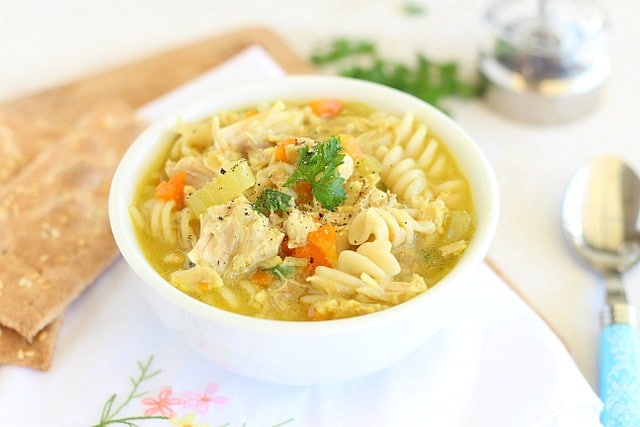 Hello, and happy new year! Today is the first day of my Detox-mas, where I'll be posting low-to-no sugar recipes all month long.
This will actually continue on past January, as this is just the way I eat! This month, I just wanted to bring a little more focus to it, as I know many people are looking to reduce their sugar intake after the holidays.
I hope you enjoy what I have planned, so let's get started with my first sugar-free recipe!
Growing up, chicken noodle soup was a staple in my diet.
Not the homemade kind, but rather, the MSG-laden, veggie-void cans and boxes of Campbell's and Lipton's goodness!
I often made a late night meal of Campbell's chicken noodle soup and a peanut butter and jelly sandwich, the latter of which would get dipped into the former.
Yep, don't knock it till you try it.
My parents would try creating homemade versions, but they were never as delicious as my condensed favorite.
As I've grown and my taste buds have matured, I still never hit upon a recipe that was five-star quality.
This recipe, however, is different.
I had a recent hankering for pasta, which is unlike me, as rice is usually my carb of choice.
This desire happened to coincide with my youngest daughter's request for chicken noodle soup.
After perusing a few recipes, and getting some general ideas, I tweaked and simplified some ingredients and steps, thus creating a blog-worthy masterpiece.
Chicken thighs add flavor and fat, without having to add much oil or use broth, and a simple combination of bay leaf, thyme, and turmeric give it all the spice it needs.
I once heard The Pioneer Woman say that she adds a bit of turmeric to anything with chicken, as it lends a rich, golden color, so I've been following suit ever since.
We like to use gluten-free rice noodles over here, but it'd be easy to change that out for any shape or style you enjoy.
This is one for the regular rotation, peeps, and I hope you agree if you try it out!
Print Recipe
The BEST Instant Pot Chicken Noodle Soup
Delicious and healthy chicken noodle soup made in the Instant Pot!

Ingredients
1

Tbsp

olive oil

1 ¾

pounds

chicken thighs

boneless, skinless

½

yellow onion

chopped

3

carrots

chopped

2

celery stalks

chopped

2

garlic cloves

minced

¼

tsp

dried thyme

¼

tsp

turmeric

1

dried bay leaf

6

cups

water

½

pound

pasta of your choice

(we like brown rice noodles of various shapes)

3

Tbsp

fresh parsley

chopped

sea salt and pepper

to taste
Instructions
Turn the Instant Pot to 'saute' and add in the oil.


Once warm, add in the chicken thighs, along with a bit of salt and pepper, and cook them for four minutes.


Flip them carefully and cook them on the other side for four minutes. Give the other side a little salt and pepper at this time as well.


Transfer the chicken to a bowl or plate.


Add the veggies (onion, carrot, celery, garlic) along with a sprinkle of salt to the remaining fat in the pot.


Cook them for 1-2 minutes, just to bring out the flavor.


Stir in the spices (thyme, turmeric, bay leaf), and cook for another minute.


Add back the chicken, along with the water.


Cover the pot with the lid, lock it into place, and cook at high pressure for 20 minutes.

After the 20 minutes, let the pot sit untouched for five more minutes.


Release the steam using the vent.


Remove the lid and (using a slotted spoon or tongs) transfer the cooked chicken to a clean cutting board.


Cut the chicken into bite-sized pieces.


Turn the Instant Pot to 'saute'.


When the liquid begins to bubble, add in the pasta, cooking for the amount of time stated on the package (different shapes and flours have different times, so please check your particular brand for exact directions).


Once the pasta has cooked through, add back the chopped chicken, along with the parsley and salt and pepper, to taste.


Ladle into bowls and enjoy your scrumptious soup!

Notes
Nutrition facts based on using brown rice noodles. WW SmartPoints: 8
Nutrition
Serving:
1
g
|
Calories:
325
kcal
|
Carbohydrates:
25.1
g
|
Protein:
31.4
g
|
Fat:
10.1
g
|
Fiber:
1.7
g
|
Sugar:
1.2
g
Notes:
These are some of the items used in this recipe, including our favorite brown rice noodles!


See the steps:

Searing the chicken thighs...
Sauteing the veggies...
Add the water...
Post-cook (sans pasta)...
Remove and chop the chicken...
Post-cook (with pasta)...
Eat up!