Delicious, juicy sweet chicken made with just 100% pure organic apple juice and chicken thighs! An easy meal that kids love!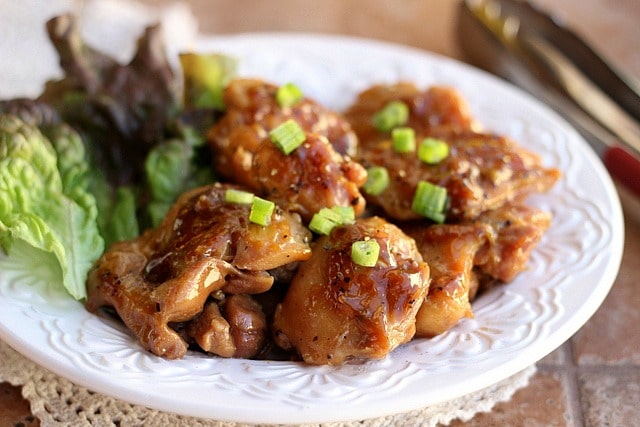 A man-pleasing chicken recipe
One of the best ways I have to show my husband love and appreciation is by cooking and baking the food he most enjoys, bringing me to this recipe.
This recipe is one of my husband's favorites!
Believe it or not, this recipe came to be by accident.
I used to poach chicken in apple juice to give it more flavor. Once, after leaving it on the heat for too long, it reduced down to create the delicious sauce you see above.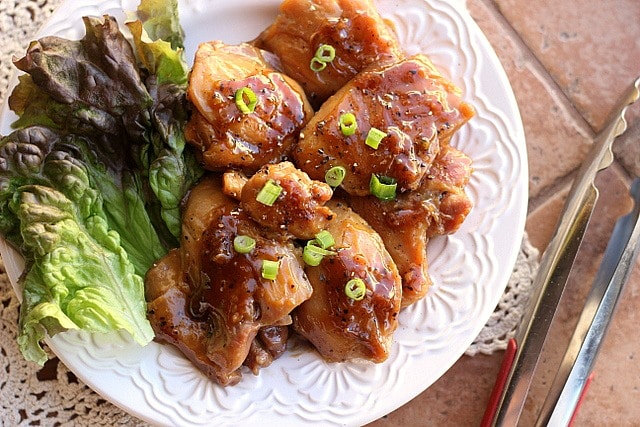 What does it taste like?
This meal is not only rich and flavorful, it's also easy and enjoyed by both adults and kids.
The apple juice reduces down to create a delicious, sweet sauce for the chicken that is reminiscent of something you might order from a Chinese food restaurant.
At home, we like to pair this with a veggie-packed salad and, occasionally, some fresh bread with olive oil for dipping. It would also go well with this Mushroom Brown Rice Pilaf or these Smoky Sweet Potato Fries.
It is lovingly referred to as 'apple juice chicken', and I'm thrilled to be able to share it here with you.
Please enjoy the video below showing you exactly how to make this recipe!
Print Recipe
3-Ingredient Apple Juice Chicken
Delicious chicken thighs that are covered with a sweet, syrupy sauce made from apple juice!

Ingredients
1 ½

c

. 100% unfiltered apple juice

, preferably organic

1 ½

lbs

.

(or 6 medium) chicken thighs, skinless

salt and pepper
Instructions
Heat a deep pan over medium heat.

Add the juice first and bring to a low boil.

Add in the chicken and sprinkle the meat with salt and pepper.

Lower everything to a simmer and cover the pan, cooking for 15 minutes.

Flip the chicken over.

Partially cover the pan and cook for another 15 minutes.

Pop the lid up so that a significant amount of steam can escape, allowing the apple juice to reduce down and thicken (the heat should be high enough that the juice is bubbling softly).

Cook for another 10-20 minutes until the juice is thick and syrupy, turning the chicken every 10 minutes or so.

Watch it closely for the last 2-3 minutes, as it can burn quickly.

Remove from heat once the chicken is cooked through and the juice resembles honey in consistency.
Notes
Weight Watchers points (new system): 9
Nutrition
Serving:
4
g
|
Sodium:
149
mg
|
Sugar:
10.1
g
|
Cholesterol:
151
mg
|
Calories:
367
kcal
|
Polyunsaturated Fat:
9.2
g
|
Saturated Fat:
3.5
g
|
Fat:
12.7
g
|
Protein:
49.3
g
|
Carbohydrates:
10.9
g
Notes:
Do NOT use a non-stick pan for this recipe!
The pan I use is about 10 inches wide, 2-3 inches deep, and is made of stainless steel, very similar to this one.
A good rule of thumb here is 1/4 cup of apple juice per 1/4 pound of chicken.
Use only UNFILTERED, 100% ORGANIC apple juice.
Some of the items I use to make this recipe include: