Turmeric Honey Face Mask - This easy, homemade mask is one that I've been personally using for years! It's a great, at home way to get anti-inflammatory and antibacterial benefits and beautify your skin. Please see the video below for details.
Since it's summer time, and we're all trying to look our best, how about a DIY beauty post?
I was originally led to try this mask about 7-8 years ago by a reader.
I've been using it ever since, it's THAT awesome!
It seems this mask is all the rage among Indian women. They're known for essentially covering themselves in turmeric the night before their wedding in order to look gorgeous for the big day!
In combination with raw or manuka honey, turmeric helps with aging skin, and has even been found to benefit acne as well.
Turmeric benefits
Tur-mur-ick, not too-mer-ick, (as I once said it, ha!) is truly amazing and has benefits externally as well as internally.
A quick pub med search led me to a few articles outlining how topical curcumin (the active component of turmeric) is being used for many dermal issues, including skin cancer, dermatitis, acne, and psoriasis.
It is not only anti-inflammatory, but it's also a potent antioxidant.
Use raw or manuka honey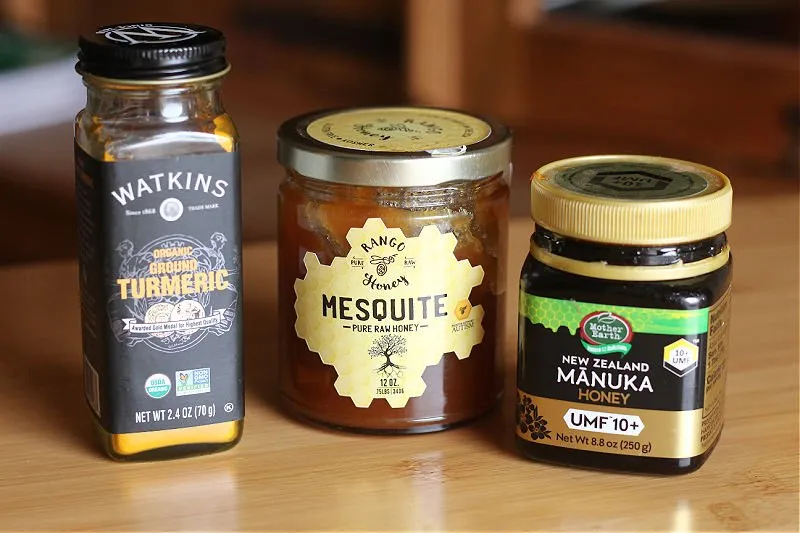 Quick story.
My daughter went to make this mask one night and used our cheap, squeeze honey, which I have for the kids to use on their oatmeal.
The next day, she was rashy and breaking out!
Moral of the story, you need a GOOD raw honey for this mask, or even better, manuka honey.
The antibacterial properties of raw honey are so excellent for the skin that I'll oftentimes use it alone on my face. It makes my skin softer and just overall 'better' looking.
What's the difference between raw and manuka honey?
Raw honey refers to any honey that has been taken from the honeycomb and packaged without being processed. It is generally thought that it has not been heated or pasteurized, and it may even contain wax, pollen and propolis.
Manuka honey is a very specific type of honey, produced mostly in New Zealand or Australia. It has very strong antibacterial properties, which make it a medicine as well as a delicious food!
I've used it internally to help combat h pylori in the gut.
My best tips
I've found this to be more effective the longer I leave it on my skin, sometimes up to an hour.
It is best to do this mask at night before going to bed, as it does temporarily leave your skin a bit yellow.
Turmeric will stain clothing, but it won't permanently stain your face. Use a good washcloth with a little baking soda to take it off.
Other home beauty treatments
Print Recipe
Turmeric Honey Face Mask
Ingredients
1

teaspoon

raw or Manuka honey

½

teaspoon

dried, powdered turmeric
Instructions
Mix the two ingredients together to make a paste.

Apply evenly to your face, avoiding your eyes and nose holes.

Leave on 15-60 minutes, as desired.

Rinse thoroughly with washcloth or a small amount of baking soda.
Video
---
If you have a chance to try this recipe, please leave a star rating and a comment below letting me know how you liked it!