Crispy tortillas surround cheese, vegetables, and/or beans to make a less greasy version of a classic favorite!
What is a 'quesadilla', some of you may wonder?
Basically, it's a naughty cheese crisp. Two tortillas filled with cheese and a few other choice add-ins, are fried in some type of fat to create crispy, greasy goodness!
Over here, quesadillas are a real crowd-pleaser. What's not to like?!
While the traditional method of frying them in butter is delicious, I thought I'd try to clean them up a bit by using an oven method.
You still get a crispy, cheesy bite, but with a bit less grease.
I like to fill our 'dillas with various foods, including black beans, broccoli, onions, and peppers.
They're easy to customize, as you can add in whatever spices tickle your fancy. I'm a big fan of oregano, and Jade likes chili powder.
Another plus to baking them is that you can make multiple quesadillas at a time, which gets lunch or dinner on the table faster for hungry tummies!
If you're also so inclined, may I suggest going the extra mile and making your own tortillas? I love them, and make at least one batch every week! This recipe is my go-to, but I vary the flours I use, including spelt, wheat, and kamut.
There are myriad ways to make these, depending on what you like or tolerate. This recipe is my current favorite, as it helps the kids all eat their veggies!
I have a method of chopping the broccoli so fine that no one can pick it out. I call it broccoli 'confetti'. 🙂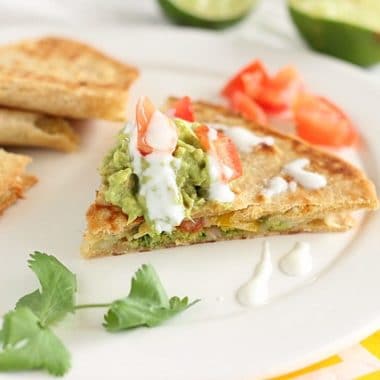 Print Recipe
Vegetarian Quesadillas
Delicious, veggie-packed, cheesy goodness that is sure to please picky eaters.

Ingredients
1

Tbsp

oil or butter

plus a bit more for brushing onto the tortillas

½

cup

red onion

chopped

2

garlic cloves

minced

½

red or yellow bell pepper

chopped

1

cup

broccoli

chopped fine

¼

cup

tomato

chopped

salt and pepper

to taste

4

whole grain tortillas

1

cup

cheese of your choice

grated
Instructions
Heat one tablespoon of oil or butter in a large non-stick pan.


Add the onion and garlic to the pan; saute 3-5 minutes until soft.


Stir in the bell pepper, broccoli, and tomato, cooking for another 3-4 minutes. Add in any desired spices at this time.


Preheat the oven to 450 degrees.


Begin making the quesadillas: On a plate, lay one tortilla.


Brush one side of it with melted butter or coconut oil (you could also just spray it with oil, if available).


Place the tortilla, oil side down, onto a baking sheet.


Sprinkle with 1/4 cup of cheese.


Top with veggie mixture and another 1/4 cup of cheese.


Place another tortilla on top of the cheese.


Brush the top with a bit of butter, oil, or spray.


Repeat the process with the remaining ingredients to create your second quesadilla.


Bake the quesadillas for 7-10 minutes, until tops are golden brown.


Enjoy!

Notes
Nutrition facts based on using coconut oil, whole wheat tortillas, and cheddar cheese. WW SmartPoints: 10
Nutrition
Serving:
1
g
|
Calories:
276
kcal
|
Carbohydrates:
27.3
g
|
Protein:
12.2
g
|
Fat:
13.9
g
|
Fiber:
4.3
g
|
Sugar:
2.2
g
Notes:
I like to use these tortillas with this recipe.
Some ideas for accompaniments include: Yogurt, guacamole, salsa, scallions, tomatoes, and cilantro.
The process:

Sauteing the veggies...
Brushing the tortilla with butter...
Flip it, then add some cheese...
...veggies...
...and more cheese...
Top it with the other tortilla...
...and brush that with butter or oil as well.
Bake and enjoy!