This is my absolute favorite tortilla recipe! I've made these countless times over the years, using them to make cheese crisps, burritos, tacos, and enchiladas. They are absolutely delicious!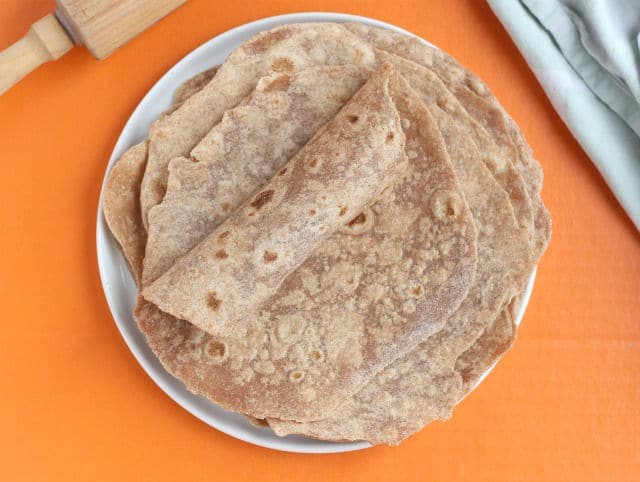 Among the most genetically modified foods are corn, soy, and wheat.
To my layman's understanding, genetically modified organisms (or GMOs, as they are known), have basically been tampered with by humans. Their literal genetic makeup has been changed in a laboratory, making them better able to grow, adapt, and thrive.
Why would anyone do this?
Well, what ingredients are in the majority of products? Let's see...wheat...corn...and soy! By George, why would you want to alter wheat, corn, and soy?
If wheat, corn, and/or soy could be genetically engineered to grow faster, more readily adapt to crummy weather conditions, become bigger and fatter, thus yielding more crop at a faster rate then...that means more money for the farmer, as well as the companies that use these foods in their products!
Do you think the consumer's health is a major concern for those that do this? I'd wager not.
Because of all this, I'm inclined to stay away from these foods, unless they come from non-gmo companies.
Food For Life is a great example!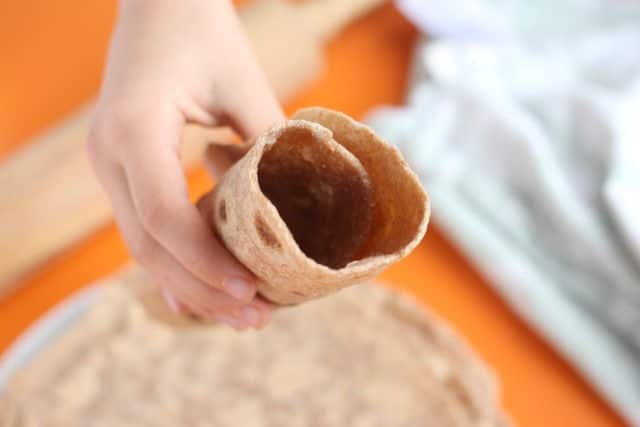 Spelt flour as an alternative
Consider spelt as an alternative to wheat.
It's delicious, and it resembles wheat in taste to such an extent that I don't know if I could tell a difference in a blind test.
Spelt could also replace wheat for you if you're allergic to wheat, not gluten. Given that spelt has less gluten than wheat, it may also suit non-celiac individuals.
These spelt flour tortillas are an excellent way to give the grain a try!
Ingredients and substitutions
Spelt flour - Whole wheat or kamut flour will also work.
Sea salt - This brings out the tortilla's flavor.
Olive oil - Melted butter, coconut oil, or a neutral oil like grapeseed will all work.
Water - Warm water is pretty essential, as it helps the ingredients come together.
Recipe steps
Mixing the batter...

Form your dough ball...dough should be moist, but NOT stick to your fingers...

Rolling out the dough...


Cooking the tortillas...

Tips for making the best tortillas
How you measure the flour will determine how much water you need, hence the wide range. I typically use about 300 grams of this sprouted spelt flour, for reference.
Letting the dough rest before rolling out the tortillas is important because it allows the gluten to relax. This, in turn, makes it easier to roll out, and it tastes better!
Try not to overcook the tortillas, as this will make them 'crisp' up and dry out. See the photos above for the complete process.
Make sure to cover the tortillas on a plate as soon as you take them off the skillet. This is what traps in heat and moisture, thus creating their 'soft and pliable' texture.
Use a non-stick skillet for best results.
Other spelt flour recipes you might like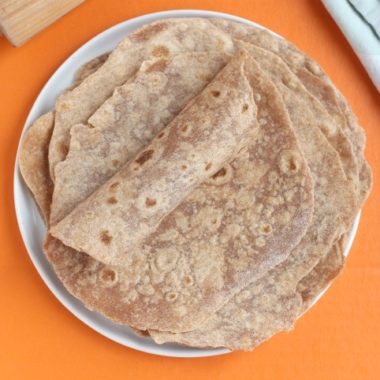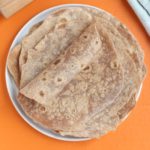 Print Recipe
4-Ingredient Spelt Flour Tortillas
Only four ingredients needed to make these flexible, whole grain tortillas.
Ingredients
2

cups

whole spelt flour

300 grams

1

teaspoon

sea salt

3

Tablespoons

olive oil

¾ - 1

cup

warm water

as needed
Instructions
Mix together the flour and salt.

Cut in the olive oil (the mixture should be 'pebbly' in texture).

Stir in the water, starting with 3/4 cup, adding more as needed. The dough should be moistened, but NOT sticky to the touch (see picture below).

Knead the dough for 1-2 minutes, until all of the ingredients are well combined.

Make a large ball out of the dough.

Cover it with the same bowl you used to mix the ingredients.

Let sit ~20 minutes. This allows both the dough to soften and the gluten to relax. This makes rolling easier and also gives the tortilla a better texture.

Heat a large non-stick pan over medium high heat.

Make 8 smaller dough balls (don't knead them).


On a well-floured surface, roll out each ball of dough into a tortilla.

Place the tortilla onto the pre-heated pan.

Cook until you begin to see bubbles form (about 20-30 seconds).


Flip the tortilla and heat the other side for about 5-10 seconds.

Carefully place the tortillas on a plate, and immediately cover them with a clean dish towel (this traps the heat, keeping them soft).

Repeat with the remaining dough balls.

Eat immediately or store in a sealed, Ziploc bag in the fridge, to maintain pliability.
Nutrition
Calories:
147
kcal
|
Carbohydrates:
21.8
g
|
Protein:
4.1
g
|
Fat:
5.8
g
|
Fiber:
3.7
g
|
Sugar:
0.1
g
A delicious plate of warm tortillas!!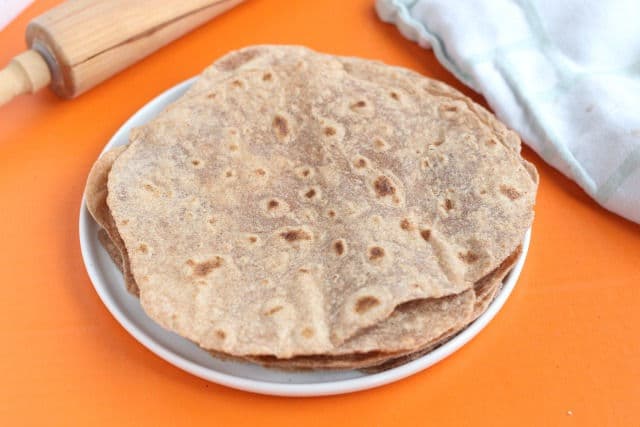 ---
If you have a chance to try this recipe, please leave a star rating and a comment below letting me know how you liked it!