I love the 'a-ha' moments that life offers.
This weekend, I was watching a movie I've seen multiple times when a particular line in the flick hit me just right.
What is it with our brains? A random quote one day is another day's poignant discovery.
The scene depicts a formerly meek man turning brave and proceeding to tell off his abusive boss. The partial line from his dialogue that struck me was 'as it stands'. The man is basically telling the woman that he would feel sorry for her, but 'as it stands', she is a heinous (bleep).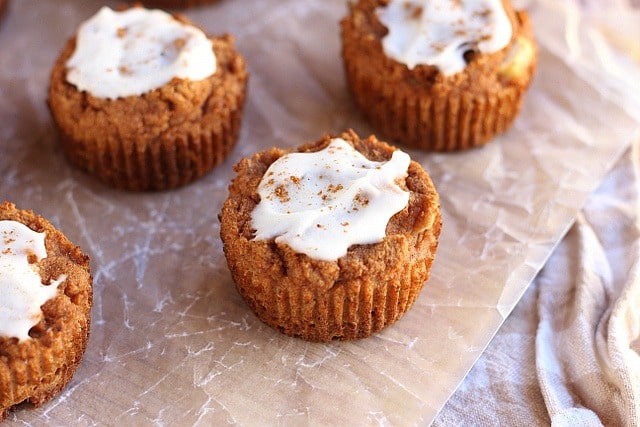 Though you all only know me from my writing here, in real life, I'm the type of person to be quite unassuming. If someone is rude to me, I'll often think, 'maybe they're having a bad day', which could be true, but 'as it stands', they are currently choosing to be rude.
That revelation really cleared my head, because we all have the option of choosing how we treat people, no excuses.
For me and the way my mind operates, this is incredibly liberating, as I struggle with making excuses for people who may not treat me well.
Another 'a-ha' moment came into play with this recipe.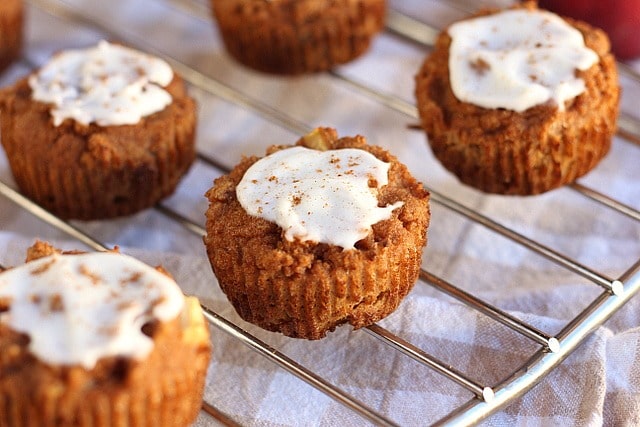 I originally made these for my daughter to take to school as a snack, but they have slowly morphed into a house favorite. The thing I wrestled with was the spice blend, which is extremely important. I originally had a blend of cinnamon, ginger, nutmeg, and allspice, but it was just 'off'. I knew the recipe could be great and finally, I realized what was missing...cardamom! The addition was just what these soft, flavorful snacks needed!
I love that they're so agreeable with everyone here (many recipes I make are only suitable for one or two of us) and that they're free of any sweetener. The applesauce, added chopped apples, and spice blend all contribute to the deliciousness, eliminating the need (in our house's opinion) for any type of sugar.
Print Recipe
Apple Pie-Spiced Muffins (No Added Sugar, Grain-Free)
Delicious apple pie-flavored muffins made without sugar or grains!

Ingredients
3

eggs

1

c.

applesauce

1

t.

vanilla

¼

c.

coconut oil

melted

½

c.

coconut flour

see Notes

1

t.

baking soda

¼

t.

sea salt

1 ½

t.

cinnamon

¾

t.

nutmeg

¼

t.

+ 1/8 t. cardamom

½

c.

chopped apples
Instructions
Preheat the oven to 375 degrees.

Mix the wet ingredients (eggs, applesauce, vanilla, oil) in a medium-sized bowl.

Mix the dry ingredients (flour, baking soda, salt, spices) in a small bowl.

Add the dry mix into the wet ingredients, along with the chopped apples, stirring until combined (it will be thick!).

Divide the batter among 12 paper muffin cups.

Bake 18-20 minutes until the tops are lightly golden and feel solid, but springy.

Cool and enjoy!
Notes
WW points (new system): 2
Nutrition
Serving:
1
g
|
Calories:
92
kcal
|
Carbohydrates:
6.4
g
|
Protein:
2.4
g
|
Fat:
6.5
g
|
Saturated Fat:
5
g
|
Polyunsaturated Fat:
1.5
g
|
Cholesterol:
41
mg
|
Sodium:
169
mg
|
Fiber:
2.5
g
|
Sugar:
3
g
Adapted from Wellness Mama
Notes:
Coconut flours vary in absorbency, so for your reference, this is the brand I use.
The frosting I use on these is the same as my Pumpkin Pie Bars.
Though I typically keep these nut-free, a sprinkle of toasted walnuts or pumpkin seeds would give these a nice crunch!
Do you have any 'a-ha' moments worth sharing?
Shared with: Allergy-Free Wednesday