Is it weird that I like to clean?
Or that I enjoy eating healthy?
And that I don't drink alcohol or coffee?
Or that I like to exercise (and I don't mean yoga)?
I figure, with the exception of my husband, the majority of you reading this are women, so I thought I'd inquire.
I don't have many (read: any) women friends to speak of, and I often feel it's because I don't relate to a lot of women.
I kinda hate shopping, unless it's online, I own nothing from lu-lu-lemon, or whatever it is, I don't enjoy traveling, (like, at all), I'm not a Taylor Swift fan, and I don't use phrases like 'I know, right?'.
Truth be told, all that stuff gives me the heebies.
I'd rather be cruising the nut butter aisle at Whole Foods, watching Hostel with the hubs, lifting weight at the gym, or sitting on my derriere reading something political.
Anyone out there wanna be besties? 🙂
I'll meet a cool chick here or there, but I usually think they're cool because they're as into their family and work as myself, leaving us virtually zero time to bond.
No matter, my husband actually fills any void I need for a friend.
I was never one for multiple friends anyway. My mom has often told me that even as a child, all I ever needed was 'one best friend', and I was perfectly happy.
Still true.
My husband and I actually passed our ten-year mark this week, woohoo!
March 8, 2006, we embarked on our first 'date', though I didn't realize at the time it was a date.
We went and saw Hostel. We actually met at the theater, and I'm pretty sure I paid for myself...
It was fun though, especially because beforehand, I remember not feeling the need to gussy up. After all, it wasn't a date. He'd tell you a different tale.
I remember after one of our first quote-unquote 'dates', he asked me if I wanted to get ice cream.
My health and allergies were horrible at the time, so I politely declined. I remember feeling quite embarrassed though. That was what people did....they went out, saw movies, ate normal restaurant food, and got ice cream. Not me. My diet was very limited at the time, and I wasn't about to get into all the details with some cute guy I hardly knew.
Eventually, though, I did tell him. And he understood and now he eats my healthy treats like a champ.
This pudding is my latest craving.
I love lime, and I love avocado. Man, avocados can do no wrong! They make everything better, including this pudding.
If you've never tried avocado in pudding, you're in for a surprise!
It adds a delicious, creamy texture and makes this recipe as easy as using your blender.
By using more of the lime zest and less of the lime juice, I was able to get the sweetener down pretty low here too, which is often tough when something is lemon or lime-based.
This makes a great afternoon treat, and the kids love it too!
Print Recipe
Avocado Lime Pudding (Low Sugar)
Creamy, low sugar lime pudding made with avocados!

Ingredients
1 ½

avocados

zest of one lime

1

T

. lime juice

1

T

. raw honey or maple syrup

1-2

T

. dairy-free milk or water

½

c

. frozen cucumber

, optional (see Notes)

dash sea salt

½

t

. vanilla

stevia

, to taste
Instructions
Blend all until smooth and creamy.
Notes
Fat: 29.4 g  Carbs: 24.5 g  Sugar: 10.3 g  Protein: 3.1 g; Nutrition facts based on using honey and water. WW SmartPoints: 13
Nutrition
Notes:
The added frozen cucumber cubes are a great little trick, as they really amp up the bulk of the pudding and give it a 'fluffy' texture without adding a lot of extra calories (in short, you feel like you get more 'bang for your buck'). This trick is actually from one of my favorite Instagram accounts, Jenn and Jac Snack.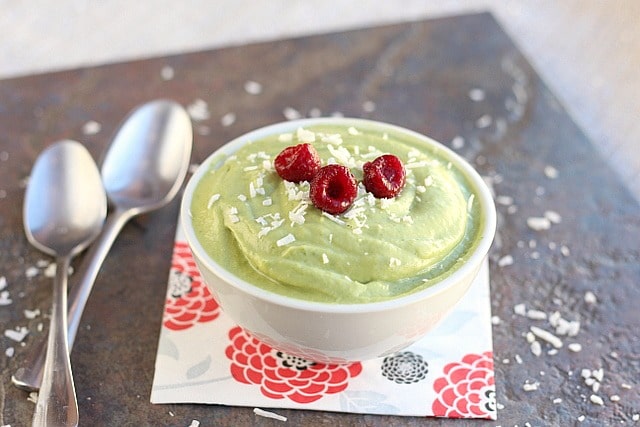 Have a great weekend!
Shared with: Meatless Monday