Baby let me be….your loving' teddy bear….put a chain around my neck, and lead me anywhere…..
This song (courtesy of Mr. Presley, in case you didn't know) was in my head pretty much the entire time I was making this recipe….
While patterned after these deliciously lovable cubs, this Teddy Graham recipe is high in protein, low in sugar, and rich in chocolaty taste!
They're crispy, they're chocolaty, they're freakin' adorable!….but they're so tasty, you won't think twice about biting their cute little heads off….
CHOCOLATE TEDDY BEAR GRAHAMS
Click here for nutritional information
1/2 c. chickpea flour
1/2 c. buckwheat flour (measure groats first, then grind)
1 T. cocoa powder
1 T. carob powder (or more cocoa)
1/4 t. baking soda
1 t. cinnamon
1/4 t. salt
2 T. coconut sugar, ground into a powder
1 T. molasses
2 T. coconut oil, melted
1/2 t. vanilla
5 drops liquid stevia, or another teaspoon of ground coconut sugar
3-6 T. almond milk (I've used water as well with good results), as needed to create dough
1 T. sugar mixed with 1 t. cinnamon, optional, to top the crackers with
Preheat the oven to 350 degrees. Mix together the dry ingredients (flours, cocoa, carob, baking soda, cinnamon, salt, and coconut sugar). Mix together the wet (molasses, oil, vanilla, stevia, and 3 T. milk or water) in a separate bowl. Mix the dry with the wet. Add more milk/water a teaspoon at a time until the dough is all combined, but not too sticky to handle. Roll the dough into a large ball (p.s. do NOT judge the taste of these by the taste of the dough…chickpea flour is AWFUL when it isn't cooked)….
….and put it between a sheet of parchment paper (on bottom) and plastic wrap (on top)…..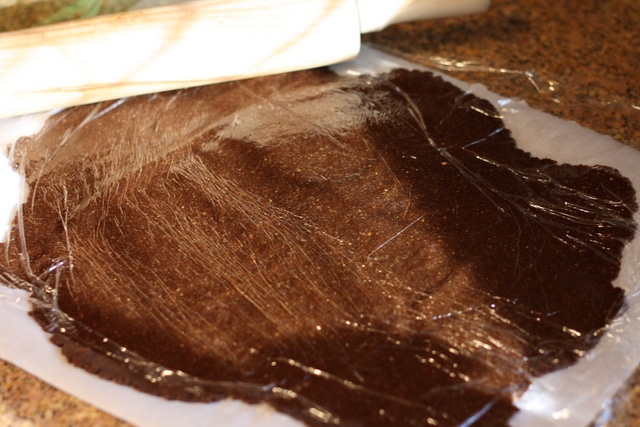 Roll the dough out to a thickness of about 1/8 of an inch. At this point, you can get creative with whatever cookie cutters you have or make them the traditional way with a pizza cutter and a fork…..
….top them with the optional cinnamon sugar and bake 'em on a parchment-lined baking sheet for about 22 minutes…
Yum yum!
…and you know my favorite way to eat graham crackers?….here's a hint….
These boys are having a, ahem, bonfire to celebrate the recipe that'll be coming Wednesday! It'll totally have you rethinking the way you've ever made S'mores!
On a separate note, I was recently contacted to try out a really neat product! The nice people over at Hoo-rag sent my one of their cool bandanas to try out, and I just love it! It's a light weight article that can be worn multiple ways, and I've got just the model to show you a couple of my faves….
….just like her shirt says, 'cute, cute, cute'!
It can also be used as a ponytail tie, a face mask, and many others. They have multiple styles and patterns to choose from, making it customizable for your personal look. It's an easy way for me to keep my hair back when I'm in the kitchen! 🙂
I'm under no obligation to write anything positive about this product. I just received the sample in the mail and have been really enjoying it! If you want more information, click here.
What's your favorite way to enjoy graham crackers?
Um, s'mores, s'mores, and, oh yeah, s'mores. Wednesday people. Wednesday.
Shared with: Make Your Own Monday, Slightly Indulgent Tuesday, Fat Tuesday, Gluten-Free Wednesday, The Pennywise Platter